These are the most powerful affirmations for students made by a graduate. If you are a student, then you just have to think about how far you have come now and there is a lot to do in the future. You are the builder of the future and you have to change and improve this world.
Your regime is coming, so you have to be prepared for that. Everyone has great expectations from you and you have to complete them all because you are capable of doing well in your life. You should be so proud of yourself that you have done well in your life so far.
You have a lot of responsibilities and you have to face them on your own. Many students like you come across stress and depressions that always have a bad impact on you. But, you are so strong and full of positivity.
You just have to polish yourself and you will feel good about yourself. Everyone needs a spark in his life which leads to something great. This spark is very important. The best way to get this spark is through affirmations.
These affirmations for students will enable you to feel great about yourself and help you to get that spark before you are going to do anything in your life whether it is a test or an interview.
You are the youth and you have to change your negative thoughts into positive thoughts. You have to spread positivity, love, and peace in this world. You have to become a source of inspiration for other people.
You have to program your mind through these affirmations because your mind works on what you install in it. If you are thinking that "I can do it" or "I cannot do it". You are confused and you are putting yourself into two situations.
You are using your mind on thinking about what you should not think. These affirmations will help you to exclude the "cannot" factor from your mind. All you face will be positivity.
65 Strong Affirmations for Students:
There are some affirmations for you which will install positivity in your mind.
I am focused on a path and nothing can distract me from moving forward.
I am a brilliant student because I am good at academics as well as in sports.
I always get good grades because of my hard work and keenness in work.
Learning new things open many new doors of possibilities for me and I work for them.
I learn many new things daily which help me to do something great for this world.
I always get good marks and good remarks from my teachers.
It is just my school assignment and I will make it worthwhile by hard work.
My picking power is so great that I learn everything with ease.
I solve all the problems and questions very easily because I pay attention in my class.
I am a regular student and this is a success for me.
I don't wait for any miracle or luck, I believe in working hard and I always burn the midnight oil.
The reason for my success is that I always stay consistent.
I am so smart that I can win any argument and I can prove anyone wrong based on points and research.
I speak less and do more that is why I am the favorite of all the teachers.
I do not have any fear of failure because it also teaches me many things and I improve myself every time.
Every book I read gives me many ideas to live a successful life.
I don't get tired while running in any race of the studies. I see the destination, not the journey.
I do my work daily and I do not leave my work for any other day.
I find excitement and fun in my school and I have great friends.
My teachers and fellows support me in every task.
I am constructing my future by working hard in my present.
All the mistakes I did in my past, are creating my tomorrow.
I use all the failures and flaws to improve and brighten my future.
I participate in every work and give my best to that to win that.
I always get the first position in my class because I am so smart and I am so worthy.
I am confident and I have faith in my abilities that they are unique.
I always ask for help and I also give help who needs it because I am a nice fellow.
If I fall any time, I always cheer me up and buck up myself to run in the race with more zeal and zest.
I take advice from others and build myself with the help of these devices.
I use every single second to work hard for success so I can live a happy life with my family.
I am smart enough to get high grades in my exams.
My exam is going to take place and I am working to get the highest marks in them.
I am an example for every student and everyone considers me a role model.
It is very normal to take a gap year and prepare yourself for the exams.
This time shall too pass and will bring out the best in me.
Daily, I get many new opportunities and tasks to prove myself.
I am always open to seek knowledge and learn many new things that will help me in my future.
I will change the map of the world and I will provide people with my services.
My ambition is to implement all the knowledge into my practical life.
I am so worthy to use my knowledge and learning to make something good and unique.
My goal is to help everyone around me in getting knowledge.
I have all the concepts clear and I know how to use them in real life.
Every word of the book teaches me something new which I live to learn.
I have a powerful mind that I learn everything so quickly just after reading that for once.
I have skills in reading and speaking that everyone gets an influence when I talk.
My arms, heart, and mind are open to absorb all the knowledge in my surroundings.
I am ready to get all the responsibilities and I am heading towards it.
My finals are coming and it the right time to leave everything behind and just sit and study to prove that I am the best.
I always start doing my work with all the motivation and courage because I am a self-motivated person.
I do not take the stress and I let go of all the burden from my mind and use it positively.
I always enjoy my test because these show me on which place I stand.
I like healthy discussion and healthy competition in the class because I learn many new things about many people.
Failure has no place in my life now because I am passing all my tests with brilliant marks.
I am not comparable to anyone because I am unique and I can do all the things which the others cannot.
I am improving my mental and body features day by day and I am loving this positive change.
I have the power to attract the fellows and teachers towards me and they all enjoy my company.
I am very obedient that is why every teacher loves me deeply.
I can create a wonderful change in this world through my abilities and knowledge.
I find every test and quiz so easy that I do that only in a few minutes.
I always look forward to doing something new and show that to others.
My school, parents, and fellows reward me for everything I do because I deserve all.
Everyone around me has a great proud of me because I am a great representative of my nation all over the world.
My writing skills are so good that they can easily persuade anyone for anything.
My abilities and skills are improving every day and I have many talents to show to the world.
Conclusion: Affirmations for Students
These are the most powerful affirmations for students. If you are a student, then check them out!
Click To Tweet
No one can influence your mind unless you want. Pick some affirmations from the above list and remind them, read them, and learn them before you are going to do anything.
These will help you to complete your test without any fear and you will be motivated and dedicated. These will allow you to select a single and straight path to get success. This is true that positive words have a great impact on everyone so we should them in our improvement.
If you wanna manifest the life out of your dreams, click here.
Do you want your financial income to increase? Check this out.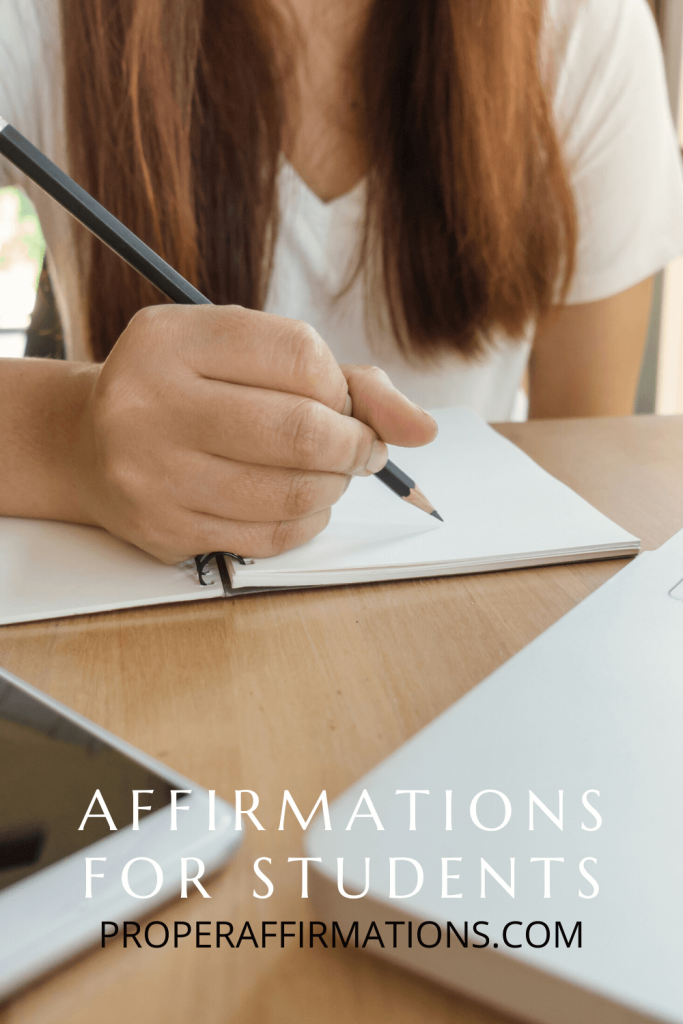 Hopefully, you enjoyed these affirmations for students, please share it with your friends on your favorite social media down below.