Here are the best 27 Affirmations for the day. If you want to spend a good day, you have to change your thinking. According to scientific research, your minds lead your day. What does it mean? It means that you drive all your day on the mind fuel and the mind fuel is your thinking.
It is important to think positive and good about yourself to face every challenge of the world.
But the question arises that "how to do that all?". I have an answer. You can do this with the help of the affirmations. These are the particular lines but have a very big and positive impact on your life.
These affirmations for the day help you to stay positive, avail every opportunity, and face all the challenges of your life just by thinking good.
To start your day with positivity, dedication, and motivation. Here are some affirmations you can use daily.
27 affirmations for the day:
Read them aloud to wake up your best version.
I wake up every morning with a smile on my face and I think to spend all day with love and positivity.
When I wake up, I always think that my future is going to better and it gives me motivation.
Good thoughts shine on my face and my personality. Everyone sees how positive I am.
I can choose what I want to be and it is me who decides all the pleasures and happiness for myself. There isn't anyone or any event to decide my fate.
It is on my own that I want to live happily or sadly. I always choose happiness over sadness and positivity over negativity.
I wake up every day and think that I am breathing beautifully and naturally. I thank my creator for every blessed and wonderful day.
I don't see time as seconds. I see every second as a whole new opportunity and chance.
Today is a new day for me as it brought me so many beautiful things and positivity in me.
The sun rays of the day are telling me that I can rise and shine and I can make this world and my life brighter.
I do not let my yesterday to use even a single moment of my today. Every day is a new day for me with a new charm.
I always make my every single day productive because I think that today will never happen again and I have to use it for the best.
I know nothing about my tomorrow and know everything about my past. This thing helps me to live and improve my present.
This day will bring hundreds of positive people and numerous chances for me and I will serve and avail them all.
I always believe that life is great and this belief helps me to go everywhere I want to, without having any fears.
This day has a new shine, new air, and a new environment for me. It is helping me to bring the best out of me.
It is written on my heart and mind that every day is a great day for me.
Every day comes after night and it motivates me that there is brightness after every darkness.
This day is full of positivity for me as I perceive lessons and motivation from every single thing.
Every day is precious for me and I start my day with love and peace because I don't want to waste it.
When I wake up, I think that nature and God have given me a new blessing and chance with full of power.
This is a wonderful day and I have not seen a perfect day like this before ever in my life.
I plan my days to live happy and prosperous in my tomorrows.
This day is a new start and a new path to achieve my goals and ambitions.
Every day tells me how important I am.
The sun rays of the morning tell me about every possibility.
I am moving closer to success with every day passing.
I do not live on the negativity of the past. I seek positivity from every moment of my life.
Conclusion: 27 affirmations for the day
It has been proved that you cannot move forward if you do not know what you want and what you think. You should know and express yourself.
These affirmations are for you and help you to speak your mind out. Once you start thinking well about yourself, you will find everything perfect that is around you. Keep thinking good because it is the key to living well.
If you wanna manifest the life out of your dreams, click here.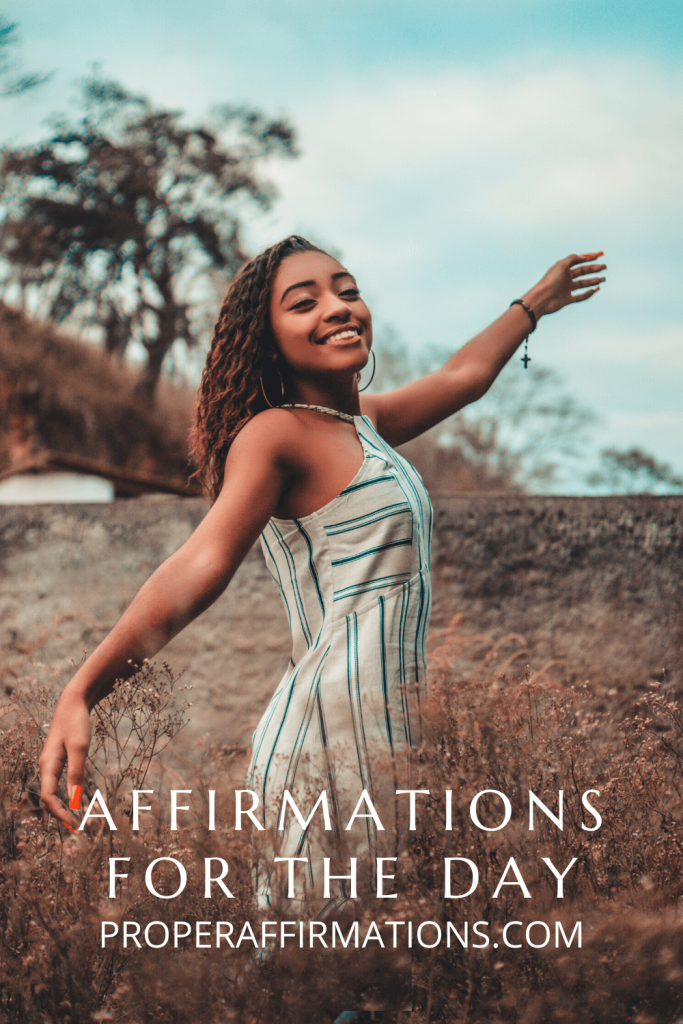 If you liked our 27 affirmations for the day, make sure to share it on your social media down below.