This post is all about the most positive affirmations for love. Since the evolution of this world, all the philosophers, scholars and teachers taught us the lesson of love through their writings, philosophies, and actions.
Love is the most essential thing in life. It drives our motion and fills our life with happiness and pleasure. No one can live a successful life with hatred and affectation. Tincture of love in everything is important. It drives the good and soft side of a person. This world is full of hate and people who spread it. Let us think beautifully and spread love all over the world through our actions and determinations.
Positive affirmations for love work to convince your mind of fundamental truths dispelling any unfounded doubts that may be holding you back and reminding you just how full of love you and your life are. It can be if you would like to go out and find the love that you truly deserve, start by repeating these love affirmations.
These positive affirmations for love will help you to fill your life with love. You will feel better about anything. Your relationships will be better and you will come to know the power of love in your life by implementing in. These will help you to make yourself more expressive.
All you have to do is, when you wake up, read them aloud. Select your favorite affirmations and you can also make your own. Close your eyes, take a deep breath and listen to them or read them.
56 positive affirmations for love:
Here are some love affirmations that will play a very important role in your life and relations.
Love is all around me and it makes me feel better.
Love is radiating out everywhere I go.
I deserve love and I am loved.
The life partner I am searching for is also searching for me.
When I give love, I receive love.
I feel everything with my loving receptors and I love everything I see.
My heart is always open to love.
I am attracting my soulmate to spend a beautiful life with me.
I will find the right one who will feel and understand me.
My inner beauty always has an impact on others who want.
I love everything so deeply and my love is very strong.
I become more loving every single day.
I attract long-lasting, happy and loving relationships into my life.
I give love and get it when it is doubled.
My thoughts and actions are always looking for love.
Today, I bless my existence with beautiful love.
Every day my love grows into pure and strong love.
I naturally attract perfect and pure people into my life.
My belief in love opens my heart to receive it.
All the love I need is within me and I will not lose it ever.
Today, I choose to be the happiest person and loved.
Everything I do is in the form of love and pleasure.
I can change a stone heart into a soft heart with the power of love.
Love has more strength then war.
I am the reason of happiness for many people because of the love I am spreading.
My soulmate is the source of relaxation, satisfaction, and love for me.
Every particle of my body urges me to spread love.
Love was the reason for the creation of this beautiful world.
Only love can spread brightness and shine is the world.
My soulmate loves me for who I am.
I consider love is over wealth and any materialistic thing in the world.
I can conquer the world through love and passion.
The love between me and my partner is pure and we are so happy with each other.
I am so selective but yet so passionate about it.
My relationships are the source of pleasure and a safe shelter for me.
I have a person who loves me more than anything.
Whenever I feel sad, love is always waiting for me to heal me.
I am so expressive in my love and I speak what my emotions are.
I make every relation strong by love, trust, and respect.
I love animals the same way I love human beings and they also love me back.
I take the help of my heart to solve many problems by love.
Love is an essential part of my life as it makes me and my life much better.
I love and respect everyone despite caste, creed, and color.
I am here in the world to get love and respect.
All my relations like my parents, my soulmate and my friends are sources of love for me.
I can change my enemies into my friends through love.
Love gives me excitement and enthusiasm to do better in my life.
Because of love, I do think that there is someone always available to me.
I lessen the grief of anyone around me with the help of love.
I get to know every person I want to, with the help of love and affection.
God sent me in this world to spread love.
I welcome every type of love into my life, with my arms open.
I never let go of love from my life.
I develop chemistry with ease with those I am attracted to.
I attract the love of the ones who are around me. I persuade them to love me.
The more I think about someone, the more they show interest in me.
These positive affirmations for love are the best ones I've ever read! 😍🥰♥
Click To Tweet
Conclusion: 56 Positive Affirmations for Love
The time required is only a few days to change your life from darkness to brightness, from dull to fun, and from hate to love. You can do these conversions by changing the way you think and the way you go for the things. Life is very limited and short, so we should not waste any single second. Make the feeling of love in yourself. You will see your life improving.
If you wanna manifest the love and life of your dreams, click here.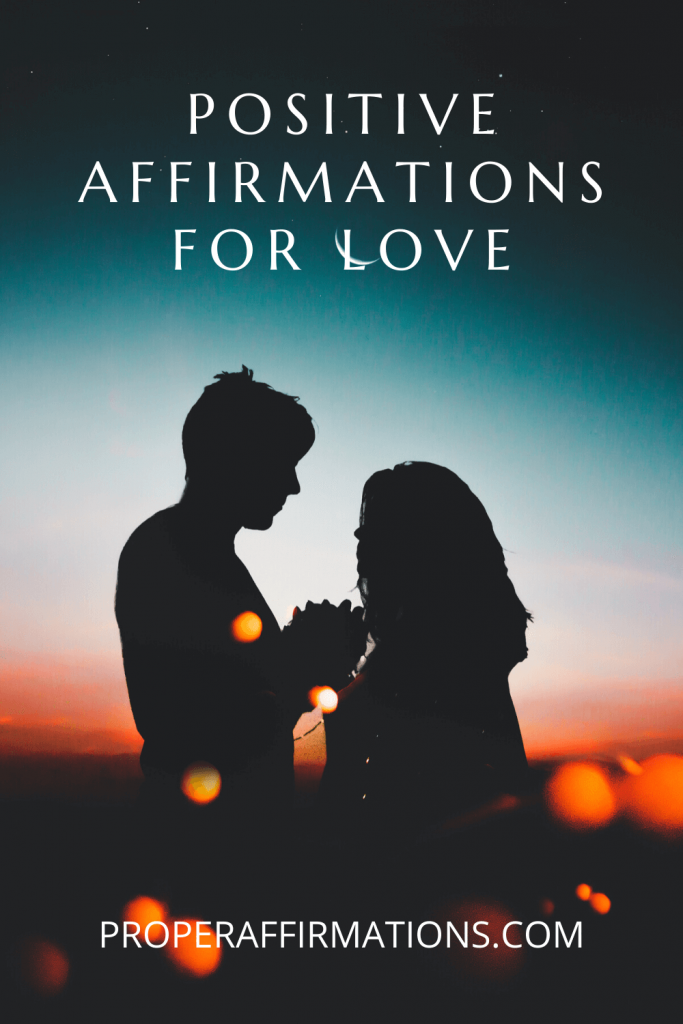 You can share this pin for Positive affirmations for love on your Pinterest account. Let me know if you loved them and soon I will have a video edition for these 56 positive affirmations for love. 💗