These are the best Affirmations for letting go of things. Change is very important in life as the day changes and brings many new things for you. The seasons change and bring new plans and environments for you. The trees shed their leaves and get rid of all the toxic substances.
The same is the case with human beings. Changing and letting go of things that are not written in your fate is very important. It will help you to discover many new things for yourself. Letting go of all the things which have a bad influence on you will make you rise higher.
The best way to let go of all the toxic things from your life is though affirmations for letting go. These will also help you to move forward and leave behind what is not for you. You will select better things for you.
The thoughts, things, and the people who ever made any problem for you should be abandoned from your life. This is the key to live a beautiful and prosperous life because a lot is waiting for you.
35 affirmations for letting go:
These affirmations will help you to release all the unwanted things from your life without any regret.
I am letting go of all the negative thoughts of my mind.
I don't have any worry and tension regarding my life because it is running so smoothly.
I am letting go of all the toxic things in my life.
There is not any place for negative and toxic people in my life.
I haven't any fear regarding my personality. I am complete and perfect the way I am.
I let go of all the barriers which were stopping me from going forward.
I let go of all the expectations and I am just living now to complete my dreams.
I say goodbye to the things that are stopping me from growing freely.
Possessions and hurdles do not stop me as I am much focused.
I don't have any burden on my shoulders so I am moving with a square chest.
I let go of all the past relationships that hurt me and now I am looking forward to attaching myself with love and peace.
I let go of all the things that were demotivating me.
I let go of all the regrets and now I live on what I think and I think positive always.
I release my rusted mind today and my mind is now clear and I am focused.
I let go of all the things that were controlling me and my thinking.
I am now independent and there is nothing that holds me back.
I let go of all the ropes which tighten me in the past.
I let go of all the anxieties, stress, and depression from my life.
I choose positivity and let go of all the negativity from my life.
I exhale all the useless things from my life and inhale the productivity.
I let go of all the things which no longer serve me.
I release what is bad for me because I will not allow anything to hurt me now.
I am at peace with all that happened in my life and going to happen in my life.
I have closed all the doors which do not have any opportunity for me.
I am now free of all the pains, problems, and sadness.
I forgive everyone who ever hurt me and gave me pain.
I recognized my soul and I am keeping it away from all the bad spirits.
I let go of all the difficulties and work on the "take it easy" rule.
I let go of all the failures of my past and grateful that they gave me a lesson.
I am okay with all I am doing with my life and living it the way I want to.
I let go of all the gaps in my life and filled them with positivity.
No one now helps me because I let go of my nature of depending on others.
I release all the dark breaths and filling myself with the brightness.
I let go of all the disappointments I have for myself.
I am now recognizing my power and abilities and removing all the other things that act as a hurdle in recognizing myself.
Conclusion: Affirmations for letting go 
These affirmations will provide you a new path to live your life. That path will be full of happiness, love, gratitude, and prosperity. Choose your favorite affirmations that fit best for you and reread them daily.
Read them and learn them when you wake up every morning. Paste them on your mirror or your bed so that you get motivation every time you see them.
Only you can make yourself and your life free of all the negative things. Start working on these affirmations from now.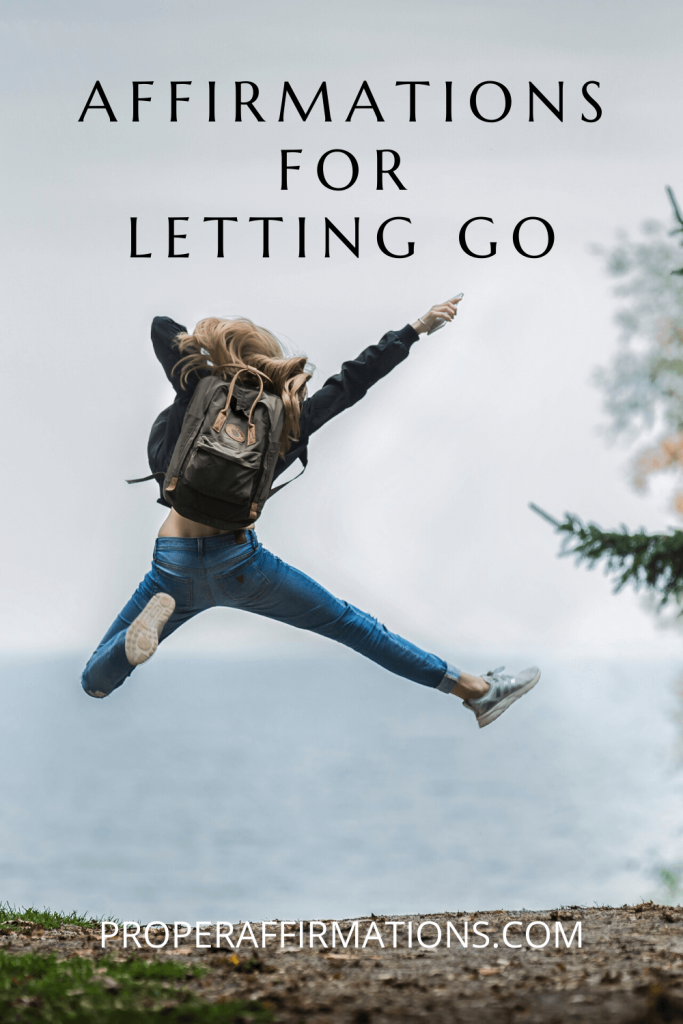 Related posts:
130 Affirmations for Self-Worth
23 Law of Attraction Morning Affirmations
67 Positive Affirmations for Mornings
If you think that these affirmations for letting go were helpful to you, share them on your favorite social media below to someone that might need them.