Here are my favorite 55 positive and powerful affirmations for social anxiety that can help you reduce your anxiety and stress lifestyle quickly.
A lot of people are facing daily social anxiety and have bad thoughts about getting social with other people, and if you facing all these thoughts yourself and you want to be free, then you are in the right place because today, I will show you the best way through which you can get rid of social anxiety.
After reading this article, you will be able to get rid of all the negative things and you will not give them a second.
So, let us get started. I have some powerful and positive affirmations for you to help you in your hard times. You have to feel good about yourself and you have to live your life the way you want to live.
Here is a list of affirmations for you:
I am letting go of all the things that are not in my control.
I am living my life that is fun, exciting, and fulfilling.
I am getting all the good and not worrying about anything.
I am attracting a happy and placid life towards me.
I am choosing the best people and work that give me happiness.
I am choosing to live my life the way I want to.
I am changing myself to be calm and to be an improved person.
All the relationships in my life are helping me to grow better.
I am a peaceful human being.
I am so worthy that all the good is waiting for me.
I am facing all the hard times on my own.
I am facing all the challenges of life very easily.
This anxiety and stress are nothing in front of my willpower.
This world has all the good things and it is offering me.
I am loving all the chances and opportunities that are for me.
I am offering all the good to this world.
I am a special and unique creature.
I am perfect and complete and no one can reach my standards.
I am attracting the people because I am talking well.
I am the best listener and understanding everyone.
I am becoming more comfortable with people day by day.
I am feeling myself complete in my body and this world.
I have a lot more to do in this world.
I am so grateful to know that there are hundreds of chances waiting for me.
I am so worthy to get all the good which I deserve.
I am enjoying my life and its every aspect.
I am handling all the social issues very easily.
I am making new friends and interacting with everyone with ease.
I am so worthy that people are enjoying my company and talks.
I am so worthy that the people are asking me for help.
I am so grateful because people are taking pieces of advice from me
I am great and radiating positive power.
Everything is possible for me.
I am doing all the things that I want.
I am doing great in this world.
I am the best part of this society.
Everyone around me is loving me for who I am.
I am not looking back because there is a lot for me in the future.
I am enjoying the strength of my present.
I am making my future bright.
I am capable and efficient.
I am deserving of all the positive friendships.
I am radiating all the love and happiness.
I am the source of positivity in this world.
I am becoming friendly day by day.
I am the best listener.
I am so worthy because everyone has trust in me.
My words carry weight.
My actions are for good everyone.
I am so worthy to have high self-esteem.
I am deserving of a good career and success.
I am changing this society for good.
This world is nothing without me.
I am the source of colors for this world.
I am very comfortable in speaking with the people.
It has been proved that repeating words, again and again, can give you the best feeling if they are positive. Words have a direct link and impact on the human nervous system and it drives your day and yourself.
So, these affirmations are for you and you have to read them and remind them, in the morning or every time you need them.
Your life is very beautiful and you have all the right to live it freely and happily. So, what are you waiting for? Start from now!
If you wanna learn more about the power of manifestation, click here.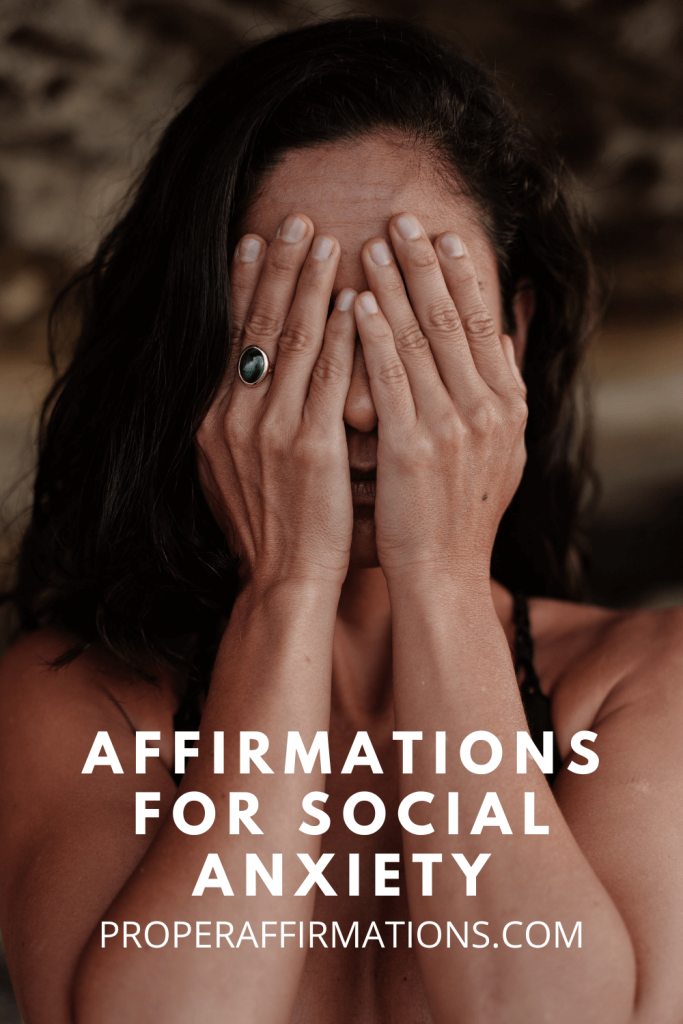 Hopefully, these affirmations for social anxiety were very helpful to you. Also, please share them on your favorite social media down below.