These are the best affirmations for work anxiety to help you reduce it and be more positive and peaceful. To live a good and prosperous life, you go out of your house and start doing some work.
But, sometimes you do not feel any motivation for your work. Have you ever try to work without any burden and pressure, free from all the stress and anxieties?
You have to experience this because it is one of the best feelings in this world. You are made to feel good and you are made to do whatever you want to do in your life. You have to eliminate all the toxic and negative things that are stopping you from moving forward.
But the question is "How to feel that?". I have a solution for you. I am here with the powerful and effective affirmations for work anxiety that will help you to feel and experience all the good and you will be moving forward, creating your paths to success without any fear and anxiety.
Feeling good about your work is very important to move forward in your life.
46 powerful affirmations for work anxiety:
Here is a list of some positive affirmations for you.
I am so grateful for getting this opportunity.
I am working well because I am perfect.
I am getting all the rewards and praise from the world and my work.
I am so worthy that I am unique and there is no one like me.
I am complete and powerful because I do all the work with my power.
I am getting all the things which I deserve.
I am finding fun and charm in my work.
I am facing all the hardships and challenges on my own.
I am made for this type of work because I am so pro in doing it.
I am building myself mentally as well as physically through this work.
The hardships are giving me the fruits that I deserve.
I am going through a hard time very efficiently.
I am loving all of my skills and abilities.
I can work hard and prove myself.
I am getting good wealth because of my work.
I am on a straight path that has not any hurdles and barriers.
I am saying good-bye to negativity and welcoming positivity in myself.
I am inhaling all the opportunities and exhaling bad luck.
I am improving my speed and capability day by day.
Every day I wake up, I feel excited about my work.
I am indulging more in my work, day by day.
I am capable of doing and getting all the good.
I am feeling happy because this world is for me.
I am not allowing myself to let down or feel bad.
I am ruling and controlling my life the way I want.
I am changing my dreams into reality through my work.
I am saying good-bye to stress and anxieties.
I am so grateful to know that everyone trusts me.
I am the source of inspiration for everyone around me.
I am spreading love and happiness around me.
I am completing my goals with the help of this work.
I am getting peaceful day by day because of this work.
I am at peace because there is nothing to worry about.
I am fulfilling all my needs because of this work.
I am satisfying myself with everything I need.
I am taking good care of myself and I am not taking any pressure of work.
I am loving my office because it is a second home for me.
I am relaxing at work because I am not taking any burden.
I am so grateful for all the friends I have at work.
I am only listening to my commands and orders.
I am providing quality work for my organization.
I am a very confident and self-sufficient human being.
I do not let any negativity to enter in my mind and my life.
I am making my kingdom by working hard.
I am getting success and I know this is for me.
Conclusion: Affirmations for Work Anxiety
All you have to do is to stay focused and remind all these positive affirmations when you wake up and going to start your day. It is up to you how you start your day because a good start can lead you towards the success. You can select your favorite affirmations from above and make your list. Paste it on everywhere you want to.
There is a lot more waiting for you and you have all the duties. You have to do all your duties with fun and keenness as well.
You can manifest the life of your dreams in just 15 mins per day, click here.
You can remove financial problems with manifestation, check this out.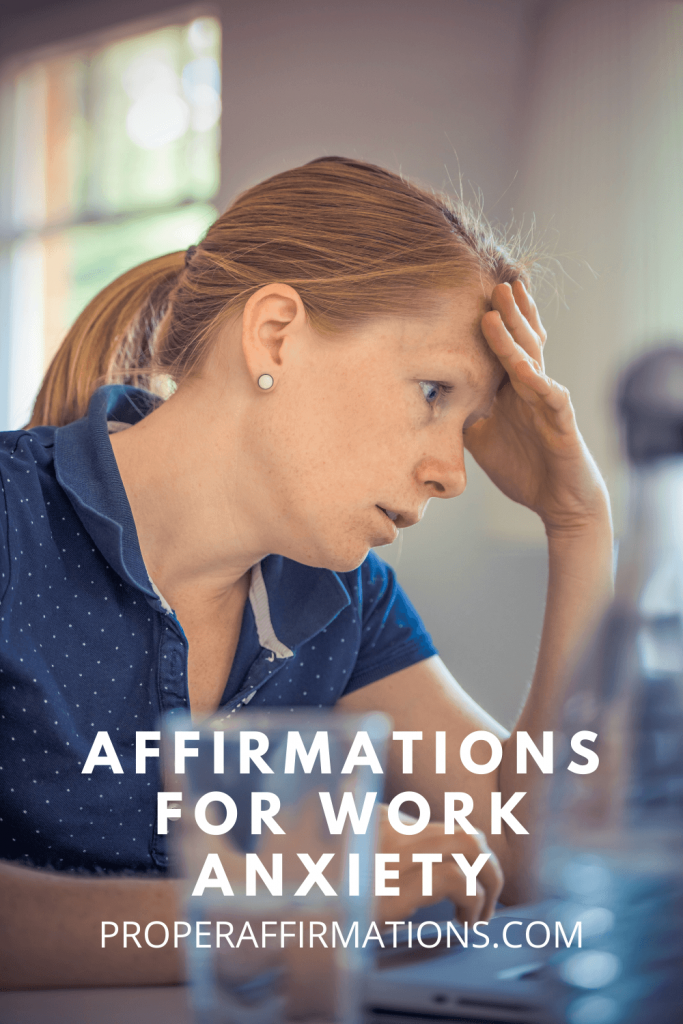 Hopefully, these affirmations for work anxiety were helpful to you and you enjoyed them, share them down below on your favorite social media to help someone else.