This post is all about the best 19 Morning affirmations for anxiety that can help you improve your mood and day. Did you ever wake up with so much burden on your mind? Did you wake up with the stress and many problems running in your life?
Anxiety can ruin your day. It urges you to think about this all the time.
Anxiety is not a weakness. Hard circumstances come and go in everyone's life. They leave a very strong impact on human life and affect it. It rules your mind. It is related to any happening in the past. Think about the present and future that is yet to come. You have to make your future from the broken bricks of your past. Believe me, it will be stronger.
If these questions are roaming in your mind, then you are in the right place.
With the below 19-morning affirmations for anxiety, it can help you every day to clear your head. You can do it just by some changes in your mind. You can make yourself positive. You can make yourself strong enough that you don't think about anything negative. Following the 19 affirmations for anxiety will help you to stay and think positive. You just have to keep them in mind before doing anything.
Just take a deep breath and read them all. You should not worry at all.
19 Morning Affirmations for Anxiety:
1. I have to live a meaningful life.
2. I am only dependent on my own.
3. God has created me for a reason.
4. I am cool, calm and collected.
5. Every cell in my body is looking for a better life.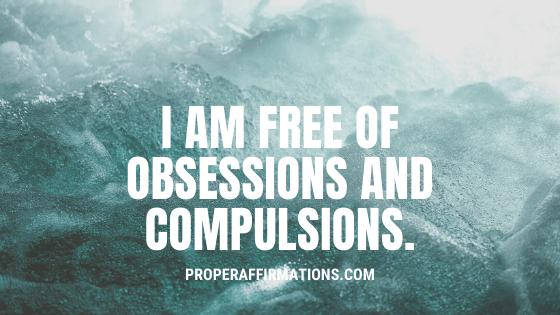 6. I am free of obsessions and compulsions.
7. I am always guided and feel safe.
8. I can listen to myself, I can be positive.
9. With every breath, I release the anxiety and negativity within me.
10. I have to imagine everything like I own this world.
11. Life is wonderful and I trust in my higher self to live a well-fulfilled life.
12. My mind and body are cleared from any kind of harmful and toxic substances.
13. I have released all the irrational feelings of fear.
14. I am healed of all pain of my past trauma.
15. The power that created me, is with me. It supports me.
16. Everything is happening exactly as it is supported for my highest good.
17. I will change the negativity into positivity and power.
18. I am adding positivity and calmness in my body and my life.
19. I thank God that he has perfectly created me.
How to use the 19 Morning Affirmations for Anxiety?
You can use them by writing them down on paper or download the YouTube video on your phone. Listening to them will help you. Attach them to the places where you go very often. Read them 3 to 4 times whenever you see them.  These will help you to become independent of everyone.
Be your happiness. Smile for the world. Do not let anything or anyone to destroy you. You are a survivor and you can heal on your own. Stand against a mirror and speak to yourself. Ask yourself some questions that you want to know. Be expressive and exhale all the problems.
You just have to inhale all the positivity and exhale all the problems and anxieties.
Just think the one who created you, he always has something great written for you. His plans are always the best.
Hopefully, this post on the best morning affirmations for anxiety helped you start your day powerful and grateful. Bookmark our website because we provide the best content for affirmation, and follow us on Instagram.
Click here to learn how to manifest success and happiness for you.