These are some of the most positive affirmations for friends that you can read and repeat every day. Are you trying to make your friendships better? Are you trying to develop all the friendly characteristics in yourself that help you to be a better friend? Have you ever feel surrounded by positive people?
As you know, friends are the best part of your life and you cannot even spend your every moment without them. You do all the things together, you share things and you get the things from them to listen.
If you want to make your friendships and relationships stronger and worthy, then you are in the right place because I am going to show the best way through which you can do all these things. Yes, it is possible.
I have some strong and powerful affirmations for you to make your friendships everlasting and attract new people in your life. Affirmations are the special words that help you to bring the best out of you. So, let us get started.
42 Positive Affirmations for Friends
Here is a list for you that has all the important and effective affirmations for you:
Everyone is telling me how amazing the person I am.
I am taking out time from my schedule to meet my friends.
I am opening myself for pure and everlasting friendships.
I am making friends very quickly and easily.
I am making friends just by meeting people the first time.
I am planning my life and events with my friend.
I am sharing my sorrows and happiness with my friends.
Having a lot of worthy friends is a very great feeling for me.
I am getting enough support and love from all of my friends.
I am standing behind the back of my friends and they do the same.
I am choosing the best people in my life for friendship.
I am opening myself to receive and love and respect from my friends.
Daily, I am attracting many new and worthy people in my life.
I am not letting any of my friends to feel down.
I am giving my best to maintain my friendships with love and respect.
I am doing hangouts and fun with all of my friends.
I am spending the best time with my friends.
I am a very compassionate and nice friend.
Everyone wants to meet me again and again.
I am getting value for my actions and words from my friends.
I am making friends as the best part of my life.
My life is amazing and wonderful because of my friends.
I am doing all the things to see and make my friends happy.
I am helping my friends in all the things and getting help in return.
I am finding good and nice people very easily.
I am so worthy to get great and brilliant friendships.
I am mixing myself and expressing myself with the people.
I am appreciating and rewarding all the positive relations in my life.
I am so grateful because I have great friends who are like a family to me.
I am trusting all my friends and getting the trust in return.
I am choosing to make myself better for friendships and others.
I am attracting genius and like-minded people every day.
I am getting valuable and quality friends in abundance.
I am making friends everywhere I go easily.
I am so grateful for being a loyal friend because I do not go anywhere.
I am so grateful because I can always count on my friends.
My friends and relations are guiding me to step forward.
All of my friends are standing with me to get success for me.
I am seeking friendships from the people who are inspiring me.
I am doing healthy discussions and debates with my friends.
I am always standing for my friends if they ever need me.
I am so grateful for all the great and trustworthy friends in my life.
Conclusion: Positive affirmations for friends
All you need to do is to take a deep breath, calm yourself, and read all these affirmations. These will help you in maintaining all your present friendships and relationships and also will allow you to make new friends. Read them aloud daily when you wake up and see a difference in yourself.
So, what are you waiting for? Choose your favorite affirmations from the above list and start working on them now. I assure you the positive results.
If you wanna learn more about the power of manifestation, click here.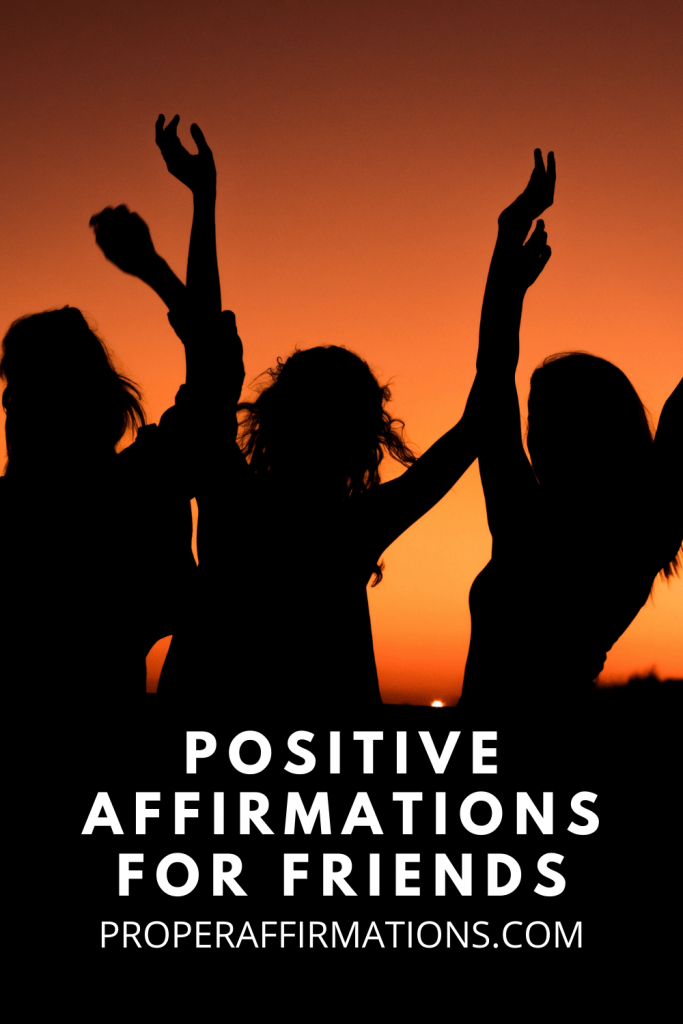 Hopefully, you enjoyed these positive affirmations for friends, please share them on your favorite social media down below. ♥♥♥