Feeling good about yourself is very important, that's why these beauty affirmations can help you remove any negative thoughts you might have right now.
Have you ever feel that you are the most beautiful creature in this world? Are you trying to feel good about yourself? Have you ever feel proud of yourself when you see yourself in the mirror?
If you have these feelings, then you blessed because these all feelings are the best in the world. You are beautiful, just your thinking, and your beauty is hidden under the dust of your negative thoughts which you have to throw away.
The definition of beauty is not limited to anything like good skin or bright color but is the way you are thinking about yourself.
According to scientific research, you are derived by your thoughts and your thoughts always come and reflect your personality. Now it is up to you how you are going to represent yourself.
So, today I am going to show you some positive and strong beauty affirmations that will help you to feel good and feel your beautiful when you see yourself. You have to feel this because you are capable of thinking this and feeling this.
47 Strong and Positive Beauty Affirmations
Here is a list for you containing all the important and best affirmations for you.
I am getting beautiful day by day.
I am attracting all the people because of my beauty.
I am radiating beauty everywhere I go.
I am choosing to be pretty, lovely, and beautiful.
I am changing myself to be more beautiful than before.
I am feeling good about myself when I see myself in the mirror.
I am so worthy to feel my inner and out beauty by myself.
I am getting all the compliments because of my beauty.
Everyone who sees me falls in love with me because I am so beautiful.
There is no one to compare with me in my beauty.
For me, inner beauty is more important than outer beauty.
I am maintaining myself to be more beautiful and prettier.
I am getting all the things and products that are needed for me to become pretty.
I am so proud of my face and my hair because these are perfect.
I am perfect and a unique creature.
I am letting go of all the negative thoughts that are affecting my beauty.
Everything I use shows positive results for me.
I am feeling and smelling beauty and love all around me.
I am considering everyone around me beautiful in every way.
I am so grateful for speaking and doing all the beautiful things.
I am inspiring everyone around me because of my beauty and love.
I am feeling that I am in a good and positive environment.
Every cell in my body is radiating inner and outer beauty.
The more I become happy, the more beautiful I am becoming.
I am so attractive because of my skin and hair.
My skin is becoming so smooth day by day.
My hair is showing a perfect shine and is like a waterfall.
I am looking very attractive in every dress I wear.
I am feeling very comfortable in my body.
I am walking with an erect head because of my beauty and my body.
I am so grateful because of a beautiful face and body.
I am so grateful for not having any disorder and disease that affect my beauty.
I am not taking any stress or worry because I can affect my beauty.
I am having perfect features and gestures.
Everyone loves to listen to me because I have a sweet voice.
My eyes are very shinning and everyone finds them attractive.
I have a fair and bright complexion naturally.
I am becoming beautiful day by day just by thinking positively.
I have a beautiful mind as well as body.
I am spreading happiness and making everyone feel that they are very pretty.
I am only focusing on the bright side of things.
I am making myself brighter day by day because of my thinking.
I have a beautiful and attractive smile.
I am taking care of myself and providing everything I need.
I am doing a very simple and sensible fashion and I look beautiful.
I am loving my body and my face.
I am attractive beauty towards me very easily.
Conclusion: Beauty affirmations
You just have to read and remind all these affirmations in the morning when you wake up because it is very important that how you are going to start your day. So, give it a perfect start.
If you feel beautiful, then everyone will give you compliments and you will feel good.
Everyone is beautiful, just you have to get to know about yourself. So, what are you waiting for? Start from now and start thinking good about yourself.
If you wanna learn more about the power of manifestation, click here.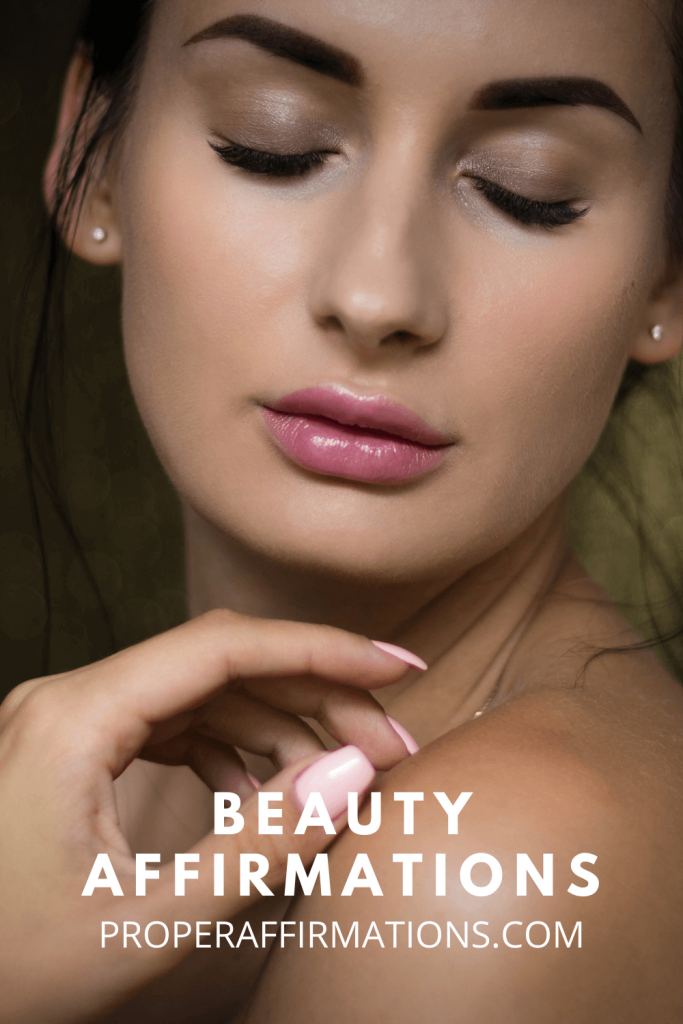 Hopefully, you enjoyed these beauty affirmations very helpful to you, if you did, please share them on your favorite social media down below.