Here are my favorite positive affirmations for students. College and school life are full of tests, papers, homework, and different tasks, and between them all, the students feel burnout and it is not good for them to feel that.
If you are feeling that, then you are in the right place because I will show you the best way through which you can get rid of all the burdens, and feel calm and peace in your every task. You will be able to do all the tasks, without becoming tired.
I am going to show you some effective and positive affirmations that will help you to spend your college life in the best way without being under pressure or any burden. These will allow you to get rid of all the negative thoughts.
Through these positive affirmations, you will start believing you again. These will give you confidence and faith to overcome all your problems and go through all the difficulties that you are facing in your life and your college.
44 Powerful and Positive Affirmations for Students
Here is a list for you to make your life better:
I am doing great in my studies as well as in games.
I am getting all the love and respect of my teachers and parents.
I am making many new friends in my school.
I am helping my fellows to solve all the questions.
I am so grateful for having a perfect and a sharp mind.
I am so grateful for being very punctual in my studies.
I am so efficient that I am standing first always in my class.
I am very comfortable with everything I am doing.
All the good is happening to me.
I am attracting good grades towards me.
I am making my parents and my teachers proud.
I am passing all the exams and tests without making any effort.
I am letting go of all the distractions coming in my way.
I am not feeling any burden on the studies.
I am not wasting my time while thinking about the things that I do not understand.
I am controlling my life and myself perfectly.
I am forgiving all the mistakes and failures that I made in my past.
I am so worthy that I am the favorite student of all the teachers.
I am a self-motivated and self-confident student.
I am giving motivation and encouraging my fellows to study and work hard.
I am not giving up on anything.
I am working very hard to achieve all my goals and ambitions.
I am exactly on the point where I need to be.
I am very regular in my studies and keeping my attendance complete.
I am finding fun and joy in my school and studies.
I am an all-rounder student who is good at everything he does.
I am creating a great balance in my games and my studies.
I am not wasting my time while sitting idle.
I am very productive and giving all the time to myself.
I am building my life and my future in the best way.
I am loving myself so that everyone loves me too.
I am creating a great environment in my class.
I am the source of inspiration for everyone who is in my class.
I am different from everyone else in the world and this is so good.
I am accepting my flaws because they are making me unique.
I am so grateful for having all the abilities, talents, and skills.
I have a sharp and clever mind that I use in positivity.
I am spreading love, peace, and positivity all around me.
I am living the best of my life because I deserve this.
I am getting all the things that I ever wish for.
I am attracting the teachers and fellows towards me.
I am opening many doors of chances and opportunities for me.
I am making the name of my school, the teachers and my parents.
I am so worthy because everyone around me supports me.
Conclusion: Positive affirmations for students
The best time to read and remind all these positive affirmations is in the morning when you wake up and before going to school.
You have to give a perfect start to your day to boost it up and take out all the benefits from it. It is very important for you because you are going to change the world and you are going to make the future.
So, what are you waiting for? Be a champion and start working from now because this is the time for you.
Do you wanna manifest the life of your dreams and learn more about manifestation? Click here.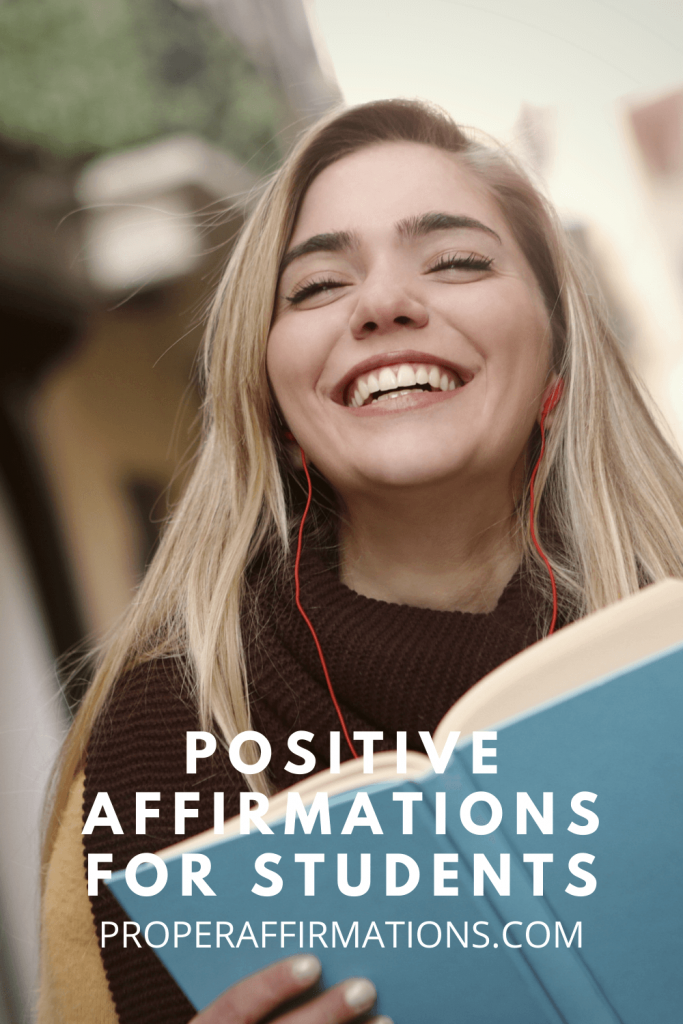 Hopefully, you enjoyed reading these positive affirmations for students, if you did, please share them on your favorite social media down below.