These are some of the most powerful evening affirmations that are done for you to help you feel positive, more energized for the end of the day.
Have you ever think about how you can boost your days? Are you trying to make your days worthy of living and making yourself productive?
If you have these questions and you want to make your sleep and days better, then you are in the right place because I am going to show you that words do have a solid impact on a human mind and nature.
Positive affirmations can help you to think good about yourself and make your nights peaceful. One of the best times and examples of these affirmations is the evening affirmations.
It is good for you if you repeat some specific words and in return, you get all the things which you want. So, today I am going to show you some strong and positive affirmations to you.
These are very important in your life. Repetition of positive words can make you positive. You have to pay attention to your body and mind. You have to develop some characteristics that make you different from others.
71 Positive and Strong Evening Affirmations
Here is a list for you containing all the perfect affirmations that you need:
I am releasing all the toxic and negative thoughts that are coming in my mind.
I have done all the good all day and I am satisfied.
I am so grateful for having all the days full of blessings.
I am planning my next days this evening.
I am choosing to be more calm and peaceful this evening.
I am relaxing my body and my mind for the next day.
I am improving the quality of my life and making it better day by day.
I am inhaling positivity and exhaling bad luck.
I am loving my life because it is offering me everything.
I am getting love, peace, and respect this evening.
I am changing all my dreams into a beautiful reality.
I am knowing myself and my value day by day.
I am loving myself and knowing that the toxic people have no place in my life.
I am assembling all my abilities and skills and positively using them.
This evening is going to be the best.
This evening, I will be attracting my soul mate and positive people.
I am making healthy relations and contacts in my life.
I am expressing my feelings and emotions to myself.
This evening, I am celebrating all the success I got till now.
I am recognizing my role in the improvement of this world.
I am making many changes and opportunities for me every day.
I am finding new and amazing things to charge my mind and fuel up my body.
This evening is bringing the best for me.
This evening I am breathing freely and smelling the love in the air.
I am grateful for all the good choices I have made in my life.
I am forgiving all my mistakes and failures.
I am accepting of who I am and what my flaws are.
This evening, I am making myself feel proud of what I am doing.
I stop worrying about the negative things in my life.
I am making my race and giving it all the time.
I am running and not letting myself feel down.
I am becoming a firm in all the decisions I am making.
I am standing always for myself.
I am perfect.
I am unique and complete.
I am the magnet of attraction.
I am loveable.
I am beautiful and radiating positive energy.
I am going on a perfect path that is leading to success.
I am clearing all of my plans and intentions.
I am planning all the good for me.
I can feel good about myself.
I am surrounded by love and positivity.
I am loving the way I am living.
I am not looking back.
I am constructing my future and making it bright.
I am creating art and enhancing my creativity day by day.
I am always protected by my higher self.
I am guided by nature.
I am leading by the divine.
I am changing for the better.
This evening is giving me the motivation and courage to live a better life.
I am deserving of all the best and I am getting it.
I am filling my days and my life with fun and joy.
There is a lot more to do in my life.
I am ready to face all the challenges and hardships in my life.
I am walking with an erect head because of my abilities
My skills and talents are making me different from others.
I am giving myself the best instructions.
I am commanding my life the way I want to.
I am on the perfect point right now.
Night sleep comes easily to me.
I am at peace right now.
The best time of my life is coming towards me.
I am looking forward to getting all the opportunities tomorrow.
I am charging my soul for the next big day.
I am going with my fate.
My destination is very clear and it is straight.
I am so worthy to be the best part of this world.
I am connecting myself with perfect guidance.
I am being supported by my higher self and nature.
Conclusion: Evening affirmations
You have to take out the best from these words. According to scientific research, if you repeat some words daily, these will become a part of your central nervous system and help you to be stronger.
All you need to do is to pick your favorite lines from the above list, paste them on your bed or everywhere you want, and read them when you are relaxing in the evening and you are going to take a nap. Make that nap full of energy and calmness.
If you wanna take the power of the manifestation to a whole new level, click here.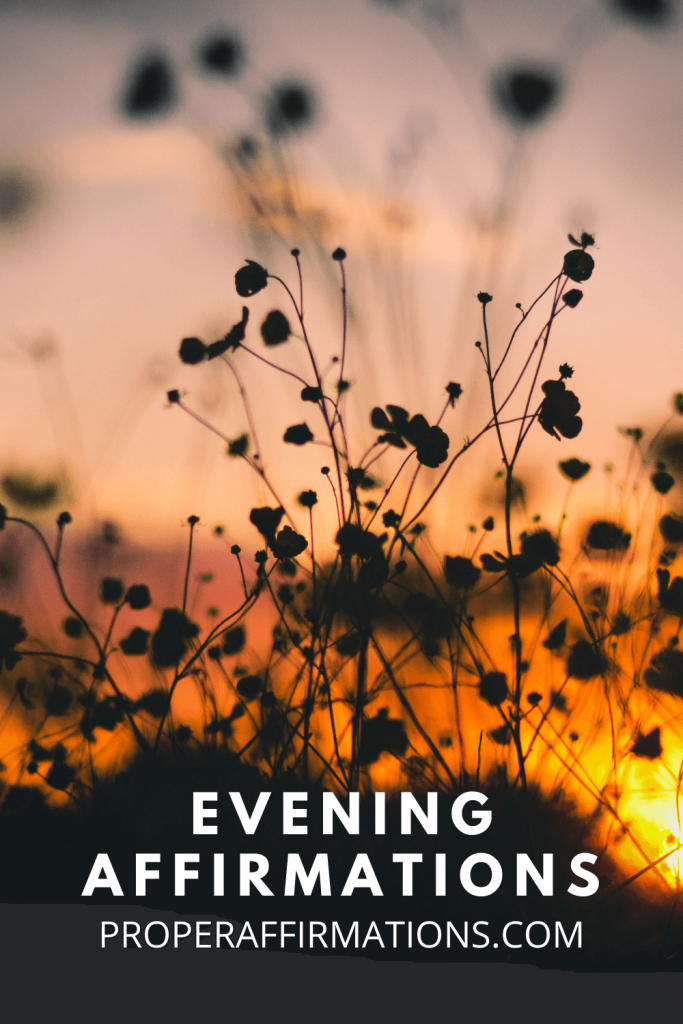 Hopefully, these evening affirmations were very hopeful to you start the ending of the day at the right mood and energy. Please share this on your favorite social media down below.