These are some of the best passion affirmations to help you find your passion in life and fuel it with positive energy.
Are you trying to build a passion for yourself? Are you trying to complete all your goals and aims with the help of passion you have? Have you ever feel that you are doing the best utilization of yourself? Have you ever feel that you have enough energy to conquer the world?
If any of these questions are in your mind, then you are in the right place because I am going to show you the best way through which you can easily build passion and get energy in your life.
Having enough passion and energy to do everything you want to do is one of the best feelings in the world. But, do not worry, you are about to feel that all just after some minutes.
I am going to show you some strong and positive affirmations through which you can fill your life with everything you want. You will be moving forward towards success because nothing can beat the passion and determination. So let us get started.
39 strong and powerful affirmations for passion
Here is the list that has all the affirmations for you:
Every day I am waking up, I am getting a new passion for my life.
I am so grateful to have all the potential that I need for success.
I am so worthy to generate my passion and determination.
I am using all my passion to change into success and luck.
I am so worthy that I am creating my fate with the help of my passion.
This world and nature are giving me the passion to move forward.
I am very grateful for all the energy that I am getting in my life.
It is very easy for me to do every task because I have passion and motivation.
I am letting go of all the negative things that are affecting my passion in any way.
I am so grateful because I am in a loving and passionate relationship.
I am taking out my feelings and emotions with passion and purity.
I am taking in the passion and encouragement with every breathe.
I am so worthy to create my path with a passion that is leading me towards success.
I am so worthy so that I am committed to my goals and aims with passion.
Doing all the things with great passion is very normal for me.
I am allowing myself to do all the good and positive in this world.
I am choosing the best plans for my life now because I am so capable.
I am not allowing any disappointment to come into my life.
I am saying good-bye to all the things that are not for me happily.
The more I think good about myself, the more passion I am getting.
I am so grateful to know my objective and reason to be in this world.
I am so worthy to know the value of myself in this world.
Everything I am doing is full of passion, energy, and dedication.
I am changing my dreams into a great and beautiful reality because of my passion.
I am writing great things for myself to get the passion and energy.
The more I am going forward, the more I am getting a passion to do more good things.
I am so grateful for having such a loving and passionate life partner.
I am radiating positive energy everywhere I am going.
People are getting motivation and passion from me.
I am spreading the encouragement and dedication all around me.
I am bringing out the best inside me because of my passion and energy.
I am so grateful for having never-ending energy.
I am making my every moment of life worth living and full of energy.
My higher self is giving me potential and energy.
My words and actions are generating potential for me.
I am so grateful because every step I am taking is giving me energy in return.
Getting motivation and encouragement is very easy for me.
I am writing my words with great flow and fluency.
Every day I am waking up from my bed, I am going closer and closer towards success.
Conclusion: Passion affirmations
You have read all these affirmations and now it is up to you that you have to make them the strongest part of your life. You can do this by reading and reminding them when you wake up.
Through this, you will be giving the best and perfect start to your day. Just imagine yourself getting all the things in your life that you want to achieve and moving forward without any fear of hurdles and obstacles. So, what are you waiting for? Start from now!
If you wanna learn how to manifest the life of your dreams in just 15 minutes per day, click here.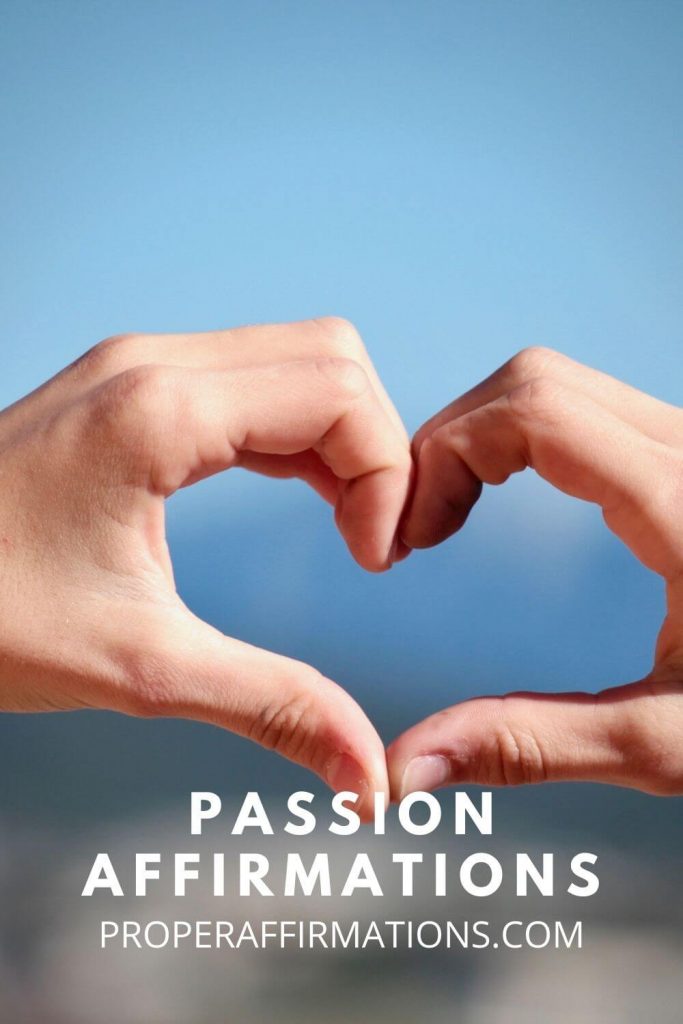 Hopefully, you enjoyed these passion affirmations that were made for you to help you find your passion and stick with it. Please share them on your favorite social media down below.