These are the best affirmations for job interviews that can help you land your dream job. Suppose you are an athlete and you are going for any preparation, or you are going for any exam, you have to prepare yourself physically as well as mentally. For any physical preparation, you are required to do exercise.
But what about the neurons and tissue in your mind? How to activate them before you are going to do anything? They are as important as other organs of the body. Scientific research has shown that 50% of the people can't do well in their tasks because they have not the charge to control their nerves and mind.
The same case can happen when you go for an interview. Have you ever felt yourself out of the league before the interview even started? Have you ever felt like a loser before running in a race? You will be looking at the fan, lights, and the walls of the waiting room with fear and doubt. You are doubting on yourself. You are having fear and doubt on your abilities but you are complete.
These all are just your mind games. You can feel yourself as the winner and the topper even before you appear in that race or exam just by thinking in a better way. You have to keep yourself focused on winning.
The best solution of "how to get rid of all these problems and to feel like a winner?" is through affirmations. These are the special words that have a positive impact on yourself and your mind. You can win the race just by thinking. You can smash the interview just by answering all the questions in your mind. This is called mind exercise. You have to excite your neurons and you can do this with the help of affirmations.
I have some affirmations for you which will help you in passing your interviews and achieving your goals. As you know that the "The first impression is the last impression" so you have to give the best impression.
This will be done by these affirmations. Read them aloud if you can or just focus on them. You will enjoy and smash the interview because of them.
18 Affirmations for job interviews:
Here are the affirmations which can change you in days. You will be more motivated and dedicated after acting on them.
I am very calm and confident because I know I can pass this interview.
I have all the answers to the questions that are to be asked.
I am complete and perfect for this post. I feel eligible for it.
I impress the interviewers and they see a spark in my eyes.
I have firm faith in my words and my action that they will hire me for the best.
I am created for this company. I can help it to grow in a better way.
I am an ideal candidate because I give my best always.
I am so worthy that they will listen to my demands and complete them.
I am focused and determined for this interview.
I am so positive that I always accept constructive criticism.
I love job interviews as they give me opportunities to explore myself.
This job interview is very easy for me I just have to be real.
I fit best on that seat and no one is here to compete with me.
The job interviews give me energy and signs to move forward.
I am unique and self-sufficient and this is in my favor for this interview.
I have a lot of experience in this field which I can tell interviewers.
I do all my work with keenness and dedication and my past experiences show that.
I can achieve this position easily.
Conclusion: Affirmations for job interviews
Take a deep breath, inhale all the good thoughts, and exhale all the negative thoughts that are stopping you from going forward. When you are sitting in a waiting room, feel yourself as a selected candidate, and remind all these affirmations. It will give you the confidence and power to speak and answer the questions in the interview.
You have to be calm and you should know how to control your nerves. These affirmations will help you to do that all. Always consider yourself as a winner because your body and gestures run on your mind and what you think. Stay positive and everything is yours. Success will come towards you.
If you wanna manifest the life out of your dreams, click here.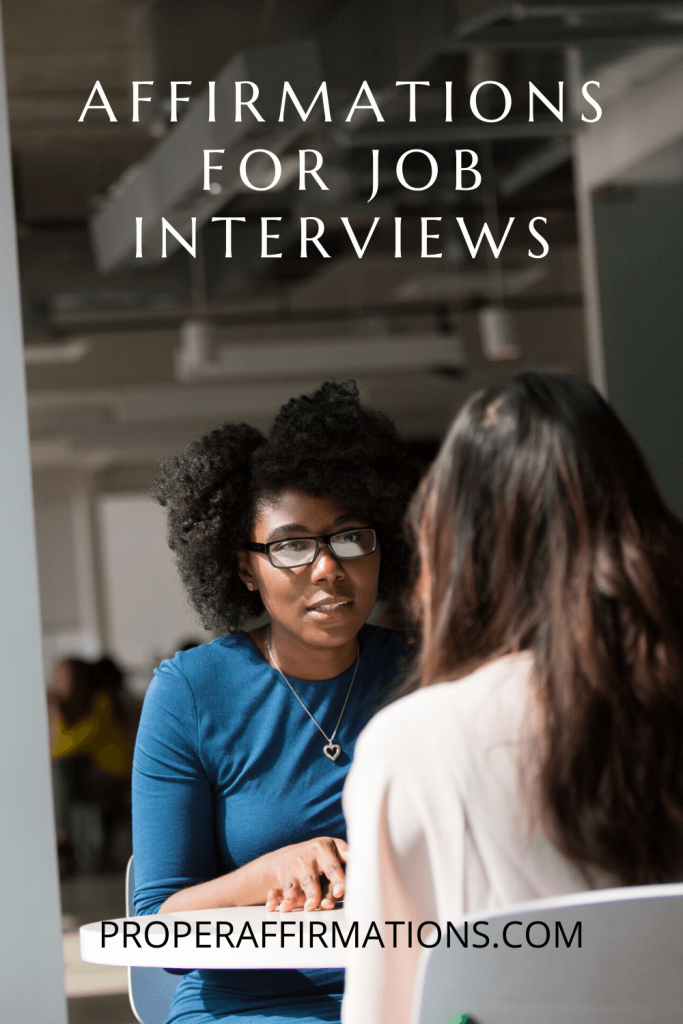 If you liked these Affirmations for Job Interviews, please share this post on your favorite social media down below.