These are some of the best courage affirmations for strength and power that you can unveil to yourself.
Are you trying to fill yourself with courage and motivation? Are you going to do something but you are feeling that you do not have enough courage to do so? Do you want to feel good about yourself?
If you have these questions in your mind, then you are in the right place because today I am going to show you the best way through which you can fill yourself with much courage that you can do all the things.
When you look at the lives of the world champions and those people who had done something good in their life, all they had was courage and motivation.
You can scroll the internet and see the people who have all the things, but they did not have any courage and they did nothing.
So, it is your choice in which list you want your name. if you are thinking that how you would build courage in yourself, then I am going to show you some affirmations. Through these, you will be able to feel encouraged and motivated towards your goals.
44 Courage Affirmations
Here is a list for you:
I am moving forward with courage and motivation.
I am not going to stop running and moving forward in my life.
I am letting go of all the negative things and barriers that are coming in my way.
Every day I wake up, I feel more encouraged towards my life.
I am creating and making my life with courage and motivation.
I am finding fun and joy in living life the way I want.
I am getting all the things because I am a man of great courage.
I am changing all my dreams into a reality because of my courage.
I am unique and perfect.
I am always standing for myself because I am self-sufficient.
I am dissolving all my fears in the past.
I am keeping myself ready and prepared for all the upcoming challenges.
I am thinking of god about my life and myself.
I am a warrior who is encouraged and brave.
I am fighting to get all the good for myself that I deserve.
I am ready to get all the things that will be offered to me today.
Encouragement is leading me toward a successful and prosperous life.
I am taking all the actions of my life.
I am living life on the guidance of my higher self.
I am facing all the challenges with efficiency and specialty.
I am letting go of all the fears that are not for me.
I am so grateful because I am above all other things.
I am believing in myself that I can do everything.
I am radiating and spreading courage all around me.
For life without courage is a life without a soul.
I am ready for all the experiences and adventures of my life.
I am taking only good actions about myself.
I am running on the strength that is provided by God.
I am doing all the good because of motivation and encouragement.
I am so worthy that no one can stop me from moving forward and doing good.
I am moving on from my past with bravery and encouragement.
I am not allowing my past to enter or has any influence on my present or future.
Every day I wake up, I open many doors of opportunities for me.
Courage in life is my best friend.
I am so grateful for having a great inner and outer strength.
I have the potential to fill myself with love and courage all the time.
I am giving my body the best fuel that is courageous.
I am charging myself to do all the good and what I want daily.
Courage and motivation are always here for me to never let me down.
I am flying higher without any fear and pain.
I am making many possibilities for me every day.
I am on a straight path that has encouragement for me.
Everything I do motivates me and encourages me to do more in the world.
I am so grateful for the perfect and complete life.
Conclusion: Courage Affirmations
All you need to do is to make some changes in your life that when you wake up, you have to read and remind all these affirmations. You have to pick your favorite ones from the list and start working on them now.
These are for you and these are for your better change. You have to build courage in yourself if you want to achieve your goals and get everything in your life. So, what are you waiting for?
If you wanna learn more about the power of manifestation in just 15 per day, click here.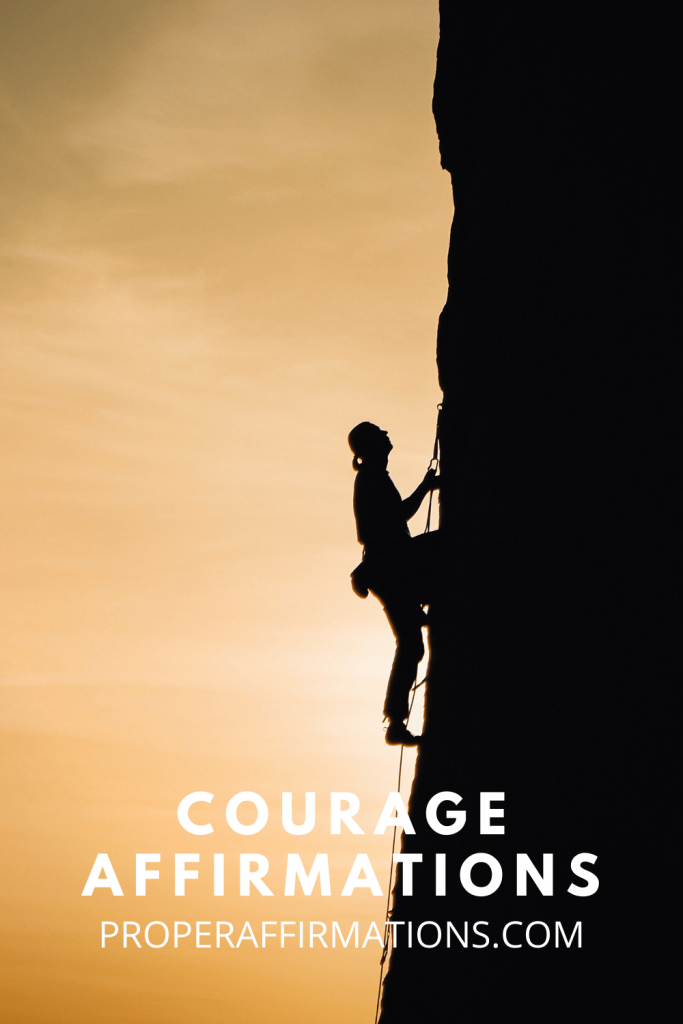 Hopefully, you enjoyed these courage affirmations and they were helpful to you. Please share them on your favorite social media down below.