These are some of the best productivity affirmations that can help you increase your productivity to a whole new level.
Do you want to reprogram yourself to be more productive? Have you ever feel that you have all the energy you need to move forward in the world? Are you looking for some motivation and encouragement to increase your productivity?
If any of these questions are coming in your mind, then you are in the right place because I am going to show you the best way through which you can increase your productivity and do everything that you want to do easily.
If you are getting this, then this is one of the best feelings in the world. Do not worry, today you are going to feel that for you. So let us get the start.
I have some affirmations for you, that are full of energy and motivating and will give you enough energy to start your day and give out the best inside you.
You will be able to show the world that you are very competent and you are capable of doing all the things of your choice. To feel that all and to improve yourself, all you need is these affirmations.
46 strong and positive affirmations to increase your productivity
Here is a list that has all the affirmations for you:
I am increasing my productivity day by day.
I am getting all the positive energy that is needed to increase my productivity.
I am getting more productive day by day just by thinking about it.
There is a lot more for me to do in this world.
I am making my ways towards the success on my own.
I am radiating energy everywhere I am going.
Every day I wake up, I feel more productive than before.
I am letting go of all the things that are stopping me from going forward.
I am controlling my time and giving time to myself wisely.
I am changing for better and positively.
I am finding fun and joy in every task I am doing.
I am the doer in my life and doing everything worthy.
Many changes and opportunities are waiting for me.
I am enjoying and finding joy when I am making myself productive.
I am always finishing my every work that I just start.
I am becoming very happy day by day as I am becoming productive.
I am attracting productivity and positivity towards me very easily.
I am so grateful for having the potential to do the work of my choice.
I am motivating and encouraging myself to do more.
This universe has a lot of good things for me.
The more I am becoming productive, the more I am opening doors for myself.
I am guided by my higher self and nature.
I am a person who has the back of nature and divine.
I love to take action and do something extraordinary.
I am feeling very happy because I have done all of my assignments.
I am so productive that I am winning the heart of my boss.
I am feeding myself with positive energy.
I am seeking help from my higher self and everyone around me.
This universe has all the good things for me.
Every day I wake up, I feel closer to my destination.'
The only way to success for me is through making myself productive.
I am letting go of all the negative thoughts and things that have a bad impact on me.
I am only allowing healthy relationships in my life.
Everyone around me is giving me motivation and encouragement.
Being productive is bringing all the things towards me that I ever wish for.
I am completing and filling myself by being productive.
Increasing my productivity is easy for me.
Everything I am doing gives me the energy to do more for myself.
I am tackling my fears and pain with a stern faith and belief.
I am completing my to-do lists by being productive.
I am so grateful because my life is going straight.
I am so worthy to do everything that I want to do.
I am starting my every day with energy that makes me productive.
I am setting examples for everyone around me.
I am making myself proud every day.
Getting positive energy is the best fuel for my body and mind.
Conclusion: Productivity affirmations
All you need to do is to read and remind all these affirmations when you wake up in the morning. You have to give a perfect start to your day. You have to tell yourself that what you want in your life. You can drive yourself and your life better with the help of these affirmations. What are you waiting for? Start from now!
Do you wanna learn about the power of manifestation in just 15 minutes per day? Click here to learn more.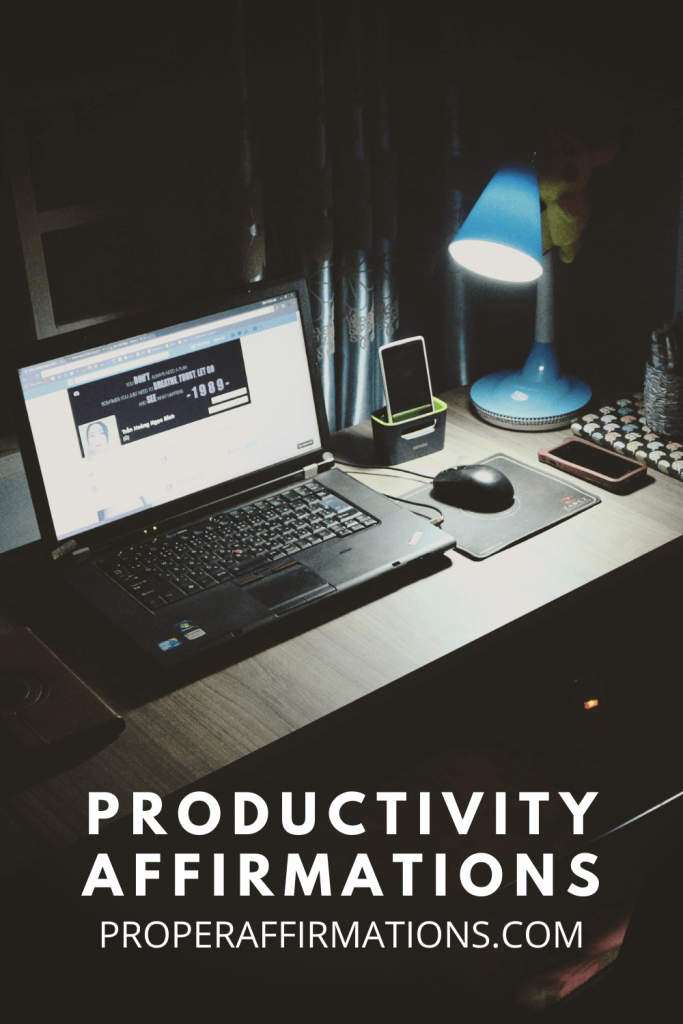 Hopefully, these powerful productivity affirmations were helpful to you, please share them on your favorite social media down below.