These are some of the best entrepreneur affirmations that were made by some of the best entrepreneurs in the world.
Are you going to seek some motivation and encouragement for making an investment and staring a new business? Do you want to start a business without any fear in your mind? Do you want to give your best to your business and get so much profit from it?
If you have these questions roaming in your mind and stopping you from doing great business and bringing your ideas into a reality, then you are in the right place.
I am going to show you the best way through which, you will be able to move forward and take your ideas into a reality, without any fear or any second though. So, take a deep breath and let us start.
I have some powerful and strong affirmations for you that have some unique and special words which will have a direct and good impact on your mind.
If something is stopping you from investing, then you need these affirmations. If you are not sure that what happens if you invest, then these affirmations are for you.
45 strong and positive affirmations for an entrepreneur
Here is a list of some affirmations for you:
I am setting my business goals and running for them.
I am making a huge investment that is going to pay me all the wealth.
I am attracting wealth and success towards me.
I am getting all the chances and opportunities every day I wake up.
I am completing all my goals with great focus and responsibilities.
I am allowing myself to move closer to my goals and ambitions day by day.
I am moving forward with grace and confidence.
I am growing my business the way I want.
I am giving all my time and effort to my business.
I am making very good deals that are giving me all the profit I deserve.
I am attracting the goal I set for myself very easily.
I am doing all the good to make my business and life better.
I am manifesting all the good things about my business.
I am thinking positively about my business and about building it.
My business is getting stronger day by day.
I am letting go of all the fears and barriers that are stopping me to invest.
I am so worthy that all the wealth and success is in my fate.
I am attracting all the clients towards myself.
I am helping all my clients and giving them the things they want.
My business is attracting pure and healthy people and chances of it.
I am radiating the energy that is full of wealth and success.
Every day I am seeing a rise in my business deals and worth.
I am making a good plan for my work and my business.
Making good clients is not a problem for me now.
I am increasing my sales day by day through my skills.
Many companies are wanting to collaborate with me.
My workers and employees are very happy with me and my company.
I am making all the goals and crossing all the limits in the market.
I am making more sales every day because I am deserving of this.
I am managing all the products and sales.
I am feeling perfect to run this business.
I am completing all the hopes of the people around me.
I am getting the trust and respect of the clients every day.
I have the potential and skills to run my own business.
Every decision I am making turns out to be successful for my company.
Nothing can stop me from moving forward and achieving my goals.
I am doing all the good and positive things to improve my business.
I am having great things and ideas to add to my business.
I am trusting my higher self for guidance.
The investment I am making is giving me a huge profit.
Everyone around me is loving my ideas and products.
I am managing my time for my business very well.
I am so grateful for all the things I have done so far for my business.
I am a very confident and competent salesman.
I have faith in myself that I can do it.
Conclusion: Entrepreneur affirmations
All you need to do is to read and remind all these positive entrepreneur affirmations, when you wake up in the morning or before you are going to start a business.
It will charge your day and polish all your abilities. Make them the most important part of your life if you do not want to stop and keep running in your life in every direction you want to run.
If you wanna learn more about the power of manifestation about success and wealth, click here.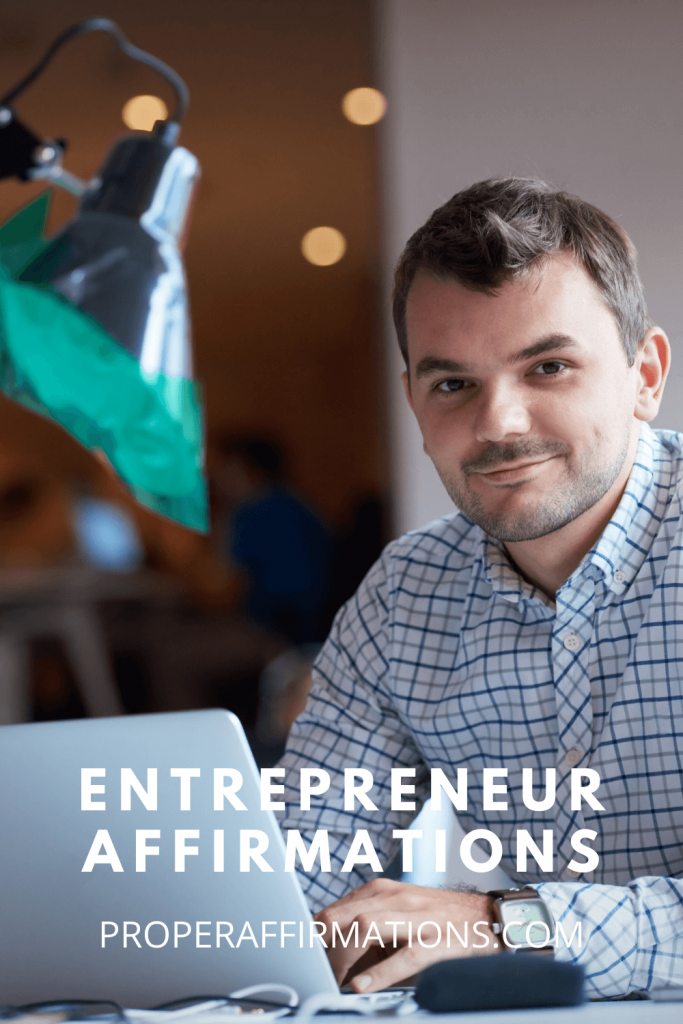 Hopefully, these entrepreneur affirmations were very helpful to you so you can repeat them every morning when you wake and the same way before you are going to bed. They work great.
If you enjoyed them, please share them on your favorite social media down below.