These are some of the most positive bedtime affirmations to help you release all tension and stress build-up during the day.
Have you ever try to be on the bed without any tension and stress? Are you trying to get a peaceful sleep? Are you want to live the best day and sleep with a peaceful body and mind? These all questions are very normal and if you are getting these all the things, then you are so blessed.
A peaceful and relaxing sleep at night is one of the best feelings in the world. I know that you are doing all the hardships and making all the efforts all your day.
So, you need a night that is peaceful and giving you all the energy to spend a day and do all the stuff that you want to do.
So, today I am going to show you all the important affirmations that are very helpful in making your sleep full of peace. Repeating these words will have a very positive impact on your mind and body.
42 Positive and Powerful Bedtime Affirmations
Here is a list for you:
I am releasing all the negative things.
I am forgiving myself for all the wrongs and moving forward.
I am entering into a peaceful and calm sleep.
I am inhaling the peace and exhaling all the worries.
This is the time for me and I am going to avail it.
I am giving myself all the permissions to get a night of proper sleep.
Sleep is giving me peace and comfort.
I am charging myself for the next day through the sleep.
I am watching nice dreams that are a source of motivation for me.
My body organs are grateful to me because I am relaxing them.
I am inviting all the qualities in me for good sleep.
I am getting a good, comfortable, and peaceful sleep without making any effort.
I am choosing peace and letting go of all the unwanted things.
I am living my life according to the universe.
I am living my real life that is full of excitement.
I am going to sleep without any fear because nothing is coming in my mind.
I am very confident in completing all my tasks and feel accomplished.
I am always spending a good day.
I am very patient and giving proper time to my fate.
Sleep is giving me all the perfect chances and opportunities.
I am very deserving because I am a divine creature.
I am capable of doing everything because this is written in my destiny.
I am feeling connected with peace and harmony.
I am so worthy because perfect people and circumstances are waiting for me.
I always see the good signs when I go to bed.
I am planning my life very perfectly on the bed.
I am relaxed and my mind is full of positive thoughts.
This time is giving me all the things that I want.
I am opening myself to get all the things that I am deserving of.
I am unlocking all the powers because my strength is coming from the source.
My body is doing the best part of this world because it never let me down.
I am living my life according to the guidance of my higher self.
Divine rules are always here for me and they are guiding me better.
I am getting and doing all the tasks just by thinking small about them.
I am very passionate about life and this gives me fun and charm.
I am grateful for everything happens with me in the day.
This night is full of positive dreams and energy.
I am smelling positivity and chances this night.
I am answering all the questions that my soul is asking from me.
I am accomplishing all the goals just by putting them in my mind.
I am taking the time to recharge because today, I have done many good things.
I am grateful for all the things that I have got in my life.
Conclusion: Bedtime affirmations
You just have to read, remind, and focus on all these affirmations before you are going to your bed. If you are trying to do all the positive things, then you have to tell your mind that you have to do all the things.
Fuel up your mind and soul with all the positive things and this can be done with the help of these affirmations.
So, this is the time for you. Start making your day and night the way you want. Start from now!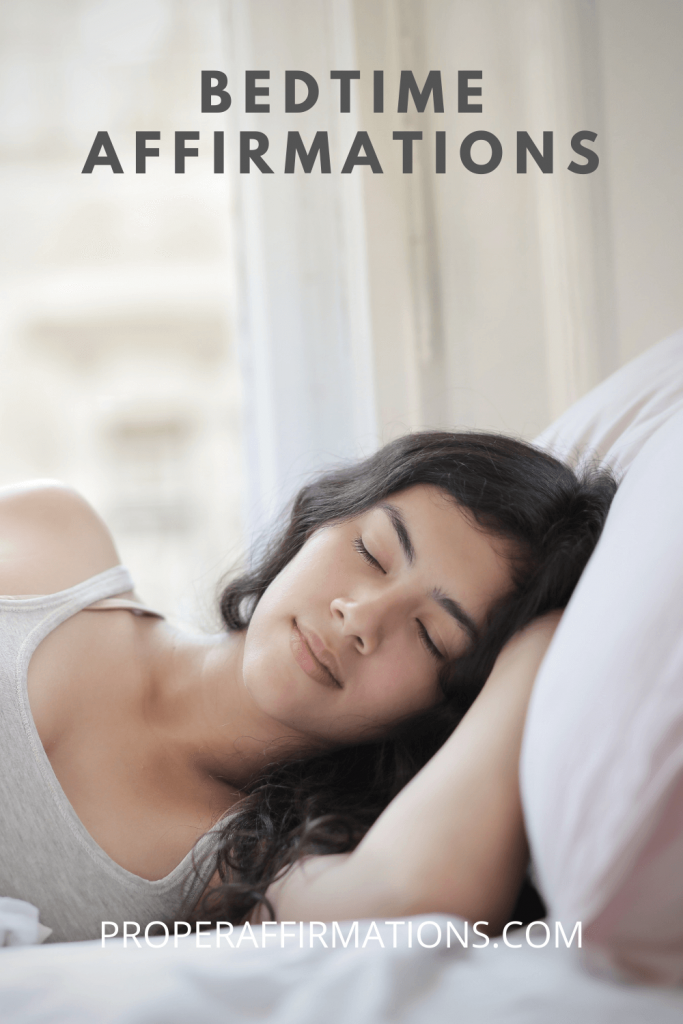 Hopefully, these bedtime affirmations were helpful to release all tension and stress that was build during the day. If you enjoyed them, please share them on your favorite social media down below.