These are the most powerful Affirmations for intelligence. Have you ever feel that you are at the top of the world? Have you ever feel that you are complete and perfect? Have you ever test your IQ level? Have you ever try to solve any question or problem just by the mind tricks?
These all feelings are very important because you have to feel that you are intelligent and you are no less as compared to anyone else in this world. You have to feel this to achieve anything.
Today, I will show you some powerful affirmations for intelligence. All you have to do is to read, focus, and remind all these affirmations by your heart and mind.
These will help you to think positively about yourself and achieve everything you want to. You have to think that you are intelligent. God has created everyone the same, but most of the people are very intelligent because they think that they are intelligent. So, this all is just a mind game.
45 Positive and Powerful Affirmations for Intelligence
Here are some affirmations for you to focus on:
I am learning things very fast because I am unique.
I am so grateful knowing that my picking power is so good.
I am overwhelmed knowing that I am beautiful and intelligent.
I am understanding all the things very easily.
I am getting distinctions in my studies.
I am getting all the positions and rewards in my academics.
I am standing in the first position because I am so intelligent.
I am solving all the questions very easily.
I am so grateful for knowing all the tricks and ways to solve the problems.
I am so worthy to know that I am a genius.
Everyone takes help from me in solving questions.
I write and speak very fluently and error-free.
I am so blessed to get the things easily and this makes me powerful.
Intelligence fills my mind and I am capable of it.
I am so grateful because I have a sharp mind.
I am using my mind only in a positive way and in my studies.
I have faith in my logic and tricks.
I am sharing all the logics with my class fellows.
I am making my notes and sharing them with everyone else.
I am so grateful knowing that I am an inspiration for others.
I am very smart because I can do everything.
I am very good at Mathematics and every other subject.
I am always seeking positivity and concepts from my teachers.
I am glad to know that I have very good research abilities.
I do my tests very easily and keenly.
I am always helping others in the classwork and homework.
I am getting a degree that is best for me.
I am entering in the practical life with power and strength.
I am naturally very talented in every subject.
My arms, mind, and heart are open to taking concepts.
I am giving myself time and making my mind sharper every day.
I am easily learning every topic I choose.
I am different from other students because I have many qualities.
I am the favorite of all the teachers and they trust me.
I am learning very fast and taking concepts of everything which I read.
Exams are only a piece of paper for me because I do not find any difficulty.
I am always testing my skills and abilities.
I love reading and writing because I have a great interest in these.
I am always showing good results in all the tests.
I am passing all the tests in a short time.
I am always showing something new about topics in the class.
I always give extra information about the topics in the class.
I am using all of my brains in my studies.
I always have a deep concentration in my studies.
I am processing all the information very accurately.
Conclusion: Affirmations for Intelligence
You can make your affirmations like these by feeling and knowing yourself that what do you want. Pick your favorite affirmations from these and start working on them. You can also search on the internet about the most intelligent people in this world and you will get to know that they all use their mind in a way so that they are intelligent.
Best time to work on and remind these all affirmations is in the morning. You have to give a perfect start to your day and fuel up your mind by these affirmations.
If you wanna manifest the life you always dreamed of in just 15 minutes per day, click here.
If you struggle financially, you can now start to manifest more wealth in your life, find out more here.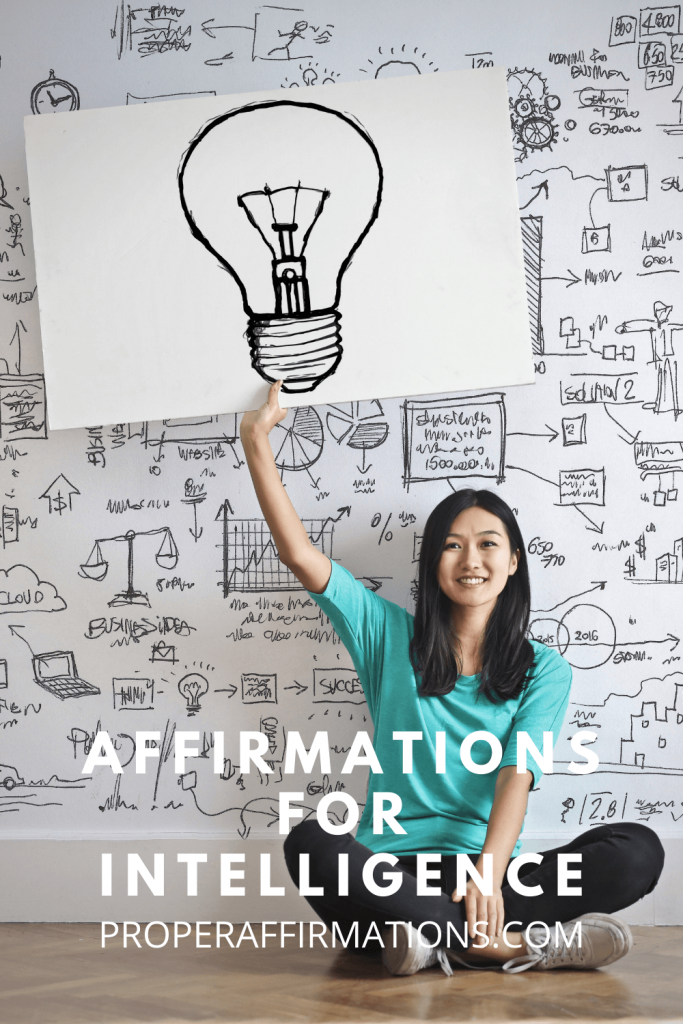 Hopefully, these 45 powerful affirmations for intelligence helped you. If you really enjoyed them, share them on your favorite social media down below.