These are the most powerful 50 Affirmations about self-worth and for yourself to understand your self-worth. It is very important for you to feel and get to know more about your worth.
You can achieve each and everything in this world if you know about your self-worth. You have to know it and value it because if you do not find this, no one else will.
Having and knowing self-worth is very important and it is one of the best feelings in this world. You feel accomplished and you pass your every step without doing any effort.
The problem is that no one knows how to find it and how to know about your self-worth. Like always, I am here to show you the best way to develop and get to know about your self-worth.
Everything has a value and price, the higher the value is, the more precious will be that thing. So, you can make your value by making some affirmations. Yes, it is the best way.
50 powerful affirmations about self-worth
Here is a list for you and you can take any type of help from these following affirmations:
I am becoming worthy and successful day by day.
I am acting and moving forward ignoring all the fears.
I am only thinking positively about myself.
I am the live wire that is generating current all the time.
Everyone around me loves me by heart.
I am so worthy to get all the good in this word.
I am appreciating myself for all the good I am doing.
I am taking every step on my own will.
I am a man of great honor and self-esteem.
I let go of all the fears and barriers coming in my way.
I am flying higher because nature has given me the wings.
I am realizing day by day that I have many good qualities.
I am unique and different from everyone in the world.
My skills and talents are showing all the good to this world.
I am loving all the change and loving who I am becoming.
There is nothing to look back for me because I have a lot more to do in my life.
Everyone around me rewards me because I deserve that.
I am so worthy that all my actions and words carry weight.
People want to see me and enjoy my company.
Everyone is listening to me very carefully and keenly.
I am becoming powerful and stronger day by day.
Every day I wake up, I am getting new energy and charm.
I am opening all the doors of opportunities and chances for myself.
I am the favorite human being.
I am attracting all the praises and compliments.
I am finding fun in living life the way I want.
I am so grateful because everyone is giving me respect.
I am loving myself and everything around me.
I am taking good care of myself.
I am speaking my mind and heart with confidence.
I am so worthy of getting high self-worth and self-esteem.
I am seeing myself with a kind heart and kind eyes.
I am achieving everything which I ever wish for.
I am building self-discipline in me.
This universe has very good tasks for me.
I am completing all my needs on my own.
I am respecting everyone around me so that they respect me.
I am making my own decisions and choices.
I have firm faith in myself and every choice I make.
I am becoming a great person day by day.
I am filing myself with honor and dignity.
I am loving me all steps towards my destination.
I am so worthy that I can complete all my goals easily.
I am so grateful for having the power to resolve all my issues.
I am helping and advising others on many things.
This world knows my worth and esteem.
I am very popular among people.
I am a special creature for a special reason.
I am focusing on myself.
I am changing for the better.
Conclusion: Affirmations about self-worth
The best time to remind these affirmations is in the morning. Al you have to do is to read these all affirmations or pick your favorite ones.
Read them when you are going to do any work, you feel down or you are sitting idly and going to be a prey of negative thoughts. Once you start making your value, no one can deny it.
So what are you waiting for? Start working on it and be a precious human being.
From now on, you can manifest the life of your dreams in just 15 minutes per day, find out more here.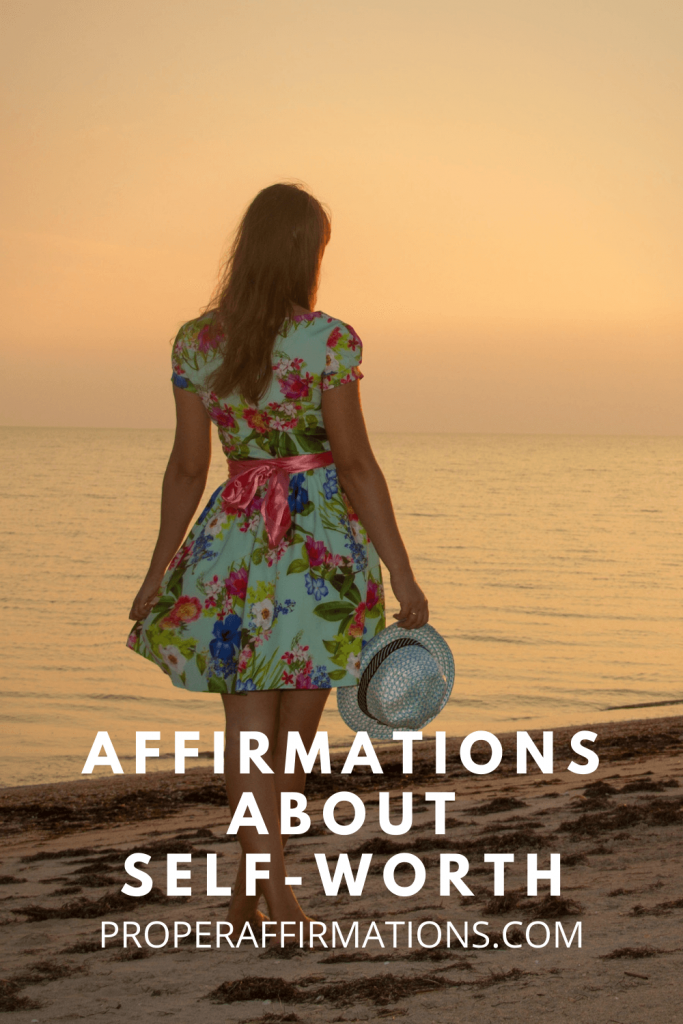 Hopefully, these powerful affirmations about self-worth are helpful to you, if they are, please share them on your favorite social media down below.