These are the most powerful Monday affirmations for you to make your week start full of love and energy. Have you ever try to fill your day with power and boost up your day?
Mondays are the best days to improve yourself and make the changes in yourself. It is the start of the week and also the start of your energy.
You have to feel energized and peaceful on the first day of the week that is Monday because if you do so, you will be able to live the rest of your week with the same energy and power.
But the question is, how to do that? it is very easy. You just need some proper words which you have to repeat again and again to live your life as the way you want to live.
So, in this article, I will show you some effective and positive affirmations that are needed to boost up your life through your Mondays. You have to always tell yourself that you are doing good and what you have to do because your mind and your body need to prepare themselves.
43 Powerful Monday Affirmations to Boost up your new week
Here is a list for you to gain everything in your life, by making your Mondays.
I am so grateful for waking up so perfectly.
I am present at every moment and enjoying it.
I am letting go of all the negativity and toxicity that are in my mind and body.
I am finding love everywhere I go.
I am making my week perfect by living it.
I am making my Monday so bright to give a fresh start to my week.
I am getting all the opportunities on Monday.
I am controlling my mind and my thinking.
I am not letting any useless and unwanted thinking to come in my mind.
I am going on a straight path on which I should be going.
I am feeling Monday as a good luck day for me.
Monday is bringing me all the positive and good things.
I am achieving all the things on this day and all the days ahead.
I am smelling that it is going to be a very good week.
This week is bringing me all the things I want to get.
I am working hard and getting the motivation to do so this week.
I am going to live and spend Monday with fun and joy.
I am a care-free and tension-free human being by feeling light.
I am charging all my days by just thinking good about them.
I am opening myself to receive all the good that the universe is offering me.
I am looking every day as a new chance and opportunity to do well.
I am making all my days and every moment worth living.
I am moving out of my comfort zone and living my life to the fullest.
Monday is a source of a fresh start for me.
On Monday, I am letting go of all the negative things of the previous week.
This Monday is a fun-day and joy-day for me.
I am smelling something that is coming to change my life.
My heart, arms, and brain are opening to receive all the energy that is filled with love.
I am stopping thinking too much about what is going to happen.
Monday is giving me all the things I need.
I am feeling very lucky and peaceful on Monday.
I am getting all the positive rays on Monday.
I am trusting my heart and my inner self to guide my best in this universe.
I am making my goals in my mind and working to get them.
I am grateful for all the wealth, health, and prosperity in my life.
I am showing the best of me today.
I am doing all the brilliant and wonderful tasks today.
Monday is taking me to a path that is leading me towards success.
I am acting like a magnet and attracting love, peace, and charm towards me.
I am very polite and kind, but I am not weak.
I am ruling my Mondays and these are guiding me in return.
I am very smart and efficient.
Monday is showing me the light of a great future.
Conclusion: Monday Affirmations
The best time to read and to focus on these affirmations is in the morning. All you need to do is to read them when you wake up. Take a deep breath, thinking positively about yourself and you will be motivated automatically if you do so.
So, it is time for you and you have to take all the benefits of your life. Start giving your best and start improving yourself for the better.
If you wanna learn more about the power of manifestation, click here.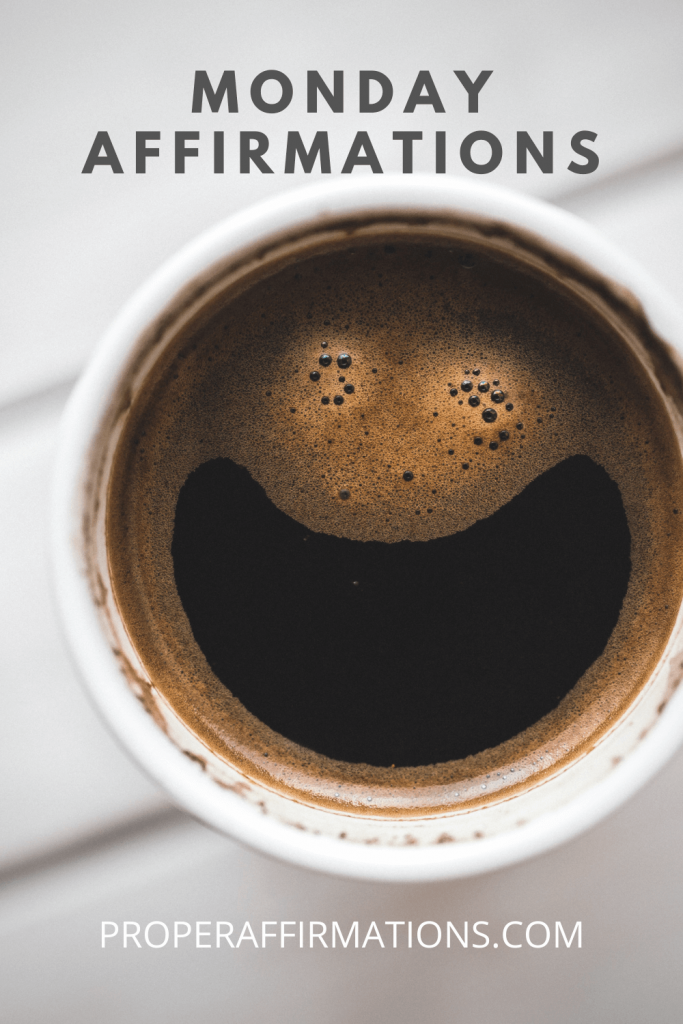 Hopefully, these Monday affirmations were very helpful to you, please share them on your favorite social media down below.