These are the best affirmations for today. You have to think good and positive when you start your day. The first thinking that comes in your mind drives your day. You have to make it positive to drive your day perfectly.
When you are getting up from your bed, you are doing a lot of things and you are planning all your day that what you have to do, what you have to take and receive. You have to add something in your thinking to do all that stuff with more courage and motivation.
The question is, how to think that and how to add positivity in your thinking? I have a solution that is easiest for you and you will be loving it.
I have some affirmations for you, which will allow you to think positively and the way you want to. These are the special words that can change your "I cannot" to "I can, I will and I am". So, just sit and relax. Inhale and exhale properly.
Give yourself 5 minutes in the morning for this mediation and start reading these.
50 positive and strong affirmations for today
Here are some affirmations that drive your day in an improved way:
I am grateful for having every day as my best day.
Every day when I wake up I am full of energy and strength.
I am doing a positive thing all day.
Today, I am getting all the things for which I worked for.
I am opening all the doors of opportunities for me today.
I am attracting all the love and peace toward me today.
I am grateful for again having a wonderful day.
I am loving all the events and experiences I am doing today.
I am attracting positive people and healthy relationships with me.
I am so grateful for having a beautiful life and the people around me.
Today, I am learning many new things about myself.
I am improving myself day by day and I am loving it.
I am making great and positive ideas to share with the world.
Today, I am doing something great for this world.
I am spreading happiness everywhere around me.
I am liking the sun rays as these are the rays of hope for me.
Today, I am going to live my life the way I want.
Today, I am going to love and care about myself more.
I am confident and it is increasing every day.
Today, I am choosing happiness over all the grief.
Today, I am not allowing my past to enter in my future.
I am not allowing any negativity to enter in my life today.
Today, I let go of all the fears that are stopping me from going higher.
Today, I am going to break all the barriers and hurdles that come in my way.
Today, I let go of all the toxic people that have a negative influence on me.
I am moving to something perfect every day.
Today, I am going to breathe more efficiently and perfectly.
Every day is my day and I do not have to wait for any specific day.
Today, I am appreciating myself for standing always for truth.
Today, I am grateful for myself for what I am.
I am celebrating all the success I get.
I am going to see 24 hours as 24 new chances and opportunities for me.
I am bucking up myself for everything today.
Today, I am living my life independently and freely from any negative influence.
Today, I am giving value to my plans and decision.
I am grateful for all the words I speak and the actions I do.
I am making very great and powerful contributions to this world.
Today, I am building courage and motivation in myself.
I am very passionate to change myself positively today.
I am giving my best to myself and to my goals today.
I am opening every door that is leading me to success.
I am selecting what is best for me today.
I am encouraging myself to do some big tasks that are full of excitement.
Today, I am making my life full of fun and joy.
I am doing all the work that is bringing me pleasure today.
Today, I am knowing my self-worth and my value.
Today, I am getting great importance from the people and the universe.
Today, I am thanking myself for bringing me to this place.
I am flying higher and I have trust in my wings.
I am finding that life is so interesting and rewarding.
Conclusion: Affirmations for today
Grab a pencil and paper, note all these affirmations for today on that and paste on your bed or on your mirror because they are going to help you in millions of ways.
You can seek help and guidance from your inner self with the help of these affirmations. These will make you go higher and make yourself up to the mark.
So, what are you waiting for? This is the time to change yourself. Once you change yourself, you do not have to look back. Sky has no limits, and you have to think beyond the sky.
Do you wanna manifest the life of your dreams? You can do that in 15 minutes daily, click here.
Do you struggle financially? If you wanna get out of struggles, you can now manifest more success for yourself. Check this out.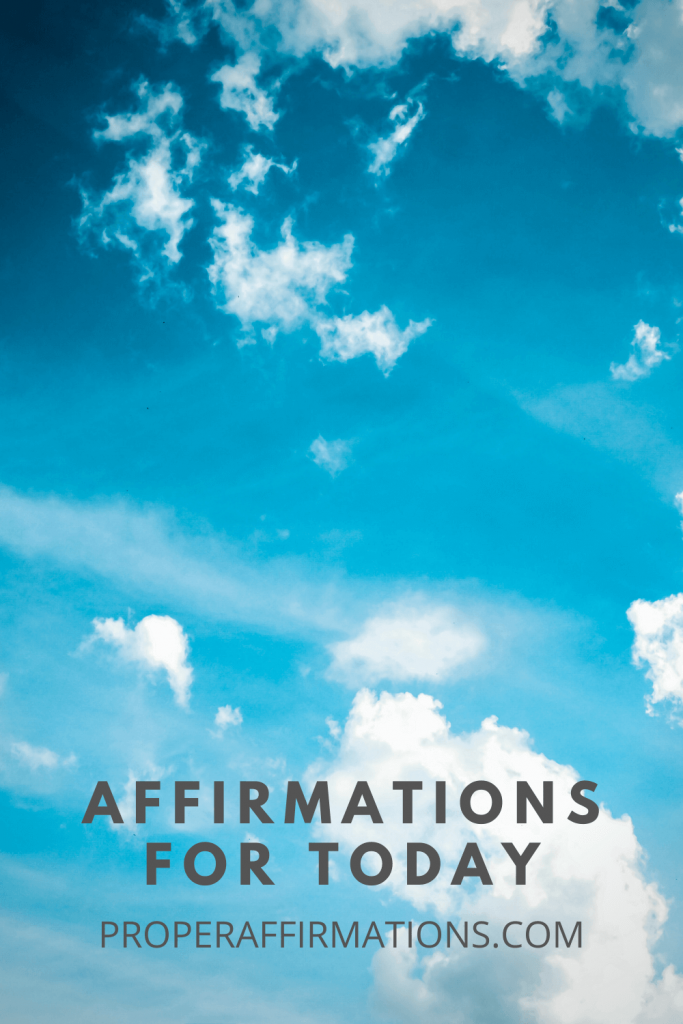 Hopefully, you enjoyed these affirmations for today. If you loved them, please share them on your favorite social media down below.