These are the most positive affirmations for employees. In this world, if you are trying to do anything or you are working in any place, you need something positive to work. It is very important to feel important and feel that you are up to the mark.
There is high competition in the world and you can get success if you think properly and positively about yourself. You have to feel good about your work-place because you spend most of your time there.
The question is "how to feel that all?". I have the best solution. You can change your thinking and your way of living by thinking positively. The affirmations help you to think positively and good about your environment, work, family, and everything that is around you.
Today, I will show you many positive affirmations that will help you to give your best to everything you do and in your company. You are the main employ and you cannot think anything negative. It will affect your work.
45 strong and positive affirmations for employees:
Here is a list for you and you can take every kind of help from the following:
I am always getting energy to produce many great and new ideas.
I am loving the environment and relation I am creating with my workers.
I am so worthy that I am getting everything from my work.
I am facing all the challenges on my own effortlessly and easily.
I am always a great contributor to get success for my team.
I am grateful that I have a perfect team that is so helping me.
I am so glad that I have nice working relationships with everyone in my team.
I am striving hard day by day to provide my team with the best of me.
I am grateful to know that my hardships are providing me fruits.
I am communicating will all of my co-workers and this makes my work so easy.
I am grateful for having all the passion for my work.
I am working very sincerely because this company means a lot to me.
I am getting a wonderful pay off and appreciation for my work.
I am attracting more customers through my skills.
I am loving to help all the customers and providing them what they want.
I am always completing my tasks on time.
I am an essence for this company and this gives me pleasure.
I am overwhelmed that I am working with a high-class company.
I am always mastering new arts and skills in myself.
I am providing quality work for my organization.
I am so worthy that this organization needs me every time.
I am a source of motivation and inspiration for everyone in the office.
I am helping everyone is every matter and task.
I am attracting wealth and prosperity towards me.
I am so happy that we all are working as a family.
I am achieving all the targets given to me so easily.
I am so worthy that I am a master of efficiency.
I am so worthy that my opinions and decisions matter a lot to everyone.
I have always something unique and perfect to share.
I am attracting the tasks and customers towards me easily.
I am so overwhelmed knowing that I am one of the top employers of this organization.
I am a positive thinker for my company.
I am a perfect speaker in meetings and presentations.
I am very persistent and know all the circumstances.
I do not rush for money but money rushes for me.
I present ideas and they get approved easily.
I am attracting many big deals for my organization.
I always motivated my team to get great success.
I am so grateful to get all the bonuses for working hard.
I love all the challenges and I face them fearlessly.
I am accomplishing everything.
I am tackling all the mistakes of the company effortlessly.
I am so worthy that because of me, the company is getting a million dollars projects.
I am an unbeatable fighter.
I am so worthy that success is now my nature.
Conclusion: Positive Affirmations for Employees
The most positive affirmations for employees, check them out!
Click To Tweet
The organization you are working for, and the life you are living needs you at any cost. If you want to be successful and happy, then thinking positive and putting yourself on a straight track is very important. You have to give something to your family too. This world is for you and you have to improve it and your condition.
What are you waiting for? So, start from now and follow these affirmations. Write them on your desk or your chair.
Make notes on your mobile and take benefits from all of them. Read them and absorb them when you wake up daily and going to work.
If you wanna manifest the life of your dreams 15 mins/daily, click here.
Did you ever dream to be financially free? Manifest wealth and success for yourself and your family as well, check this out.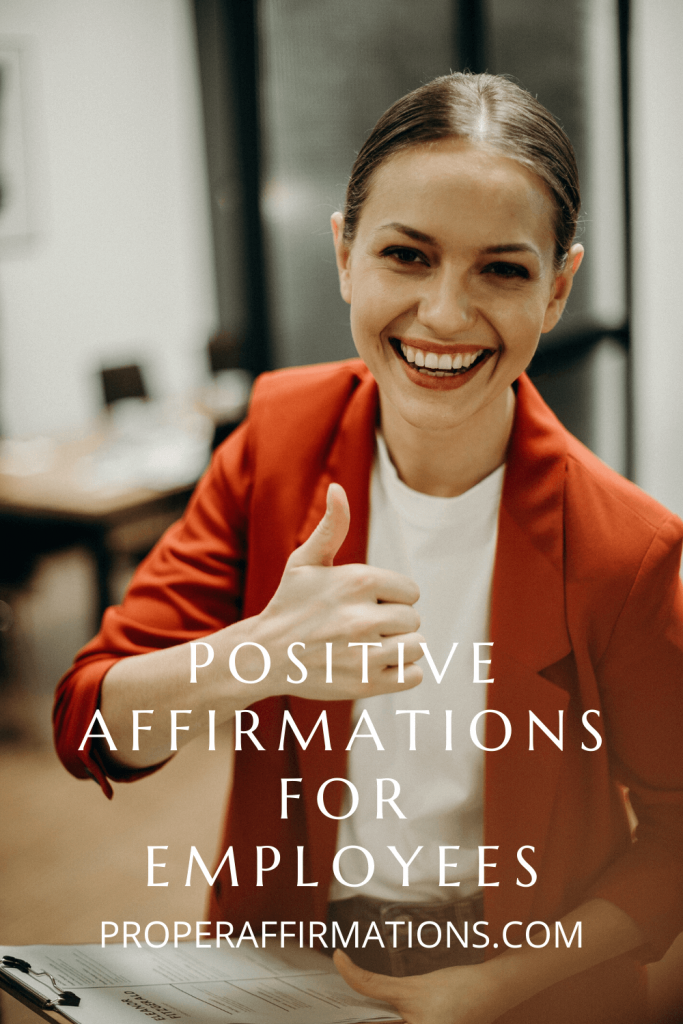 Hopefully, you enjoyed these positive affirmations for employees, if they were helpful to you, please share them on your favorite social media below.