This post is all about positive affirmations for self-doubt and you overcoming your self-doubt. The worst thing about a man's nature that he is his enemy.
So, you have to change that enemy to a friend. What is the difference between an enemy and a friend? An enemy always thinks negatively and wrong about you, and your friend is always here for you, trusts you, and makes you feel good about yourself.
You have to be your friend and think well. Self-doubt is a very common thing nowadays. You have to feel good and you have to clear about yourself because it is the best feeling in the world when you know that you can do everything you want to do.
But how you can do all these things? You can feel good, you can develop confidence and get rid of all the negative feelings and doubts about yourself with the help of these affirmations for self-doubt. These are the words that allow you to create energy and the potential to get what you desire in your life.
47 strong affirmations for self-doubt:
Here is a list of some positive and powerful affirmations for you.
I am not judging myself because I know I am perfect.
I am radiating my energy and power in this universe.
I am complete and there is no one to compete with me.
I am not having any doubts about myself and my abilities.
I am so grateful because I am the source of motivation and dedication for everyone.
I am controlling myself as the best I can.
I do not depend on others that what they say about me.
I am care-free and tension-free about what happens in the future.
I am so worthy that my words and actions carry weight.
I am having all the positive energy.
I am getting all the things that I dream of.
I am sure about myself that I am going higher.
I am changing mud into the gold.
I am an unstoppable current that has so many changes.
I am going with the flow without any fear.
I am so grateful for all the skills and talents I have.
I am so confident that I cannot let myself down anytime.
I am the source of inspiration and positivity in this world.
I am so worthy that I am achieving all my goals.
I am opening the doors and getting all the opportunities without any effort.
This world is creating so many chances for me daily.
I am making healthy relationships in my life.
I am so worthy to get all the good.
I am loving myself for what I am.
I am feeling safe in doing everything.
I am loving all the changes I am getting in myself.
Money and wealth are easily coming towards me
I am going towards success day by day and very easily.
I am letting go of all the negative thoughts and doubts about myself.
I am having a strong immune or defense system and nothing can take me down.
I am now choosing what is best for me.
I am giving value to my plans and decisions.
Everyone asks me for any kind of pieces of advice.
I am not worried about my future because I know it is going to be the best.
I am letting go of all the burdens and hurdles that are stopping me.
I am releasing all the sadness and accepting all the joy in my life.
I am exhaling all the negativity and inhaling all the good and positive.
I am so overwhelmed knowing that I can do everything I want to.
I am so confident that I am facing all the challenges on my own.
I am finding joy and charm in my every decision.
I am having firm faith in my skills and abilities.
Every day, I am going closer to the best possible version of me.
I am trusting God's plan for me.
I am so grateful for knowing my objective in this world.
I am giving something good and productive in this world.
I am always appreciating my efforts and the hard work I put in.
I am deserving of a perfect career that is going to pay me well.
Conclusion: Affirmations for Self-Doubt
I hope that these affirmations will help you to change what you want in yourself and your life. Life is very short my dear friend, you have to make it worth living with the help of these positive and strong affirmations.
You have to just focus on them and deeply observe their meaning. Read them or see them in the morning, or the afternoon and also you can see them in the night before going to your bed.
After that, you will be able to generate new thoughts and you will be able to get rid of all the negative thoughts from your mind and your life.
You can now manifest the life of your dreams in 15 minutes daily, click here.
Do you struggle financially? Ever thought about manifestation more money? Check this out.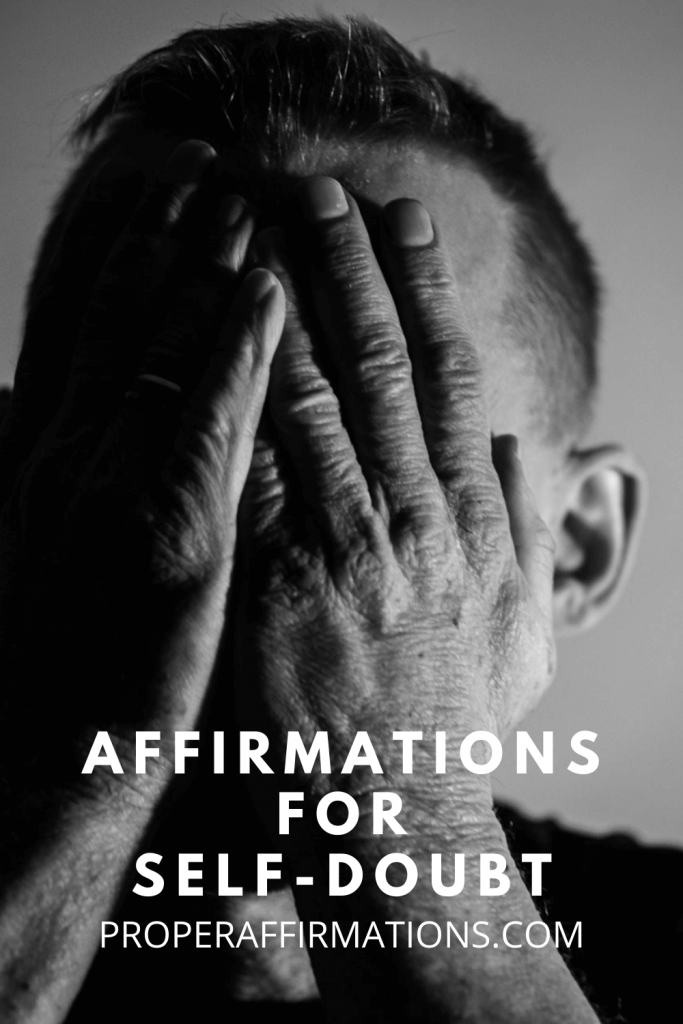 Hopefully, this post about affirmations for self-doubt helped you overcome your self-doubt. If you liked it, please share it on your favorite social media down below.