Here are some of the best Affirmations for low self-esteem that will help you increase it. Knowing your worth and having great confidence is called self-esteem. It is very important and plays a key role in every field of life. In simple words, you cannot move forward if you do not have self-esteem in yourself.
Low self-esteem is the same as the fear inside you that is not letting you move forward and act as a barrier between you and your destination. It is very important to let go of all the fears and building self-esteem and self-confidence in yourself. It will help you to recognize yourself and your abilities.
The best method to overcome and build positivity in yourself is through affirmations. These are the lines and the special phrases which drive your day and help yourself in your improvement.
45 affirmations for low self-esteem:
These affirmations are for you and will increase your self-esteem. You have to take all the benefits from them.
I love everything about myself and I am complete.
I solve my problems on my own and consider them as a chance to grow.
I give and receive love and respect where ever I go.
I am self-sufficient, confident, and dedicated to whatever I want to do and all I do.
The universe gives me many opportunities in expected and unexpected ways.
I always give my priorities to my work and my desires.
I deserve all the perfect things in this world because I have a very good fate.
I am very unique and complete as my talents and abilities always show me that I can do all which the other cannot.
I am grateful for all the blessed and wonderful things in my life.
Everyone reward me for my work and finds valuable things in me.
My thoughts are full of love, respect, care, health, and peace which can be seen in my life experiences.
I know all of my dreams I do not want to prove my abilities to anyone because I am self-supportive.
I do not let my past rule my present. I have an independent present as well as the future.
I have all the control of myself to make my plans and decisions and I always find them successful.
I fit perfectly in the definition of success and a wonderful human being.
I am capable of changing myself and to see the best in me.
I am not limited to any negativity but every part of my body reflects positivity and love.
Every single minute has numerous new chances and opportunities for me.
I am very generous in giving all the love and respect I receive.
I know that I can do everything I want to and I have great confidence in my abilities.
My eyes have a shine that everyone can see. This shine is my passion and excitement.
My life is very beautiful and blessed.
I am always open to new adventures and experiences in my life.
I know all my flaws and I am changing them into my strength.
I am surrounded by all the positive, loving, and helping people.
I appreciate myself and praise myself for doing anything with pride.
I am enjoying my life because every second gives me a new charm.
I am always open to healthy and everlasting relationships.
I can face any kind of difficulty on my own and it gives me strength.
Whenever I think of doing anything, I become passionate about that.
Nature has so many opportunities and blessings for me because I deserve all.
I see my opportunities with great courage and motivation.
My abilities always work for my improvement and my success.
I appreciate everything I have and I use them all with positivity.
I am very flexible and open to get all the positive changes.
My life rewards me for everything I do and every step I take.
My life is very calm and peaceful because I do not let anything negative to come into my life.
I am confident that I can win all the races of life.
I am the builder of my dreams and I am changing my dreams into reality.
I always build supportive relationships and serve everyone around me
I can recognize my gaps and I am filling them with positivity.
The universe is with me and I live my life according to nature.
Only I am responsible for all the good in my life.
Now, I know the key to success and to open all the doors for myself.
Success and prosperity are coming towards me day by day.
Conclusion: Affirmations for low self-esteem
Powerful affirmations for low self-esteem to help you increase it and live the best life possible moving forward. 😊
Click To Tweet
I hope that these affirmations will help you to find out what is inside you and the true meaning of affirmations. Use this loss to enhance and boost your abilities because they will help you in many ways.
You will be able to face and combat every difficulty in your life. It will help you to make a list of what you want to think and what you want to let go of. It will help you to live an improved life and increase your self-esteem.
If you wanna manifest the life out of your dreams, click here.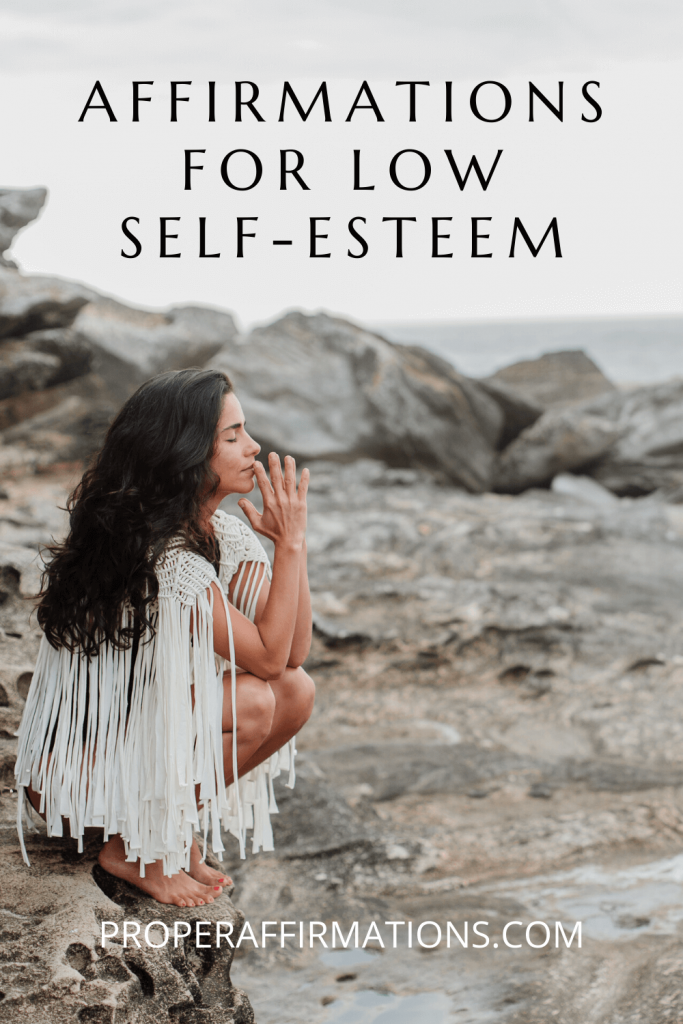 Hopefully, you enjoyed these affirmations for low self-esteem and hopefully, they will increase your self-esteem. Bookmark this post and read them out loud every day, you will be surprised by the results.
If you think that these affirmations will be helpful to someone you know, share them on your favorite social media down below.