These are some of the best procrastination affirmations to help you get rid of the procrastination that you are having every moment of your life.
Are you trying to do all the things that are in your mind? Are you trying not to make any delays in your life about the work and your dreams? Do you want to make a schedule for everything that you are doing in your life? Have you ever feel that everything is going on a perfect time in your life?
If you have any of these questions roaming in your mind and you want to be more punctual in your work, then you are in the right place because I am going to show you that how you can make your life better by doing small things.
Procrastination has a huge role in your success and it weakens your determination. If you want to get success and achieve all your goals, then it is a must that you have to throw procrastination away from your life.
So, I have some affirmations for you which will help you to make a straight path for you in your life and you will be able to do all the tasks on a time.
If there is anything that you want to do but delays and procrastination are not leaving you the way, then these affirmations will help you.
53 Procrastination Affirmations
Here is a list for you that has all the important affirmations:
I am taking charge of my life and living it in the best possible way.
I am not delaying anything in my life.
I am doing all the things at the right time in the right place.
I am not waiting for any particular moment because I am making moments for myself.
I am keeping myself constant with the things I am doing
I am letting go of all the distractions and things that are stopping me.
I am so grateful because I am dedicated to my goals.
I am so worthy to feel that I am successful.
I am so grateful because I am taking every step towards my destination.
I am very confident to take all the steps that are in my favor.
This world is showing me all the signs and ways to move forward.
I am doing all the good and great things today.
I am so worthy because I am creating a perfect schedule for my life.
I am so grateful because I am running my life the way I want to.
Everyone is admiring me because I am doing all the tasks at a perfect time.
I am making myself punctual and productive day by day.
The more I think good about myself, the more I become good to manage all the things.
I am so grateful for having the ability to manage my life the way I want to.
I am getting all the chances and opportunities and working on time to get that.
I am not waiting for any second chance because I am living in the moment.
Every moment that is coming in my life is so important for me.
I am not ignoring even a single second in my life because it is very important.
I am doing all the things which I need to do.
I am exactly on the same path on which I should be going.
I am making my time valuable by living it at the moment.
I am so worthy that I am taking out the best of me and my time.
Time is very precious for me and I am spending it wisely.
I am going to make myself best from today and forever.
I am working and striving hard to bring a positive change in me and around me.
I am taking all the positive actions that are needed for me to feel happy and complete.
I love taking action because I have the potential to do this.
I am making my future worth living in my present and working hard for it.
I am letting go of all the things that are not serving me now.
I am making all the things happen in my life.
Everyone is admiring me for who I am and what I am doing.
I am so grateful because I know the best use of time.
I am extracting the time and the best out of me and using all in positivity.
The more I think good about myself, the more I can make my life better.
I am not giving up on small and minor things.
I am facing al my challenges and hard times on my own.
I am always available for myself to cheer myself up.
I am the person who captures at the moment and takes the best possible action.
The more I am taking action, the more I am getting encouragement and motivation.
I am finding myself having the same frequency with the opportunities I am getting.
I am radiating the useful and worthy energy all around me.
I am always working very hard to accomplish all of my goals.
I am setting the points in my mind and working hard to achieve all of them.
My life is filled with colors and chances because I am so worthy.
I am working hard and playing later.
Every step I am taking is taking me closer to my destinations and goals.
I am making my life meaningful by working hard in it.
Every day I am doing all the new work to improve myself, my time, and my skills.
I am filling my life with joy, love, and abundance.
Conclusion: Procrastination Affirmations
All you need to do is to read and remind all these affirmations when you wake up in the morning and you are going to start your day.
These will help you to put all the negative thoughts and obstacles on a side and clear your way to your destination and success. So, this is the time for you and you have to start now!
If you wanna learn more about the power of manifestation in just 15 minutes per day, click here.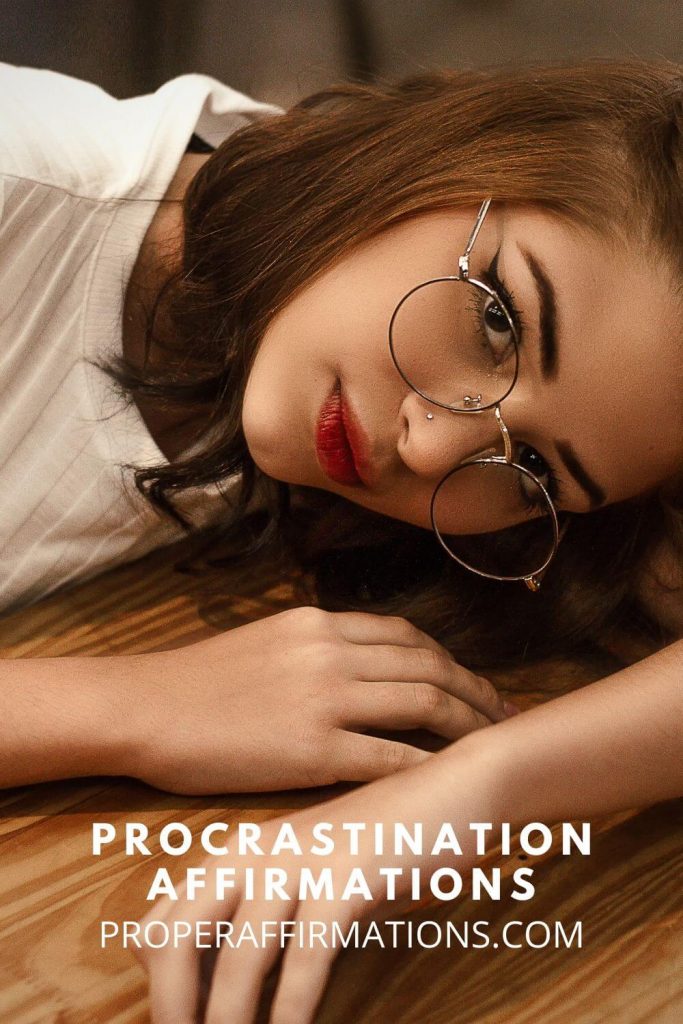 Hopefully, these procrastination affirmations can help you get rid of your laziness and procrastination and help you move forward with your life. Share them on your favorite social media down below.