If you wanna have more good luck in your life, check out some of the best good luck affirmations made for you.
Are you trying to fill your life with good luck? Are you going to do something great but all you thinking is about your luck? Have you ever feel that you can do everything you want to do because your luck is with you?
If you have any of these questions in your mind, then you are in the right place because today I am going to show you the best way to find out the answer by yourself and attract good luck to you.
You can get good luck in your life with a positive mindset. You can create a positive mindset with the help of some affirmations because these words have a beautiful impact on your mind and your body.
So, today I am going to show you some positive and strong affirmation. So, you can make a good fortune for yourself. You are doing a lot of things like meeting people, working very hard to meet your goals, taking care of your beloved ones, and doing all the good in this world.
One thing that you are missing to do is to think and feel good about yourself and this can be done with the help of these affirmations.
56 strong and positive affirmations for good luck
Here is a list of some strong affirmations to enter good luck in your life:
I am very lucky in every field of life.
Every day I wake up, I feel luckier.
I am opening the doors of chances and opportunities for me because I am so lucky.
Nature and the world is showing me all the ways.
I am on a straight path that is leading me towards my destination because of my luck.
The more I am feeling good about myself, the luckier I am becoming.
Life is good and I am living it the way I want to.
I am deserving the best and I am getting all the things at the right time.
I am completing all my dreams and changing them into a perfect reality.
Life is the name for lucky moments for me.
I am making my every moment lucky by living it the best way I can.
I am making myself lucky and powerful by working positively on myself.
Every day, I am choosing to be luckier because I am so worthy.
There is a lot more the world has for me because I am so lucky.
I am so grateful for all the lucky moments and events in my life.
I am so worthy that I can make my life worth living and full of luck.
I am so grateful because my luck is with me.
I am running on the best path because of my destiny and luck.
I am waiting for all the good because I am so lucky to get that.
I am attracting love, success, and wealth towards me day by day.
I am so grateful for having the potential to do something good for myself.
I am spreading and radiating positive energy that is full of luck for me.
I am acting like a magnet in the matter of luck.
My luck always works with me to achieve and get all the things I desire.
I am attracting good fortune and good things by acting positively.
I am so worthy that my words and actions are making me lucky.
I have the greatest way to increase my luck.
My life is filled with the blessings and wealth of the divine.
I am getting good relationships and friends in my life.
My luck is with me in the matter of love life.
I am so lucky because I am attracting the love of my life closer to me.
I am making a healthy and pure family with my soul mate because of my luck.
I am lucky for everyone who is around me.
I am letting go of all the negative things coming between me and my luck.
I am feeling lucky every time.
I am so grateful because my luck never lets me down.
I am so worthy that my luck is saving me from all the problems.
I am getting out of all the hard times because of my luck.
I am living my life very happily and lovingly.
I am getting all the things that are perfect for my higher self.
My luck always works for me following my mind and soul.
I am controlling my life to be lucky every day.
I am choosing the luck over every misfortune in my life.
I am not allowing any bad spirit to enter in my life.
I am always changing all the negative issues and situations into something positive.
I am always getting unexpected events turning out to be good for me.
I am finding fun in everything I am doing.
When I am doing any task, my luck is with me.
When there is no one around me in my life, my luck is always with me.
Everything works out in my favor because of my luck.
I am keeping my mind and heart open to receive all the good opportunities.
I am only focusing me on good luck and it is coming towards me.
I know that my luck is taking me to something good for me.
My higher self is guiding me to get all the good.
I am enjoying my life.
Luck and life is a charm for me.
Conclusion: Good luck affirmations
All you need to do is to read and remind all these affirmations in the morning to give a perfect start and push to your day.
You will be able to notice that everything is happening well in your life if you start using these affirmations. So, what are you waiting for? Grab your favorite affirmations from the list and start reading them aloud.
If you wanna learn how to manifest more money, success, and wealth in your life, click here.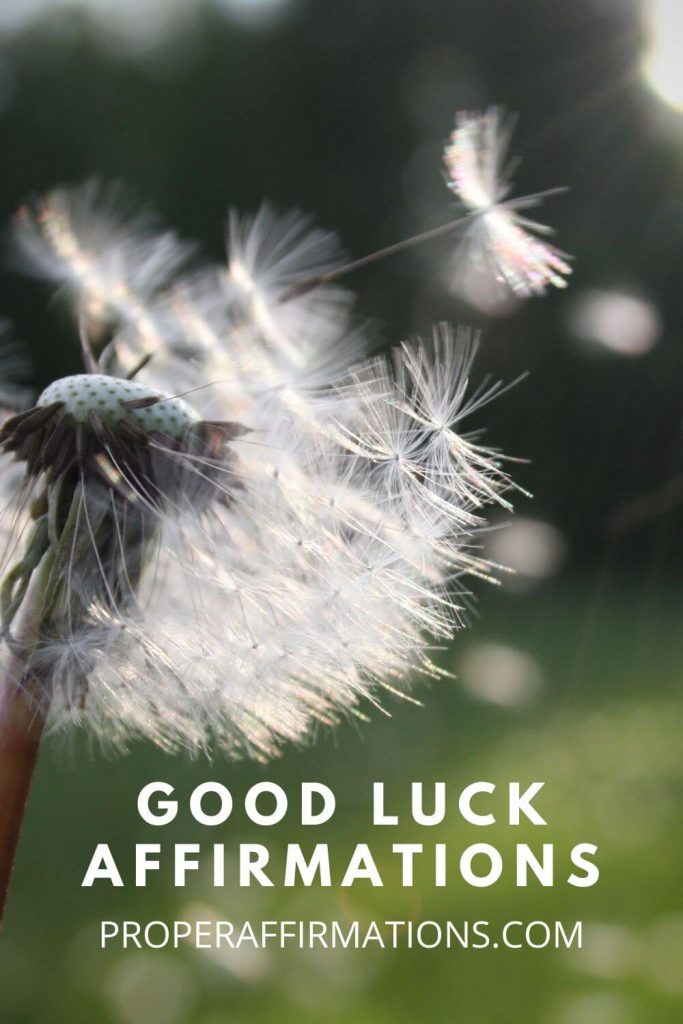 Hopefully, you enjoyed these good luck affirmations that were made for you. If you liked them, please share them on your favorite social media down below.