Are you trying to be good at football? Are you trying to develop some special and unique sportsman skills to have a better game? Check out some of the best football affirmations that are made for you to help you level up.
If you have any of these questions in your mind, then you are in the right place because I am here to show you the best way through which you can smash the ball into the goal, take and give good passes, win the game and develop some good skills in your game.
I know that you are making efforts and doing all the things for your game and all you need to do is to tell your mind about the change you want in your life and yourself. So let us get started!
I am going to show you some strong and positive affirmations. These will help you to train yourself better for the game. These will help you to get your goals. All you need to do is to make these words as an essential part of your life.
40 Strong and Positive Football Affirmations
Here is a list for you that has all the important affirmation:
I am running very fast towards the goal and going to smash it.
I am so worthy to give a very good pass.
My teammates are proud of my skills and abilities because I am a pro.
I am doing very hard to practice to win the hearts of the audience and my teammates.
I am so grateful for having a great focus when I am on the ground.
I am so worthy to have all the things that are needed for a perfect game.
When I am on the ground, I always feel that it is my second home.
I am getting the motivation and encouragement for the goals and game.
I am always the high scorer of all the matches I have played so far.
I am a very good leader and everyone asks me for the team leads.
I am taking good care of my body to train it well for the game.
Every day I wake up, I see myself being better in the game.
I am loving the moment when I am getting the applause from everyone around me.
I am so worthy to make my couch very happy.
I am always a lucky charm for my team and my country.
I am making my parents, country, and team always proud of every place.
I am running like a beast when I am on the ground.
I am letting go of all the negative things that are affecting my game in any way.
I love and enjoy myself being on the ground and playing football.
I am practicing very hard to be the world champion again this year.
I am so worthy because running fast is my hobby now.
I am so grateful for having the potential to play the best game.
I am so grateful for having great power and stamina to be in the game all the time.
I am not letting anyone ruin my game at any cost.
I am throwing the ball perfectly into the goal.
I love competing with others and winning the game always.
I am making myself stronger day by day for the game.
I am so grateful for having such a bright career in football.
Representing my nation on an international level is a very proud moment for me.
I am getting compliments from the people because of my game.
I am motivated and encouraged for the win every time.
I am so worthy because all of my teammates depend on me for the win.
I am letting go of all the hurdles and blockages that are coming in my way.
I am always smashing the ball into the goal like a pro.
I am always standing at my back for cheering myself up.
I am not losing the focus and stamina on the ground because I always give my best.
I am eating healthy and natural food to build myself for the game.
I am always feeling excited about every new game.
I am so grateful because my throw is very accurate.
I am generating the potential to throw the ball directly into the goal.
Conclusion: Football affirmations
You have read all the affirmations and now it is up to you how you implement these in your life. All you need to do is to read and remind these affirmations in the morning when you wake up or before you are going to have a game.
Your body, soul, and mind need to be charged and it is the best fuel for them.
If you wanna learn how to manifest the life of your dreams in just 15 minutes per day, click here.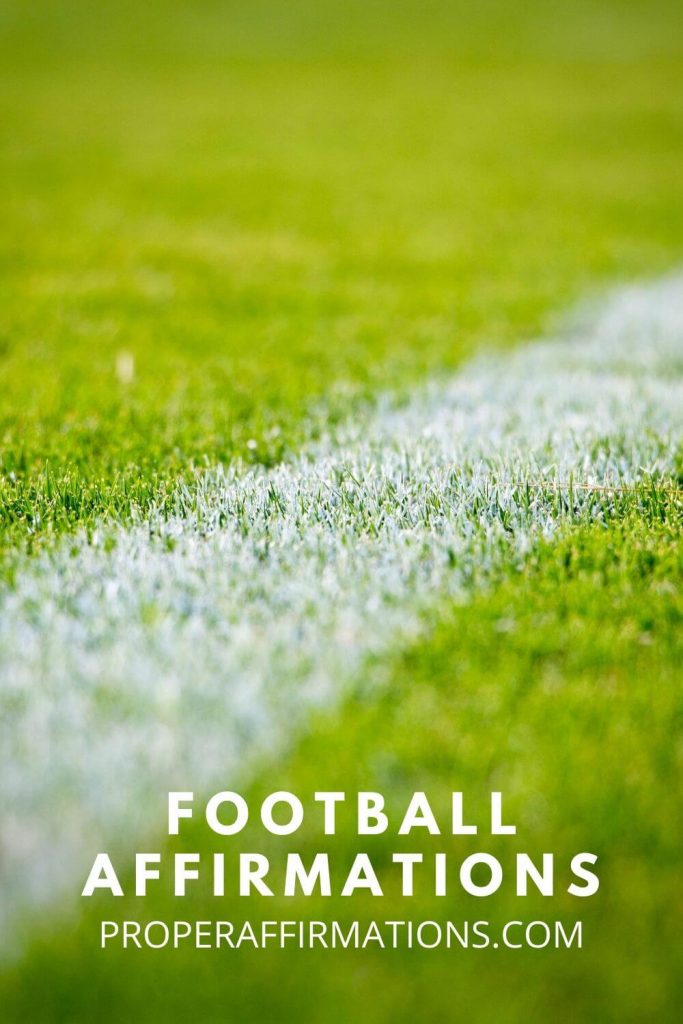 Hopefully, you enjoyed these football affirmations and they were extremely helpful to you. Please share on your favorite social media down below.
Also, if you wanna learn more about why affirmations are so powerful, click here.