These are my favorite sales affirmations that I use on a daily bases and that can also help you become a better salesman and help you if you do with anything related to sales.
Are you trying to increase your sales? Are you trying to get all the rewards from the company you are working with? Have you ever feel like a pro in your work?
If you have all these questions, then you are in the right place because today, I am going to show you the best way through which you can increase your sales and attract more customers towards you without making any effort. You just have to add something in your life and get rid of all the negative thoughts, that are stopping you from doing your work.
So, I am going to show you some powerful and strong affirmations through which you can give your best in your work and you will be able to complete all the demands of the company.
You will be able to get rewards and appreciation from your company. You will be able to get the title of the best salesman of the month. So let us get started.
38 Powerful Sales Affirmations
Here is a list for you that has all the important affirmations for your work:
I am proving my sales qualities day by day.
I am so worthy because I am the only salesman in this company.
The company I am working with is giving me a huge amount of commission.
I am so grateful for having all the important qualities in the market.
I am making my market and attracting customers for sales.
I am finding fun and joy in the sale of different products.
My sales qualities are giving me many chances and opportunities in many companies.
I am so grateful because a great and attractive salesperson lives inside me.
I am trusting and listening to my higher self for my work.
I am increasing my sales day by day because I am so worthy.
I am becoming the top salesman day by day in my company.
My company is rewarding me for all the good sales I am doing.
The customers are attracted to me without any effort.
I am easily available for all the customers and their help.
I am proving myself with every sale that I am doing great.
I am starting believing in myself and all the products I am selling.
I have the qualities to tell the best about the products.
I can read the mind of the customer and get to know what he wants.
I am becoming the favorite of everyone in my office day by day.
I am setting my goals and ambitions every day and I am completing it.
The quota my company is offering me is the best.
There are always many good and valuable ideas in my mind about sales.
I am increasing sales because of my ideas and skills.
I am persuading the customers to buy that product.
I am acting like a winner in this work and I am moving forward like a winner.
I am letting go of all the negative things that are stopping me from the sales.
I am setting a product in my mind and working for it.
I am showing all the qualities of a product perfectly and accurately.
I am always making commitments to myself for all the good.
I am working very hard to increase my sales.
Every day I wake up, I see many new ways and tricks to increase the sale.
I am winning all the deals because I am preparing all the things for it.
Nobody can make a deal as the way I am making the deals.
I am the only person behind this all and no one is here to compete.
I am listening to all the problems of the customers and I am helping them
I am thinking positively about my team, myself, and my sales.
When I sell a thing, I give all the credits to my teammates and my company.
I am taking all the things very easily.
Conclusion: Sales affirmations
All you need to do is to read and remind all these affirmations before you are going to start your work. Make a routine and make these affirmations as an important part of your life.
I know that you have a lot of goals and steps, and you have to get these all. So, these affirmations will help you to do so.
What are you waiting for? Take these affirmations and words into your life and bring the best out of you.
If you wanna learn more about the manifestation of wealth and success, click here.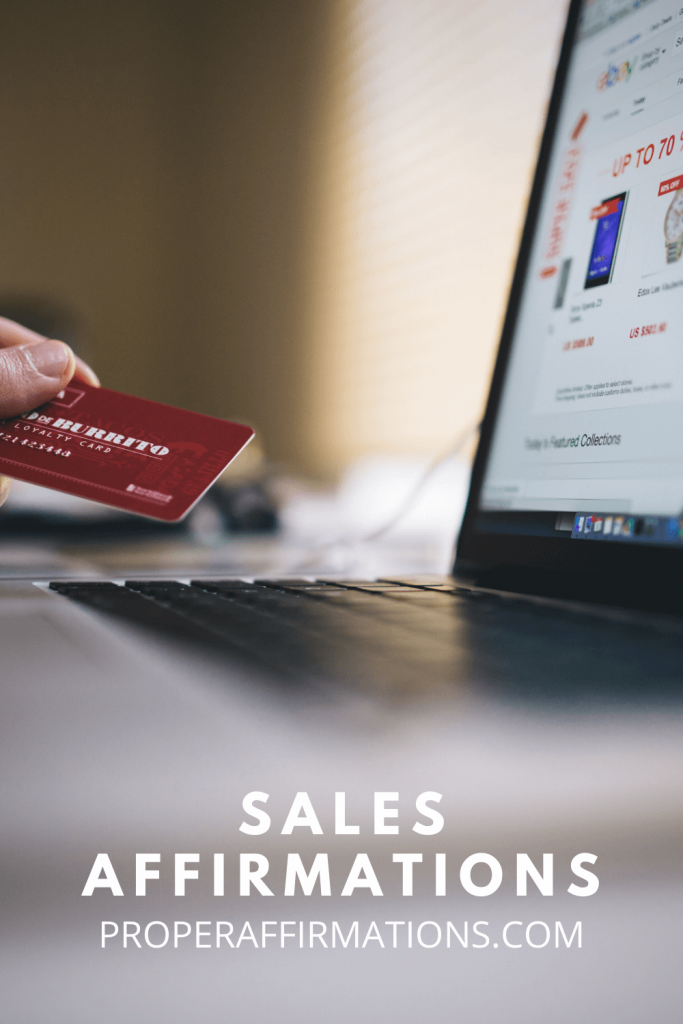 Hopefully, you enjoyed these sales affirmations, if they were helpful to you, please share them on your favorite social media down below.