Here are some of the best creativity affirmations that are made for you. Do you want to catch all the creative ideas and feelings in yourself? Have you ever feel that you are getting what you ask for? Are you working for yourself to get the art and creativity in yourself?
If you do not catch the creativity, it will be attracted to someone else. It is like the workout, the more you practice, the more you get it and the better you get it.
So, if you are facing any problem to express your feelings out and if you are thinking to make yourself more creative and bring the best out of you, then you are in the right place because I am going to show the best way through which you can bring back all the qualities you have and attract more skills towards you. So let's start.
Today, I am going to show you some strong and powerful affirmations that will help you to nurture and polish your skills.
It will allow you to get more opportunities related to your art. Take a deep breath with a cool mind, and start reading these special words.
42 Strong Creativity Affirmations
Here is a list for you which has all the affirmations for you:
I am choosing myself for being more creative day by day.
I am so grateful because my hands have all the art of this world.
I am making special and unique things from my mind.
I am so grateful for all the skills and talents that are helping me in my creativity.
I am taking out the artist who is in me.
Everyone around me is helping me to make the best out of me.
I am capturing beautiful moments in my eyes then I draw them on a paper.
I am so worthy that I have some brilliant ideas in my mind.
I am expressing my feelings and my emotions on the paper.
I am so grateful for having the ability to express my art and creativity.
I am giving myself the time to create stuff I like to make.
I am getting appreciation and rewards from the people for my art.
I am feeling myself deep inside the art and I am full of art.
I love my hand when they are making anything.
I am showing the positive side of the story and this society.
I am feeling fun and joyful when I am full of creativity.
I am giving myself time to absorb all the things that are around me.
I am always seeing the world with fresh and positive eyes.
I am surprising myself when I am doing the creativity.
I am so grateful for having unique and special ideas.
I am appreciating myself for all the ideas and creativity I have.
I am getting many chances and opportunities because of my art and creativity.
Creativity is running deep inside me.
I am broadening my views and skills day by day.
Every day I wake up, I see many new things to do some creativity.
I am inspiring all the people around me because of my creativity.
I am so grateful because I am developing creativity in myself day by day.
I am not letting anything stop me from creativity.
This is my property and no one can steal it from me.
I can express my views and feelings on everything I want.
I am filling myself with the energy of creativity day by day.
I am loving the ways and the paths that are leading me towards creativity.
I am attracting creativity in my life.
Creativity is flowing in myself and my life very easily.
The creativity inside me is coming out of myself and enjoy.
I am open to share all the views and ideas with the world.
I am choosing a life of creativity and art for myself.
The energy that is generating creativity in myself is limitless.
I am giving myself room and space to think and decide.
I am letting go of all the negative things that come between me and art.
I am so grateful for this divine gift to me.
I am feeling nature and this world because of my abilities.
Conclusion: Creativity affirmations
You are a special and unique creature in this world because you have some special skills and talents. All you need to do is to polish them. You have to bring the best out of you in every field.
I know that you are working very hard, you just need a little motivation and some right words to bring yourself on a straight path and to make your efforts better.
So, what are you waiting for? Grab some affirmations and start working from now.
If you wanna learn more about the power of manifestation in just 15 minutes per day, click here.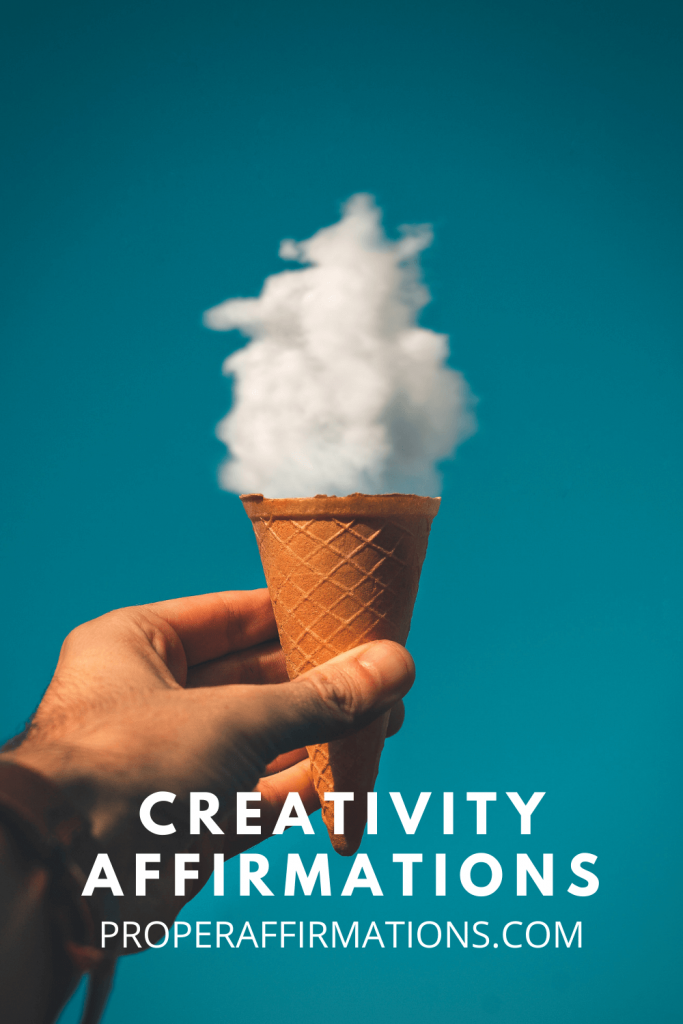 Hopefully, these strong creativity affirmations were helpful for you, please share them on your social media down below.