These are some of the most powerful Affirmations for girls that can help you transform yourself by repeating these powerful affirmations.
Are you trying to transform yourself into a better woman? Are you trying to get rid of all the pains and worries that are affecting your life? Have you ever feel yourself on the top of the world? Have you ever feel that you are free and you can fly everywhere you want to?
If any of these questions is roaming in your and you want to feel them, you are in the right place. Because this is one of the best feelings in the world if you can do the same as everyone else is doing.
You have to feel at the top of the world because you deserve that. but, the question is, how to feel and change this all? I have the best solution for you.
Today, I am going to show you some powerful and positive affirmations for the girls. You are the most important part of this world and you have to feel that.
You have the great value, dignity and you are deserving all the love. Just you have to repeat some words daily to make sure that you are getting all the things. You have to tell your body what changes you want and how you want to live your life. All this can be done with the help of these affirmations.
45 positive and strong affirmations for girls
Here is a list for you:
I am doing great things in this world.
I am so grateful for a perfect face and a beautiful body.
I am lifting the same weight in this society as the boys do.
I am changing and developing many unique things in myself day by day.
I am transforming into a great and brave woman.
I am feeling safe and powerful in this world.
I am doing all the things which the boys can do.
I am making myself stronger and radiating energy around me.
I am very great for all the people who can feel and me understand me.
I am not getting any pain or tension because I am clearing all.
Everything I am doing, I am seeing it as a great opportunity for myself.
I am feeling wonderful as the way I am.
I am feeling very comfortable in my body.
I am so grateful because I have all the special and unique characteristics.
I am made as a beautiful girl who does all the hard things.
I am loving myself and the way I am living is so good.
I am seeing every rejection as the step of being more strong.
I am building my world and allowing only healthy relations to enter in this.
I am not having any burden of life because I am free.
I am an intelligent, wonderful, and brilliant creature.
I have the potential to do great things that I am starting now.
This world is offering me many positive and good things.
I am planning and making my own decisions every day.
This menstruation pain is making me strong and able to tolerate it.
I have all the useful skills and talents of creativity.
I am no less than anyone else in this world.
I am competing and winning from anyone in everything.
I am choosing to live my life the way I want.
I am independent and I am not listening to anyone for anything.
I am radiating love and peace all around me.
I am doing great in this world because I am brave.
I am not allowing anyone to hurt me because I am self-sufficient.
I am very beautiful and attracting lovely people and things in my life.
I am trusting the process of being better.
I am growing myself with ease and unique characters.
I am inhaling peace and calmness and exhaling restlessness and worries.
I am seeing my life differently and I am capable of seeing my bright future.
I am reflecting positive energy in me.
I am feeling good when I see myself in the mirror.
I am so worthy that I am carrying my beauty with grace and dignity.
There is a grace in my walk.
I am carrying all the burdens and duties with an erect head.
I am becoming successful and earning a huge amount of money.
I am supporting myself and I do not need anyone to give me anything.
I am never doubting my value and my skills.
Conclusion: Affirmations for girls
So, all you need to do is to repeat all these words so that they can act on your mind and your life. When you wake up, you have to give a perfect start to your day. You need to do so because you need the mental fuel and energy to absorb things.
So, start working from now and do not wait for time because it is time for you!
If you wanna learn the power of manifestation in just 15 minutes per day, click here.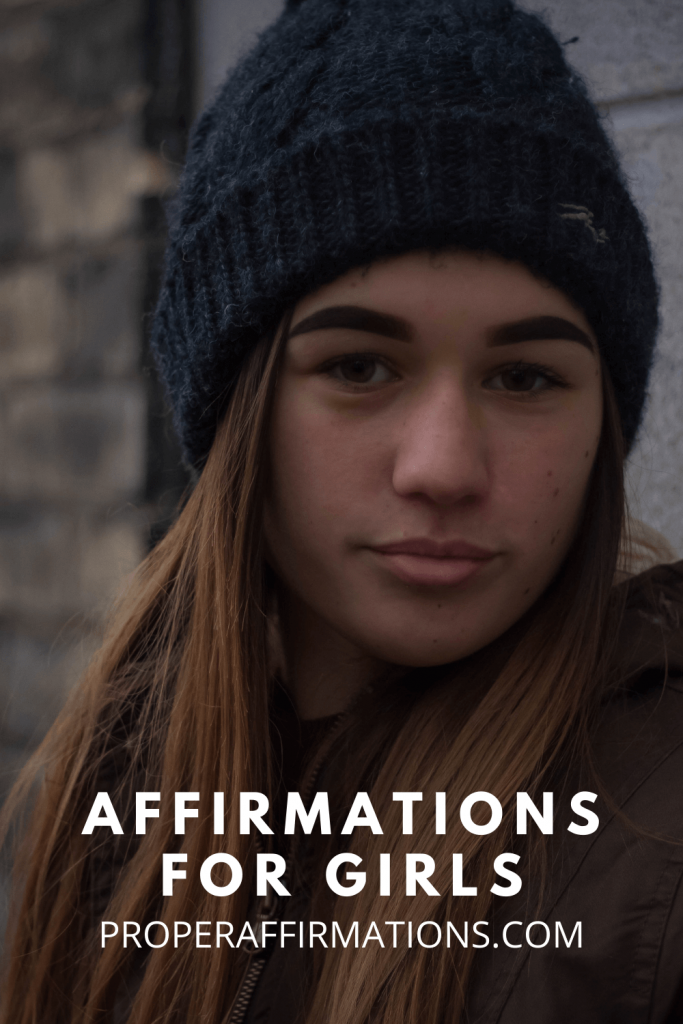 Hopefully, you enjoyed these affirmations for girls. Please share them on your favorite social media down below.