Are you trying to fill your bank account and your life with money and success? Do you want to get some millionaire affirmations to help you to your path to success and wealth?
If you have any of these questions in your mind or you want to feel that you are getting money and going to become a millionaire, then you are in the right place because I am going to show you the best way through which you can be rich. Yes, you can by just saying some words daily.
If you are thinking that how these words act on your mind and your life, let me make it clear for you.
You have a mind that needs some good fuel and these words are the special and unique words that give the fuel and charge your mind. So, you can take what you want from your mind and it would run according to your will and choice.
38 strong and positive millionaire affirmations
Here is a list of some strong affirmations for you to focus on:
I am attracting wealth towards me very easily.
I am so worthy that my bank balance is increasing day by day.
I am so grateful for all the wealth and love I am getting from my surroundings.
I am becoming a millionaire day by day because of my hard work.
I am so worthy so that I am on the path of success.
The world and universe are helping me to become a millionaire day by day.
Money is coming towards me very easily because I am deserving of it.
I am so worthy so that I am attracting wealth from every corner of my life.
I am making investments and all my investments are giving me a huge amount of money.
I am getting closer to my dream and success day by day.
The more I am thinking good about myself, the more I am getting all the money.
I am feeling deeply connected with wealth and good luck.
I am so worthy that I am changing the dirt into the gold.
I am letting go of all the negative things that are coming in my way.
I am so grateful because I am earning a six-digit number very easily.
I am so worthy that I do all the work and it always gives me a lot of fruit.
I am trying and doing all the new and best ways to earn a lot of money.
I am so lucky that I have all the skills and ideas that are bringing the money for me.
My skills and talents are the machines for making money for me.
I am so grateful because I know how to cash my every second.
I am finding fun and joy in the process of becoming a millionaire.
I am passing all the obstacles and hurdles that are coming in my way.
I am a magnet for money and love and attracting both very easily.
I am receiving all the positive things for wealth and success.
I am creating a path that is leading me to success.
I am giving myself all the freedom and support to become prosperous.
I am not allowing my mistakes of the past to have any influence on my present and future.
I am helping all the needy people around me because I am getting wealth.
The more I am spending the money, the more I am getting it.
I am looking forward to being a millionaire in the next few months.
I am taking all the steps and tasks that are useful for my journey.
I am always feeling myself breathing in wealth and success.
I am so worthy so that I am loving the increasing numbers of dollars in my account.
I am allowing the wealth to flow easily into my life.
The more opportunities I am getting; the more money I am making.
I am so worthy because I am busying all the things that I want to buy.
I am making my kingdom with help if money and love.
I am making myself ready day by day to be a great millionaire.
Conclusion: Millionaire affirmations
You have read all these affirmations and now you have to do one thing. When you wake up in the morning, you have to read and remind these words.
Having a fresh start of the day will help you to complete all your goals and tasks very easily. These words will also help to build your fate.
If you wanna learn more about the power of manifestation for money and success, click here.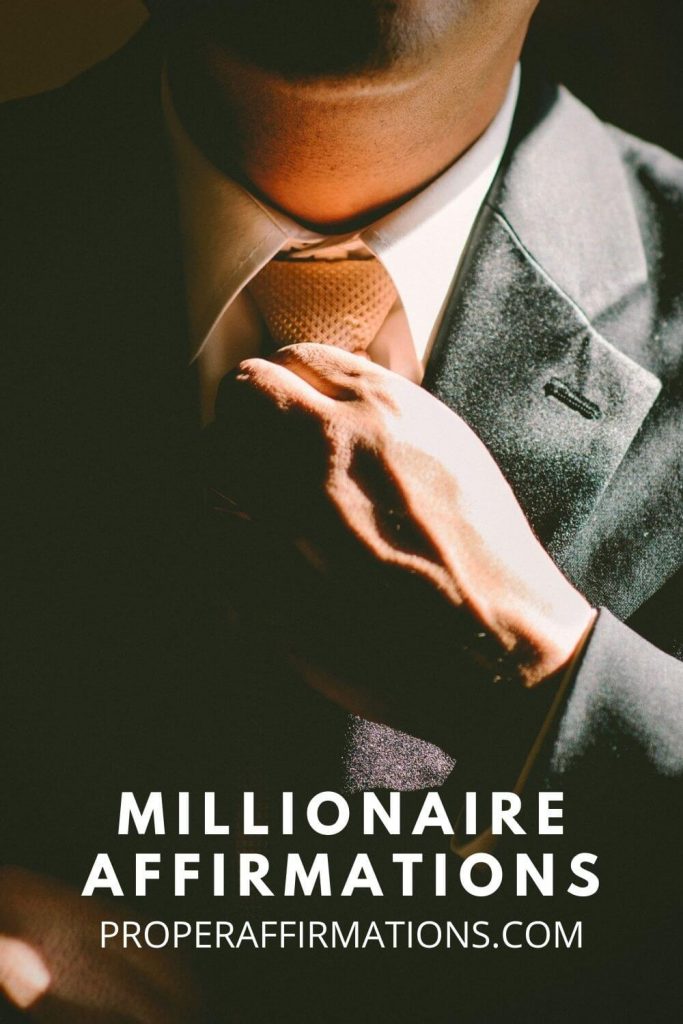 Hopefully, these millionaire affirmations were helpful to you, they can be a great step forward for you to help you with your mindset and everything spiritual.