Are you trying to get calm and peace in your life and looking to achieve that with some Calm Affirmations? Are you trying to get rid of all the stress and worries that are coming in your way? Do you want to live a relaxed and peaceful life? Have you ever feel that when you wake up you are supercharged and calm?
If you have any of these questions in your mind, then you are in the right place because today I am going to show you the best way through which you can develop calmness and peace in your behavior and life.
If you feel calm about anything that goes wrong and you do not worry about what is going on, then you are very lucky because it is one of the best feelings in the world. So let us get started.
Today, I have some affirmations for you that will help you to feel calm and keep your mind away from all the kind of pressure and stress.
It is very important to feel good about yourself because you have a lot to do more in your life and you cannot give up.
53 strong and positive affirmations for calmness
Here is a list for you that has all the important affirmations:
I am letting go of all the tensions and stress from my mind.
I am so grateful because I am living a peaceful and calm life.
I am allowing the calmness to enter my life and make my days.
Every morning I wake up, I feel myself attracting towards the peace and calmness.
Every breath I am taking is helping me to take in all the calmness.
I am so worthy that I can make myself feel good and happy when I want to.
I am acting like a magnet and attracting the calmness in my life.
I am letting go of all the useless and unwanted thoughts and things from my life.
I am entering into the world of calmness and peacefulness day by day.
I am solving all of my problems and issues by staying calm.
My mind, heart, and body are open to receive all the calmness from my surroundings.
I am so grateful for having the people with me who are the source of calmness for me.
I am taking good care of myself and providing good things to myself.
The more I am thinking good about myself, the more I am becoming calm.
I am filling my soul with the love of the universe and calmness.
I am loving and accepting myself for who I am and what I am doing.
I am so grateful because nothing is coming between me and calmness.
I am finding peace and calmness in everything I am doing and everywhere I am going.
My work is the source of calmness and satisfaction for me.
I am so worthy so that I am spreading love and calmness around me.
I am achieving my goals and this makes me feel calm and good.
When I am exhaling, I am calming and relaxing my organs and soul.
I am keeping my mind free from all the worries and it is so smooth and free.
My past has not any influence to disturb my calmness.
I am exhaling all the fears and doubts about myself.
I am keeping myself relaxed and comfortable all the time in a day.
I am so grateful because I can easily relax my muscles.
I am so grateful because life is creating a good path for me.
I am not thinking about what happens in the future because I am living in the moment.
I am facing all situations with calmness and energy.
I am helping people to feel comfortable around me.
Letting go negativity and stress is very easy for me now.
I am deeply connected with all the peaceful things around me.
I am making my connection strong with the world and calmness day by day.
Nature is showing me the rays of hope and shines of calmness every day.
I am always feeling that my heart and my mind are always at peace.
I am so worthy because getting peace is very easy for me now.
I am choosing pure and calm friendships and relationships for me.
I am loving the way I am living my dreams and my life.
I am changing all my dreams into a beautiful reality with the help of love and peace.
I am getting peaceful sleep when I sleep at night.
I am so worthy to know that this world and nature have a huge peace for me.
I am always feeling safe and secure everywhere I am going.
Peace and calmness are filling my life with love and joy.
I am inhaling the peace and exhaling all the worries and stress from my mind and body.
I am so grateful because every cell of my body is at peace.
I am always standing for myself whenever I am feeling down.
My thoughts are helping me to get a peaceful night of sleep always.
I am letting go of all the useless and negative thoughts before I am going to sleep.
I am charging myself with positive energy and thinking when I wake up in the morning.
I am getting everything right at the moment.
I am not allowing any unwanted thing to come in my day.
I am choosing myself over everything else.
Conclusion: Calm affirmations
You have read all the affirmations and now it is your duty that you have to make them the best and most important part of your daily routine.
To keep your mind fresh and free from all the worries, you have to take a fresh start of the day and these affirmations will help you to do so. What are you waiting for? Start reading them now!
If you wanna learn more about the power of manifestation in just 15 minutes per day, click here.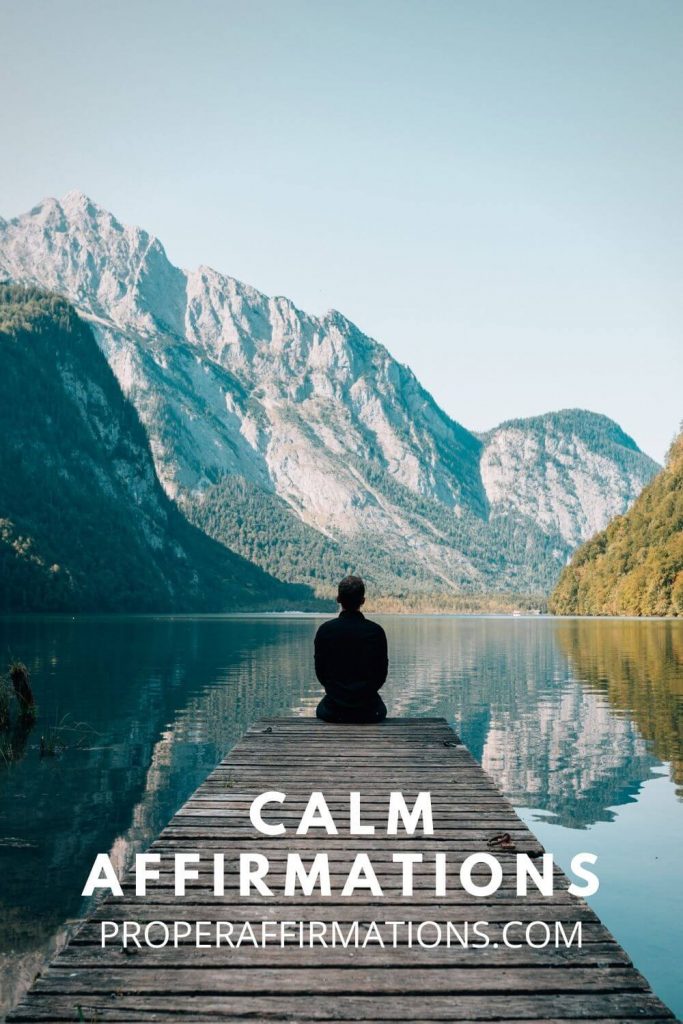 Hopefully, these Calm affirmations were very helpful to you to keep you calm and collected, use them daily to get the best results. Please share them on your favorite social media down below.