This is are the most powerful affirmations to lose weight that helped me tremendously to lose weight. Have you ever feel light? Because it is the most beautiful sensation in the world.
Have you ever want to lose your weight? It is very easy and you just need some motivation to do that. If you lose weight, you will be more active, and efficient in doing your tasks and you will be able to polish your skills and talents.
You will be able to run, walk, dance, play, and do everything you want to. You can wear everything that you cannot wear now and everyone will be attracted to you if you lose your weight.
Saying all that is easy but how to do that? I am here for a way and solution. All you need is to act on the affirmations.
You are eating fruits and vegetables, you are working very hard to get in shape and lose weight, you are not easting any type of junk food but still, you are not losing weight. Is that so? You need affirmations to make your mind work accordingly to that.
So I will show you some affirmations that will help you to reduce your inner resistance and prepare your mind and body to lose weight.
50 powerful affirmations to lose weight:
Here are some affirmations for you. You can use them daily.
I am controlling what I am eating.
I am always getting only healthy calories.
I am so grateful knowing that I am losing weight day by day.
I am so happy that I am becoming strong and beautiful day by day.
I am free of all the disorders and diseases.
I am very happily achieving my ideal weight goal.
Ideal weight and health are easily coming towards me.
I am worthy of getting slim and getting an ideal weight.
I am loving myself doing exercise daily and working hard to lose weight.
I am confident in every task I do to lose weight.
I am the slimmest person in my friends and my surroundings.
I am only eating and doing what is good for me.
I am confident that I look great and better from everyone else.
I am believing myself and loving myself the way I am.
I am accepting my body shape and looking forward to improving it.
I am so determined that losing weight is my ultimate goal.
I am controlling myself for not eating any unhealthy things.
I have full control over myself so that I do exercise and running.
I am making my mind to do morning walk and running.
I let go of all the guilt and regrets about the choice in food.
I am passionate to clear up all the mess I created in my past.
My mind, body, and heart are working very well.
My organs are determined for losing weight and they started working.
I am grateful for my body because it does everything for me.
I am so grateful that my metabolic rate is so normal.
I am working and striving to lose weight and it is working.
I am mentally and physically very active person.
I am focusing on properly chewing the food and it is helping me in losing weight.
I am always looking towards the ways and things to lose weight.
I always celebrate when I lose weight.
I am so competent that I lost 5 pounds last month.
I am very easily following all the routine of losing weight.
I am complete and fit for all that I am.
I am learning and using all the new ways to maintain my health and stay fit.
It is very easy for me to follow a new diet plan.
I am loving that I am drinking 8 glasses of water a day.
I am very glad that the gym is the second home for me.
I am loving my time that I spend in the gym.
Every sweat falling from my body giving me motivation and courage.
I am embracing the positive thoughts that are allowing me to change and bring confidence in me.
I am loving when I move my body.
I am finding fun and charm in exercise.
I am becoming more value able as I am losing weight.
I am attracting the person I love towards me because I am fit.
I am loving that I have a perfect body shape.
I am fulfilling the needs of my body very happily and efficiently.
I am loving the taste of fruits and vegetables.
I am filling my plate with so many colors.
The blood is flowing in my body smoothly.
I am achieving my ideal weight very easily and effortlessly.
Conclusion: Affirmations to lose weight
You are doing dieting and exercises, the next step if affirmations. You have to read them and learn them carefully. You have to remind them when you are eating or when you are going to exercise because your body and mind want to know what you are doing.
Think about yourself when you will be able to jump, walk, and go everywhere without any fear.
Imagine yourself taking compliments from different people like how you did that? You are so slim. I like your body and many more. Keep working hard and read these affirmations to lose weight every day!
If you wanna manifest the best possible life for you in 15 minutes daily, click here.
Everyone wants to be financially free and have success in everything they do, why not manifest your success? Check this out.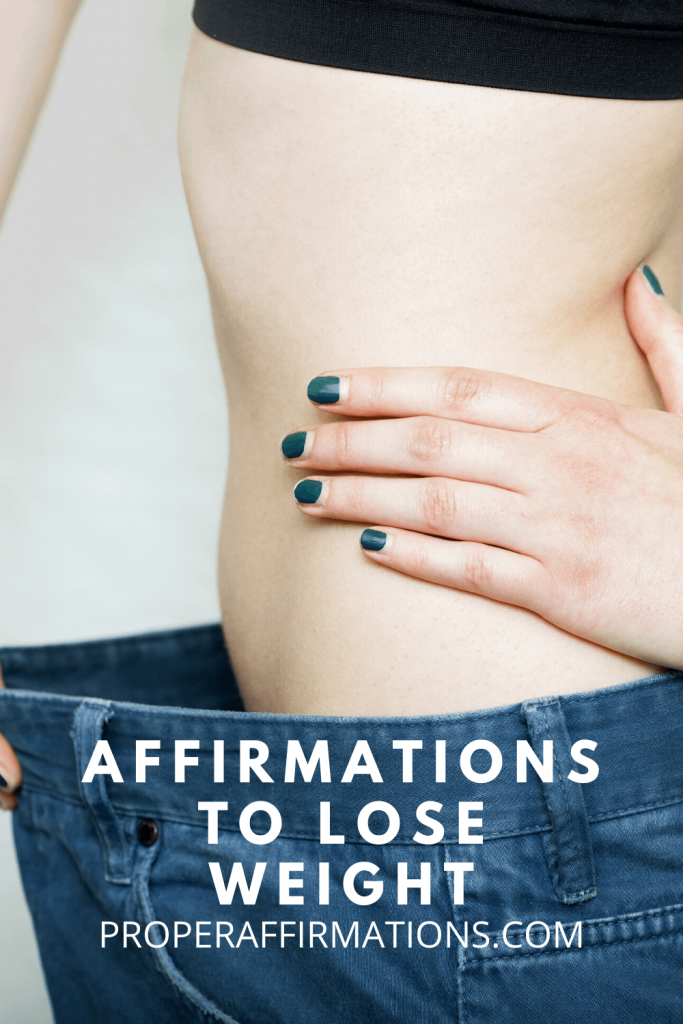 Hopefully, you enjoyed reading these affirmations to lose weight, if they were helpful, please share them on your favorite social media down below.