Do you wanna use some of the best affirmations for strength so you can be strong emotionally and financially? Are you willing to get more power every day you have to get your dreams? Have you ever that you have the potential to fly as high as you want to?
If you have any of these questions in your mind, then you are in the right place because I am going to show you the best way through which you can get power and be strong every time you thinking about yourself.
As you know, if you want to grow in your life and you want to get all your dreams, you must have enough and proper strength to do all the tasks that you want to do. So, let us get started.
I have some affirmations for you. These are the special and unique words that will act as the best fuel for your mind and soul.
Through these words, you will be able to tell your mind that what you want to do. These will help you to run your mind in a better way.
37 strong and positive affirmations for strength
Here is a list for you that has all the affirmations that you need:
I am so worthy because the pains and wounds are making me stronger.
The more I feel good about myself, the more I feel that I am becoming stronger.
The universe and this world are helping me to become stronger day by day.
I am letting go of all the negative things that happened to me so far.
I am emotionally and financially very strong and prosperous.
I am not allowing any negative things or regret to come into my life.
I am so grateful for doing all the good that I want to do.
I am so grateful because I have a great and a sharp mind.
I am very quick in my decisions and plans and I am always doing good for myself.
I am taking good care of my body and mind and making them strong.
Every day I wake up, I feel stronger than before.
I am so grateful for having the potential to live my life to the fullest.
I am carving the stones and making my ways because of my strength.
I am so worthy so that everything I am doing is giving me the strength.
I am appreciating myself and celebrating all the success I got so far.
I am so strong that I can speak my words and do my actions freely.
I am so strong so that no one can speak against me in any matter.
I am keeping myself strong no matter what happens and what I am doing.
I am so worthy so that power and strength are coming towards me very easily.
My higher and inner self are guiding me to get the strength that I deserve.
I am paying all the focus and attention to how I should live my life.
I am radiating the positive energy everywhere I am going.
I am so worthy so that I am the source of strength for all the people around me.
I am waiting for the right time to get the right results.
I am so grateful because I have strong willpower.
I am always accepting the hard times and discomforts and making them clear.
I am letting go of all the barriers and hurdles that are coming in my way.
I am always looking at my progress and always see that I am doing good.
I am putting all my skills and efforts into one place and working hard.
The stronger I become, the closer I am getting to my dreams and goals.
I am using all my energy to do something very productive.
I am understanding and tolerating all the bad times that are coming in my life.
The sun rays are the rays of hope for me and these make me stronger than before.
I am welcoming all of my challenges in my life because I always learn from them.
I am so worthy because of the great strength that is helping me to get success.
I am very strong than my painful and other thoughts and I always overcome them.
The more I am solving my problems, the stronger I am becoming.
Conclusion: Affirmations for strength
You have head all the affirmations and now you have to work hard on them. Why? Because these will give you the power and will provide you with the never-ending potential. So, all you need to do is to read and remind all these affirmations in the morning, when you wake up.
If you wanna learn more about the power of manifestation in just 15 minutes per day, click here.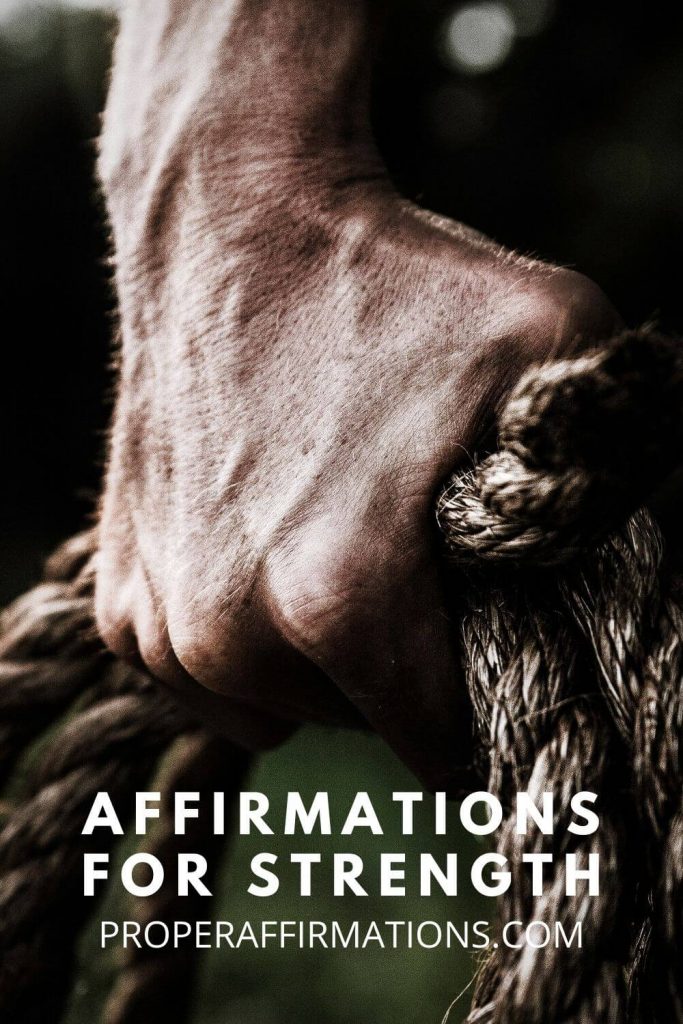 Hopefully, these affirmations for strength were very helpful to you, please share them on your favorite social media down below.