These are the most positive affirmations for recovery to help yourself if you deal with any pain or issues in your life.
Do you want to recover from all the wounds and pains? Are you trying to forget all the things that hurt you in your past? Are you trying to make yourself stronger than before? Have you ever feel that you are no longer disturbed by anything in your life?
If you have these questions running in your mind, then you are in the right place because today, I am going to show you the best way through which you can make yourself stronger than before and you can feel that you are moved on from the things in the past.
Your mental health is very important as your physical health. You have to heal all your pains and wound son your mind. You have to give your best to recover yourself.
As there are many medicines and mediations to heal your physical pain. I have a proper and best mediation to recover your thoughts and start living a happy life as you want.
The best way you can do to heal your wounds and to recover yourself is by making some positive affirmations. Repeat these all affirmations and you will be able to feel good about yourself.
44 strong and positive affirmations for recovery
Here is a list for you that has all the important and positive affirmations:
I am recovering all the wounds and pains day by day.
These circumstances are making me stronger day by day.
I am letting go of all the pains and wounds and not thinking about them.
I am feeling good about myself right now.
I am forgiving myself for all the things I have done in my past.
These incidents have nothing to do with me in my present and future.
I am pressing myself because I am believing in my path.
I am so grateful to know that I am deserving of all the good.
I am getting all the solutions to all my problems.
Solving any problems is just now a game of mind for me.
I am so grateful for knowing all the ways and tricks to be happy.
I am controlling myself now to do all the good and worthy.
I am letting go of my past because it has no place in my present.
I am learning from all of my bad experiences.
I am taking charge of my story.
I am building a good life and story to follow for myself.
I am loving the better person I am becoming day by day.
I am making efforts to change things and I am worthy of doing that.
I am so grateful for loyal and supportive family members and friends.
This life is so good and I am feeling good about myself.
I am controlling my emotions and feelings.
I am not allowing myself to feel sorrow anytime.
I am making my happiness in my life and I am so worthy of it.
I am freely expressing my need and my wishes.
I am dreaming good and living in the best reality that anyone has.
I am moving one from all the bad past I have.
I am not worrying about my tomorrow because I am living in the moment.
The more I think good about myself, the fast I recover.
I am motivating myself to run fast on my journey.
The process of recovery is a catalyst for me as it is showing me fast ways.
Every day, I am learning that I have many skills and talents.
I am not letting myself down no matter what happens.
I am always standing for myself to heal all my wounds.
This world is giving me many gifts and pleasures.
I am deserving to live my life the way I want.
My body is for me and I am treating it with kindness.
I am not allowing anyone to hurt me now because I am not made for it.
I am controlling my behavior and I am responsible for every change.
This life is so rewarding for me.
I am achieving inner peace and inner balance.
I am seeking help and guidance from nature to recover and heal myself.
I am loving the recovery process because I am learning.
I am not longer bound by anything now; I am free to live.
The hard time is passed now, bringing a good time in my life.
Conclusion: Positive affirmations for recovery
All you need to do is to charge your day with the help of these affirmations. When you get up from your bed, you have to read and remind all the affirmations, to feel good and free from all the things like stress and worry.
So, what are you waiting for? Grab your favorite affirmations and start from now.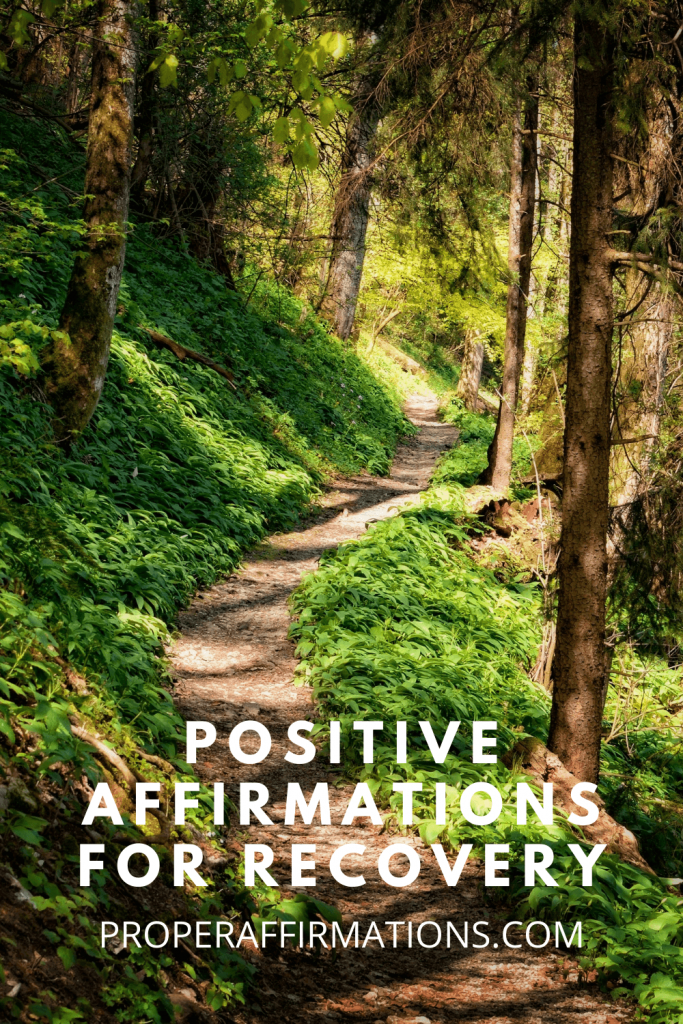 Hopefully, these positive affirmations for recovery were helpful to you. If you enjoyed them, please share them on your favorite social media down below.