Here are some of the most positive affirmations for kids can use to bring more positive energy in their daily growing up faze.
As the kids are the builders of the future and they have to feel and think good to do all the good. It is very important to think good and positive because it allows you to go through all the challenges and difficulties of life without making any effort.
Positive thinking is also very important for you to take over all the stress and to live a healthy and happy life. It can boost your day and motivate you to get what you want to get.
Adults and kids can make themselves positive and productive just by saying and repeating some words. If you want to get rid of all the negative thoughts about yourself, then you are in the right place.
It is very important for you and for your kids to feel good about themselves and get rid of all the worries. A tension-free mind can do everything and can change the map of the world. So, make a habit of reading these affirmations which I have for you.
50 powerful and positive affirmations for kids to feel good and motivated
Here is a list for you and your kids having some positive affirmations:
I am doing all the good because I am so capable.
I am a great leader and everyone seeks my help.
I am so worthy to know that I am very smart.
I am standing at the top of my education.
I am loving myself for who I am.
I am choosing my happiness for me.
I am choosing the right way to live for me.
I am loved by everyone that is around me.
I am so important to everyone because I am so worthy.
I am having great confidence in my abilities and skills.
I am changing this world through my efforts and skills.
I am changing myself for the better.
I am shining like a star.
Today, I am choosing to live happily.
I am making my days and my life worth living.
I am working very hard to make my life prosperous.
I am filling myself full of positivity.
I am letting go of all the negative things and people from my life.
I am starting to work with a positive mindset.
I am believing my inner self and taking all the guidance from it.
I am letting go of all the fears that are stopping me to move forward.
I am perfect and complete.
I am deserving and getting all the good for me.
I am strong and powerful.
I am becoming the person I want to be day by day.
I am a live wire and generating the current.
I am unstoppable because my destination is clear.
I am confident and self-sufficient.
I am stepping out of my comfort zone to do something good.
I am knowing about my powers and capabilities.
I am changing all my dreams into a beautiful reality.
I am opening the doors of mind to learn many new things.
I am learning to live in a better way day by day.
I am going through a good time.
I am powerful to go through all the challenges easily.
I am motivating and encouraging myself always.
I know all the ways and paths to success and prosperity.
I am so worthy that I have a complete personality.
I am learning from my failures and changing them for the good.
I am loving all of my experiences and adventures.
I am giving myself everything I need.
I am completing all my dreams very easily.
I am taking a fresh start every day to live my life.
I let go of all the worries and tensions.
I am free of all the burdens and living my life the way I want.
I am not judging and comparing myself with anyone.
I am doing all the tasks which others cannot do.
I am so worthy to know that this world has something special for me to offer.
I am opening all the doors of chances and opportunities for me.
I am so worthy to have a proud.
Conclusion: Positive affirmations for kids
If you ever have any bad or negative thinking about yourself, then you are required to read these affirmations because it a proper meditation.
All you have to do is to close your eyes, feel good and relaxed, take a deep breath, and read these positive affirmations. You have to feel them and you will feel good about yourself automatically.
This is the time for you. I know that you are making all the efforts and you are doing so well. This is just a little boost for you. So what are you waiting for? Start from today and be happy, prosperous, and blessed.
If you want to know more about the power of manifestation, click here.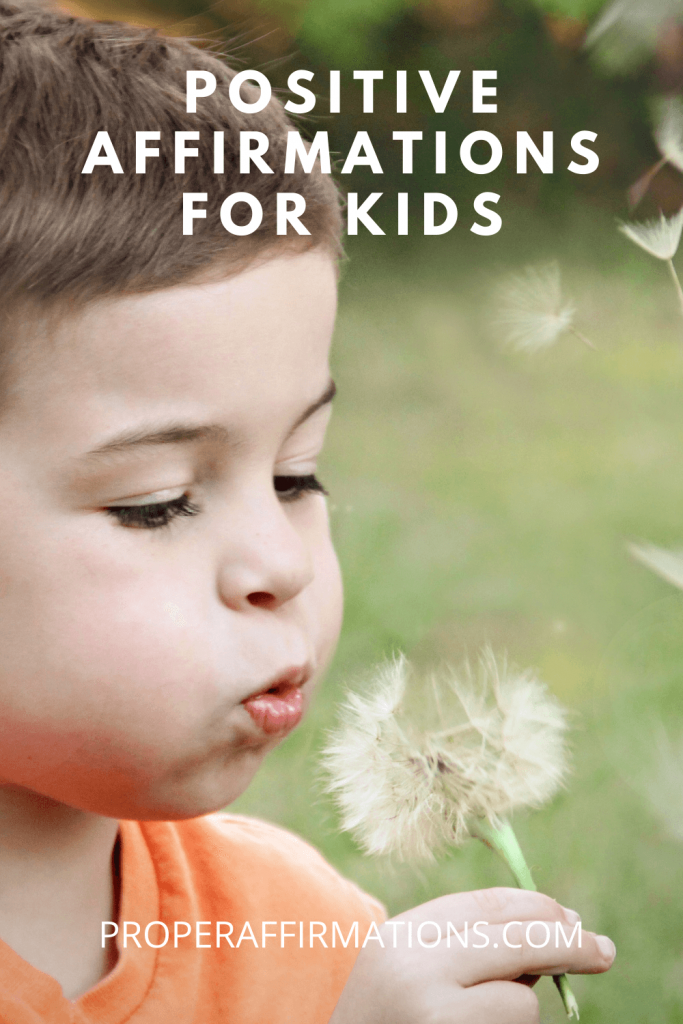 Hopefully, these positive affirmations for kids were very helpful to you. If you enjoyed them, please share them on your favorite social media platform down below. ♥