Are you trying to fill your life with miracles and to do it with some miracle affirmations? Are you trying to get the help of miracles in everything you are doing? Are you waiting for something great and extraordinary? Have you ever feel that you are very blessed and you can do everything you want to do?
If any of these questions are in your mind, then you are in the right place because I am going to show you the best way through which you can answer all your questions by yourself and you will be able to fill your every task with miracles.
Once you start believing in yourself that you have the potential and nature is with you in all your tasks, then you will be blessed because this feeling is one of the best feelings in the world. You are about to get that in some minutes. So, let us get started.
I am going to show you some strong and positive affirmations through which you will be able to get miracles in your life. You will get help from your higher self and nature and your every task will be completed with the help of nature.
38 strong and positive affirmations for miracles
Here is a list for you that has all the important affirmation:
I am so grateful for all the miracles that I am getting in my life.
I am getting many miracles every day I am waking up.
I am living in a world that is full of miracles for me.
The world and nature are showing me miracles everywhere I am going.
I am availing of all the chances and miracles I am getting in my life.
I am creating miracles for myself that is full of love, peace, and positivity.
I am getting and surrounded by many unexpected miracles.
When I am feeling down, I am always getting the miracles from my higher self.
I am so worthy to create the miracles that I want to create.
Every step I am taking is leading me towards the success and this is miracles.
I am getting success, wealth, and joy in the form of miracles.
I am so grateful for all the blessings of God Which He has given me.
I am creating a life full of miracles with art and creativity.
I am being guided by the spirit that is showing me to make my miracles.
I am getting help from nature and my higher self to move forward.
I am believing more and more in the miracles every day when I am getting them.
I am very confident that miracles will save me every time I am in trouble.
I am getting miracles and saying goodbye to all the negative things.
The more I think good about myself, the more miracles I am getting.
I am getting everything just by thinking good and positive about that thing.
I am a magnet and attracting all the miracles towards me very easily.
Today is full of shines, rays, and miracles for me.
Everything I am doing, I am finding a miracle in that.
I am letting go of all the negative and useless things from my life that are not for me.
My arms, heart, and brain are open to get and absorb all the miracles I am getting.
I am smelling that something great is going to happen to me.
I am so worthy so that miracles are creating my path towards success.
I am just thinking good about my goals and miracles bring that goal towards me.
I am changing all my dreams into a perfect reality with the help of miracles.
I am so grateful because when I demand anything in my prayers, I get it.
I am so grateful because all my fate and destiny is with me.
My fate and destiny are full of miracles and success.
The more I am thinking about my dreams, the more I am getting them.
I am creating good plans and decisions for myself and my life because of miracles.
Every day I am waking up, I am seeing a new and better path for me to get the success.
I am so grateful because I am not failing in any work or any task.
Miracles are giving me energy and passion to achieve my goals.
I am so grateful because I am getting perfect people because of miracles.
Conclusion: Miracle affirmations
You have read all these affirmations and now all you need to do is to make them the best part of your routine. How to do that? When you get from your bed in the morning, you have to read and remind all these affirmations for the best results. So, what are you waiting for?
If you wanna learn more about the power of manifestation in just 15 minutes per day, click here.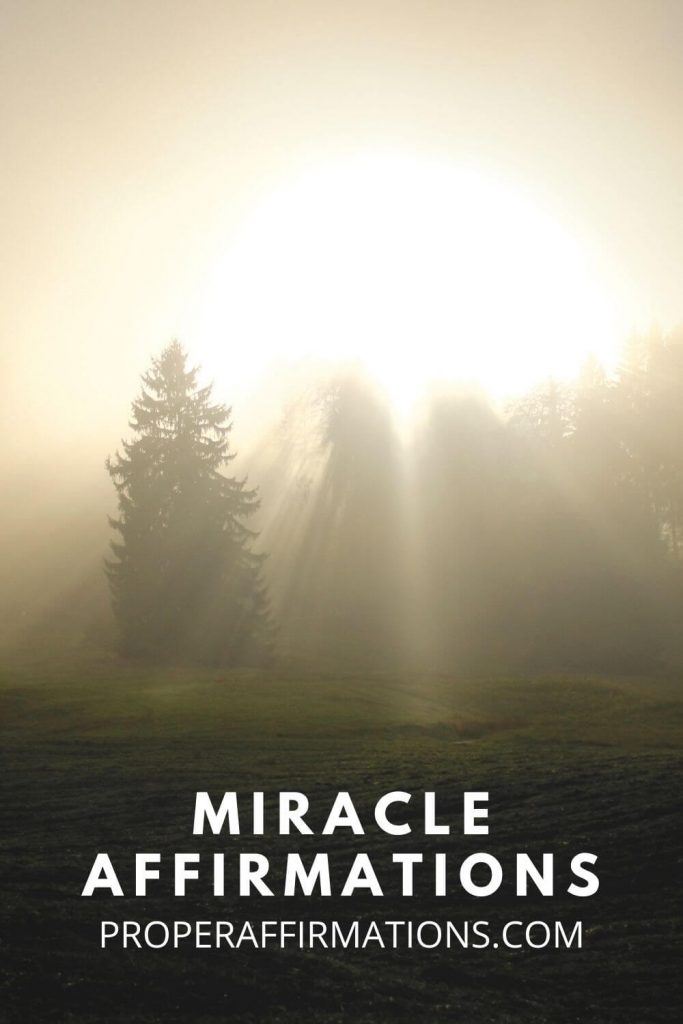 Hopefully, you enjoyed these miracle affirmations and they were helpful to you. Please share them on your favorite social media down below.