Ever felt that you need to laugh more in your life? These funny affirmations can help you turn your mind from negative to more positive and give other people joy when they are around you.
You should have some excitement and fun in your life. You have to smile and show yourself that you are doing all the great things. Having fun in your life leads you to know that you are worthy to get every kind of happiness.s
One of the best ways through which you will be able to add fun to your life is with the help of some affirmations. These are some special and magical words that have a direct impact and relation with your mind. So, once you read them, you show your mind that how you want to feel and what you want to do.
33 positive and powerful fun affirmations:
Here is a list for you that has all the affirmations:
I am changing myself for a great purpose that can be used to change the world.
I am so worthy so that I am changing all the things into positivity with the help of my humor.
I am so grateful for having such a great sense of humor.
I am so worthy and important so that I am making everyone around me laugh.
I am so grateful for all the negative people in my life because they were the steps for me to go high.
I am doing better in my humor day by day and I am enjoying it.
I am always saying Goodbye to all the negative and toxic things in my life.
I am letting go of all the negative and useless things in my heart and saying them SHUTUP.
I am always giving compliments and praising people because it makes me feel happy.
I am not thinking about right and wrong in my life now.
Life is giving me all the reasons and chances to laugh like no one is watching me.
I am spending every second of my life like it is my last.
I am living life with the full zeal and zest to achieve what I want to.
I am not afraid of anyone hating me because they cannot reach my level.
I am not wasting my time on what people think about me because I know I am perfect.
I am allowing all the healthy and positive vibes to come into my life.
I am so worthy to tell all the great and good things to myself daily.
I am so grateful because nature and the world are giving me reasons to smile.
I am doing the great stuff to make myself feel the best.
I am so worthy so that I am self-sufficient for myself.
I am so worthy so that I am enjoying the company of my own.
I am making the reasons for happiness in my life by doing great things.
I am the king of my world and creating the happy things in my kingdom.
I am turning into an awesome person day by day with the help of my abilities.
I am so worthy so that the world is full of smiles and laughs for me.
I am so grateful for having a pleasant smile on my face always.
I am so worthy so that I am the source of happiness for everyone around me.
I don't need anyone else to make me smile because I am the reason for myself.
I am so worthy so that I become very happy when I see myself.
Every time I see myself in the mirror, I feel good about myself.
I am letting go of all the things that make me sad or feel bad.
I am imagining myself as a superhero because I am so worthy.
I am so grateful because I can control my moods and happenings in my life.
Conclusion: Funny Affirmations
You have read all these affirmations. Now, all you need to do is to read and remind daily when you wake up. You have to give the best start to your day and you will be able to give your best all day long.
It is very important for your mental and physical health to feel good about yourself. So, start reading them and start feeling happiness around you!
If you wanna manifest the life you always dreamed of, click here.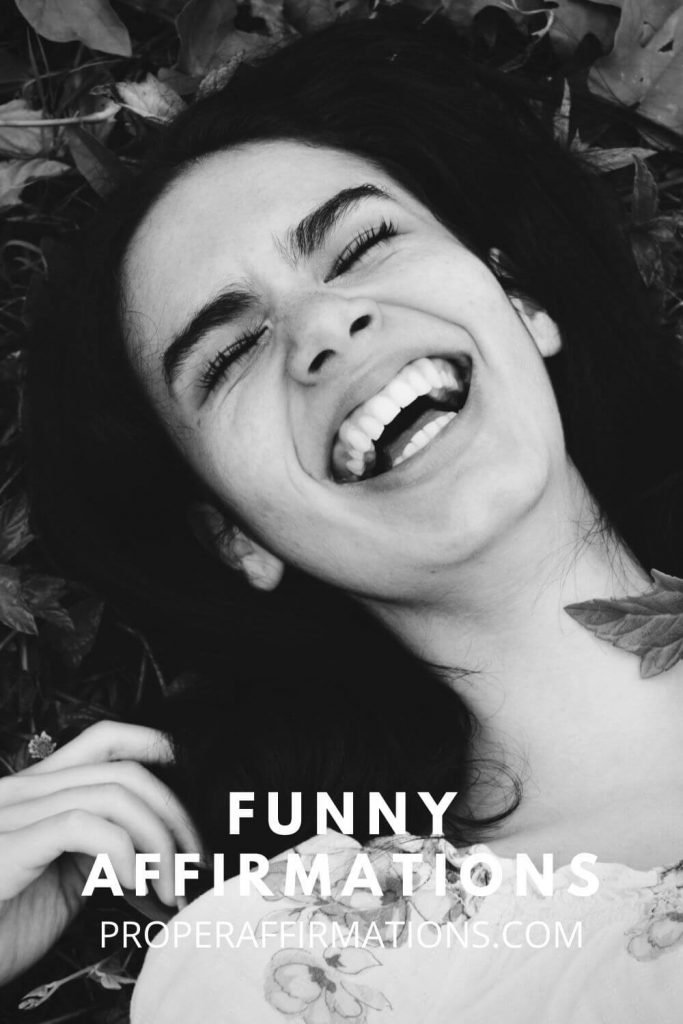 Here is a quick article on how you can use affirmations to change your life, click here.