Are you trying to make yourself a stronger person by repeating some emotional affirmations? Do you want to let go of all the negative feelings from your life? Are you trying to control your emotions and do not waste for anyone else? Have you ever feel that you are a very strong human being and you know how to use your emotions?
If you have any of these questions in your mind and you want to make your emotions strong, then you are in the right place because I am going to show you the best way through which you can build yourself, add anything you want in your life and get rid of negativity instantly.
I have some affirmations for you which will help you to make your feelings very strong. You will be able to see yourself on a higher point. So let us get started!
All you need to do is to take a deep breath, exhale and inhale slowly and start reading these words because they have a special impact on your mind. These affirmations will help you to tell your mind and body what you want and how you want to live your life.
39 strong and positive emotional affirmations
Here is a list for you that has all the affirmations:
I am not listening to anyone who is saying anything negative for me.
I am letting go of all the negative things that are affecting my emotions.
I am making my emotions and feelings strong day by day.
Nature and the world are helping me to stay strong and the way I want to.
Every day I wake up, I see many rays of hope for myself.
The more I am thinking good about myself, the more I am becoming strong day by day.
I am always keeping the useless and unwanted things away from me.
The more I am opening the doors of success for me, the more I am becoming stable emotionally.
I am always staying the same and strong no matter what happens.
I am very grateful for all the friends who helped in my hard times.
I am taking a breath the way I want to take.
I am controlling my life and myself as the way I want to control.
I am choosing what is best for me and my life.
I am hearing the praise and compliments for me from all the people around me.
I am always radiating positive energy everywhere I am going.
I am sharing the healthy feelings and emotions in this world.
My emotions and feelings are being controlled by my heart and mind.
I am opening my mind, heart, and arms to receive the good things for me only.
I am controlling my emotions and they do not control me.
I am so worthy so that I have a solid control on my mind and I know what I have to think.
I am only now choosing and focusing on the positive and peaceful thoughts.
I am so worthy so that I am understanding the emotions of other people.
I am living my life with peace and free from all the tensions.
I am using my emotions in building myself a great human being.
I am connected with the sentiments of nature and the world.
I am understanding all the feelings and emotions this world has for me.
I am always being responsible for my actions and emotions.
I am spreading the love emotions around me and not hating anyone.
I am so worthy because all my emotions are pure and generous.
I am getting the balance between my emotions day by day.
I am making every moment worth living with the help of my emotions.
I am always staying honest with everyone I am meeting with.
People love to meet me and talk with me because I have a pure heart.
I am always accepting the things and lessons which my emotions are brining for me.
I am always respecting the views and emotions of everyone around me.
I am taking good care of my emotions and what I am thinking.
I am giving all the value to myself because I am deserving of this value.
I am so worthy that I am spending all my days without even worrying about anything.
My higher self is helping me and giving me great emotions.
Conclusion: Emotional affirmations
You have read all these affirmations and now ask yourself that you are feeling better or not. I assure you that you will be feeling very better. So, you have to do the same days when you wake up. Read them and charge your day and be stronger all your day.
If you wanna learn more about the power of manifestation in just 15 minutes per day, click here.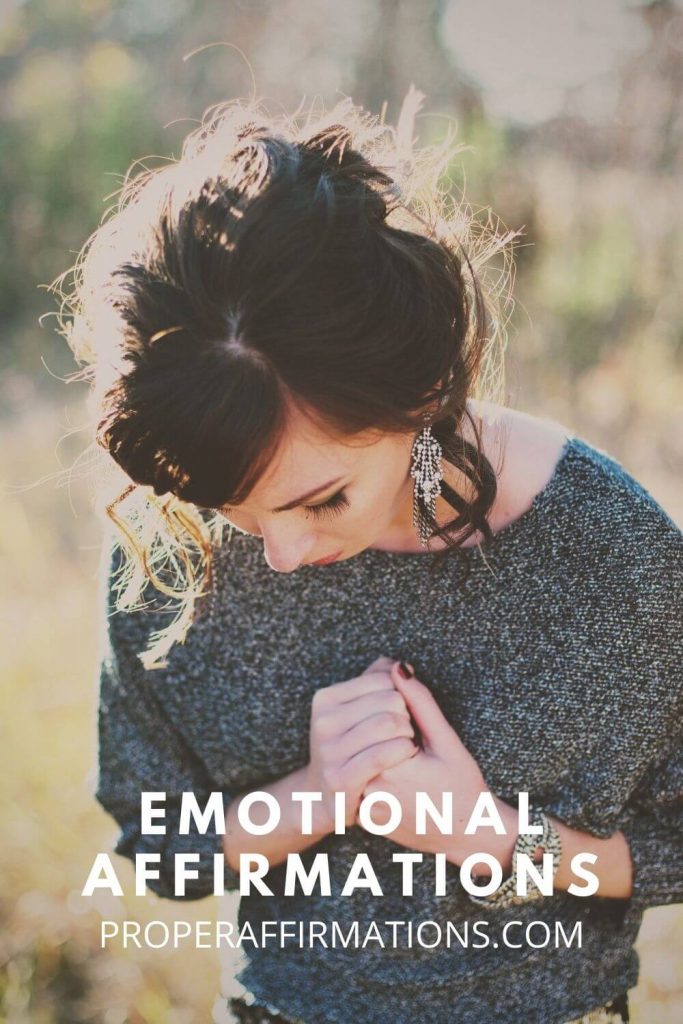 Hopefully, you enjoyed these emotional affirmations, keep repeating them every day and you will see yourself how you keep getting stronger emotionally.